Optimism reigns as researchers from the two nations discuss exchanges and collaboration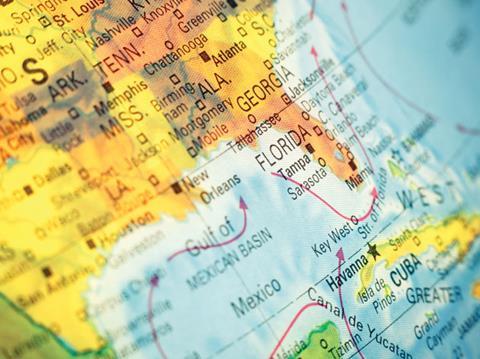 Just a few days ago the US flag flew over the American embassy in Havana, Cuba, for the first time in 54 years. Now, Cuban and US chemists meeting at the American Chemical Society's (ACS) 250th conference in Boston, US, are talking optimistically of a new era of scientific collaboration between the two nations.
The scene at the US embassy in Cuba followed a similar one at the Cuban embassy in Washington, DC in July. These historic actions followed President Obama's announcement in December 2014 that restrictions on US–Cuban relation would be eased, including a relaxation of visa requirements and making exchanges easier. Another change is that scientific equipment in the US can now be donated to Cuban universities or labs, provided that the technology has no military application.
Brad Miller, who is the ACS's chief international officer, said his organisation has been working for many years to ease restrictions on research collaborations between the two countries and to encourage exchanges with the Cuban Chemical Society (SCQ).
Currently, the ACS has six members in Cuba, Miller said. However, membership has been somewhat constrained by the economic sanctions that remain in place under the US's 50-year-old trade embargo against Cuba, he explained. 'With the warming of relations, travel restrictions are beginning to be diminished and managed, but we still have the next big hurdles and challenges that relate to the actual sanctions and exchange of currencies and actual transactions.'
Roadblocks remain
Clearly roadblocks to collaboration remain. Two Cuban chemists were expected to attend the most recent Pittcon conference on analytical chemistry and applied spectroscopy that was held in Atlanta in March, but were unable to attend due to visa issues, according to the ACS.
Nevertheless, there are new opportunities for the US to engage with Cuba on chemistry. For example, there are more than 230 research centres nationwide in Cuba, and in the past three decades over 160,000 people received chemistry degrees on the island nation, Miller said. The country also has expertise in fields like oceanography, marine studies, biotechnology, natural products and nanotechnology.
Political tensions have made scientific exchanges between the two nations extremely difficult for decades. Miller has personally accompanied delegations of ACS chemists to Cuba in past years. 'It was no small undertaking,' he recalled, noting that they had to travel under a special licence provision of the US Treasury Department. 'We were at the forefront of using chemistry as a diplomatic mechanism to ensure that, despite governmental constraints, we kept the conversation alive,' Miller added.
Call for scientific exchanges
In terms of ways in which US and Cuban chemistry can cooperate, participants at the ACS session proposed scientific exchanges and delegations, as well as collaboration on publications. In addition, it was suggested that the next frontier will be joint publications. 'As sanctions become eased, I think there will be opportunities for joint research proposal development, and then finally co-authorship,' Miller said.
Areas ripe for collaboration that were mentioned include biotechnology, medical chemistry and nanotechnology. In addition, Montero flagged a number of other areas of interest to both countries, including soil chemistry, environmental chemistry and radiochemistry. He also said some big cooperative projects, such as solar energy schemes that take advantage of the sunshine in the tropics, might also be possible.
Daniel García Rivera, a chemistry professor at the University of Havana – the only Cuban university with a doctoral programme in chemistry – suggested that Cuba's chemistry community could use the help of US scientists in areas like chemical ecology, as well as catalysis and chemical education.
Dependency an issue
Over 75% of the scientific publications emerging from the University of Havana's chemistry programmes in the last year were the result of international cooperation, according to Rivera. In addition, he said most Cuban PhD theses in chemistry include visits to universities and research institutes overseas.
Rivera and Luis Alberto Montero, a chemistry professor at the University of Havana who also serves as president of the SCQ, envisage a time when they can send Cuban PhD students to US universities on a part-time or full-time basis. However, they note that while the University of Havana will promote such a programme, it cannot fund it.
Patrick Frantom from the University of Alabama's chemistry department said he would be interested in hosting Cuban scholars at his university for extended periods of time, and Tom Manning, a chemistry professor at Valdosta State University in Georgia, dreams about taking a dozen or so of his students to hike around Cuba for several weeks and study the coastline. 'There is a lot of chemistry to be learned by being tourist-like and hitting different spots,' he said.
However, Ruben Carbonell, a chemical engineering professor at North Carolina State University, says that it is going to be a very long time before the US government provides money for such exchanges, unless Congress ends the current embargo. Nevertheless, he suggests that there may be opportunities for private industry to fund joint exchanges between faculty and students. In addition, because individual states can act independently from the federal government, Carbonell suggests that the University of North Carolina and other state universities might provide travel grants for their would-be Cuban colleagues.