'Venture philanthropy' model pays off with massive cash injection for charity
The Cystic Fibrosis (CF) Foundation has sold royalty rights to treatments developed with support from its 'venture philantrophy' model. Royalty pharma – which accumulates royalty payments from established drugs – paid $3.3 billion (£2.1 billion) for royalties on Vertex pharmaceuticals' Kalydeco (ivacaftor).
The venture philanthropy model, adopted in the late 1990s, sees the foundation provide upfront funding for pharmaceutical companies to help reduce the financial risk of developing drugs to treat CF. It gave a total of $150 million to Vertex to support the company's CF drug development programme.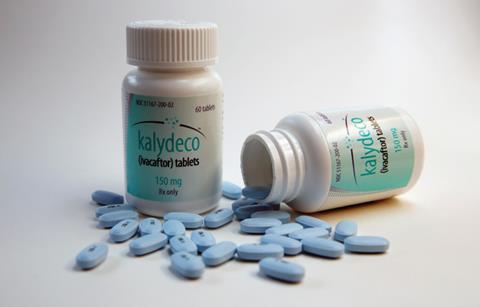 As well as this $3.3 billion, reportedly 20 times its budget for last year, the foundation stands to receive additional royalties on other CF therapies Vertex produces. These include two experimental compounds, lumacaftor and VX-661, as well as combinations. Vertex applied for regulatory approval for a combination of lumacaftor and ivacaftor at the beginning of November 2014. The foundation says these funds will enable it to improve existing therapies, support development of new ones and support CF patient care, as well as support efforts to find a cure for the deadly lung disease. 'People with CF and their families need our help now and they can't wait. Selling our royalty rights allows us to begin to accelerate our mission,' says Robert Beall, chief executive of the Cystic Fibrosis Foundation.
Anna Obolensky, translational research consultant for the British Heart Foundation, says 'we don't have a model like the cystic fibrosis model and we are unlikely to do that in the short term, but we are interested in the venture philanthropy area,' especially if it involves hooking up with other health charities. She recently conducted a four-year review into foundation-funded research to see if potentially useful translational research was being left behind at the pre-clinical stage.
'We found the British Heart Foundation was funding but not following the potential translational research it had,' she says; scientists were not interested in taking it forward to the clinic, university technology transfer offices were under-resourced and industry saw it as too risky. The foundation decided to launch a translational award. 'If we can fund through to preclinical then we can de-risk it and make it attractive to industry,' Obolensky explains.
At the same time the foundation remains wary of direct industry collaboration. 'We are funded entirely by the public and a trusted source of information for them about cardiovascular health. Our independence from industry is therefore important to us,' says Obolensky.
Still, charities are well aware there is a break in the pipeline between the research they fund and the patient waiting for treatment at the other end. MRC Technology (MRCT) is an independent charity in the business of taking early stage academic research and moving it to the point where it is partnered or a start-up is created, 'but normally it is a partnering event with a pharmaceutical company,' explains Mike Johnson, director of corporate partnerships.
MRCT recently pulled together 7 UK and US charities and foundations in the neurodegenerative space, a problematic area with no new drugs, in an acceleration programme called NeuroMap. Its efforts resemble the solution adopted by the CF Foundation. 'Pharma is not coming up with new drugs because it is risky and complex and they are focusing on other areas. So these 7 charities have come together to fund projects that have been shelved,' Johnson says. 'We could pay to progress these projects. We pay up to a point where pharma can drive them to patients. We want a small return on any profits then for the charities, just to enable us to do it again.'
The funding provided by the CF Foundation is exclusively for the use of specific, negotiated CF research projects with a biotech or pharmaceutical company. 'We negotiate legal agreements with strict parameters to ensure that every dollar invested is in the best interest of advancing [our] mission,' a foundation spokesperson explained. 'Virtually every CF drug available to patients in the US was made possible because of Foundation support.'