At least 18 people – including 15 women workers from nearby villages – died in a blazing fire in a chemical factory in Urawade on the outskirts of Pune, India, on 7 June. The factory belonged to SVS Aqua Technologies, which manufactures chlorine dioxide products, including sanitisers.
The workers were trapped inside the factory unit when fire broke out and spread rapidly, leaving them no escape route as the automatic door was closed, said an official from the Pune district Disaster Management Agency. Heavy earth moving equipment was used to demolish the wall of the room where workers were trapped but it was too late – they had already burned alive. Their bodies were charred beyond recognition and are being identified by DNA tests. With some 40 others present in the factory, they have broadly been identified as workers from nearby villages. Four others were injured.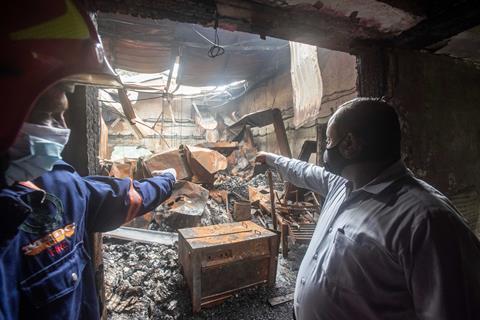 According to media reports, a nine-member committee probing the incident found that there was illegal stockpiling of flammable substances and violation of fire safety standards. The company was operating a chemical processing unit without permission from the state pollution control board; did not have a license to manufacture sanitisers; and the workers had not been registered for insurance.
'Our regulatory agencies are essentially defunct and always behave surprised when such accidents occur', says Gopal Krishna, environmental and occupational health researcher with the Delhi based non-profit Toxics Watch. 'The factory did not have permits since 2016 and was violating norms. We saw a similar pattern even during the Bhopal gas disaster of 1984', he says. Ever since, the progress has been only on paper but nothing substantial has happened on the ground. Under Prime Minister Narendra Modi's government, even the earlier established standards, however unsatisfactory, are being diluted, complains Krishna.
Following a court order, the local police have arrested the director of the company Nikunj Shah, charging him and two associates with culpable homicide not amounting to murder, and negligent conduct with respect to combustible materials and explosive substances.
Modi has promised compensation of INR200,000 (£1935) for the families of each of the dead and INR50,000 for the injured. The state government of Maharashtra also pledged INR500,000 to the families of each victim.