Blood testing company founder's 11-year sentence should serve as a warning to investors
Elizabeth Holmes, the charismatic founder of blood-testing company Theranos, has been sentenced to over 11 years in US federal prison for her role in defrauding investors.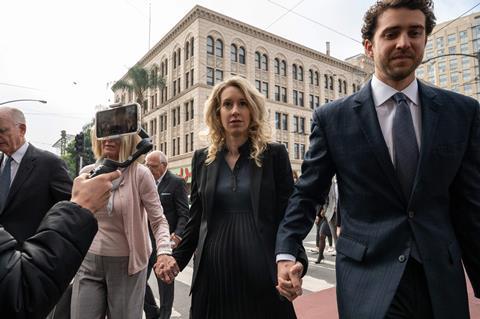 Holmes, who was convicted of four counts of defrauding investors in January, will serve 11 years 3 months, followed by three years supervised release. The Judge calculated the financial loss to investors to be about $121 million (£102 million) – what proportion of that amount Holmes will be required to pay back in restitution is still to be determined. Ramesh 'Sunny' Balwani, Theranos' former chief operating officer and Holmes' ex-boyfriend, will be sentenced on 7 December, after being convicted in July of 12 counts of fraud against both investors and patients.
The scale of Holmes and Balwani's fraud at Theranos is a stark reminder of the need for investors to critically analyse a company and its technology before committing their funds, and to maintain that critical eye throughout any investment relationship. While it's undoubtedly true that Holmes was extremely adept at persuading investors to back her miraculous vision of a machine that could perform hundreds of diagnostic analyses on a single drop of blood, it's also telling that few of those investors had any background in medicine or life sciences.
Moreover, it appears that when she approached investors who did have some pertinent experience (or those that consulted relevant experts as part of their due diligence process), they generally declined. Much of Theranos' cash came from high-profile investors including former US Secretaries of State George Shultz and Henry Kissinger, newspaper magnate Rupert Murdoch and the family owners of US pharmacy chain Walgreens. Having such high-profile and influential people singing their praises lent Holmes, Balwani and Theranos sufficient credibility that others perhaps lowered their guard and were more easily persuaded to part with their cash.
Broad-ranging diagnostic testing from a few drops of blood is a powerful and revolutionary vision, and taps in to many people's innate dislike of traditional blood tests. That makes it particularly susceptible to fraudsters – in September, a US Jury convicted Arrayit's Mark Schena of a separate fraud, falsely claiming his microarrays could diagnose a huge range of allergies and even Covid-19.
There are various microfluidic diagnostics companies making progress in this area – albeit with much narrower scope than either Theranos or Arrayit claimed. It seems likely that such firms can expect significantly more scrutiny as a result of these prosecutions. While it might occasionally be possible to bridge the gap between vision and reality and 'fake it til you make it', Theranos is an important reminder of the limitations of the physical world – which no amount of belief can overcome.

As Business editor, Phillip's aim is to highlight to readers the exciting and innovative chemistry going on in the commercial sector, as well as keeping them abreast of trends and developments in the world of chemistry businesses.
View full profile