Sunny Balwani and Elizabeth Holmes will both serve more than 10 years
The two former heads of the failed US-based blood testing start-up Theranos, Elizabeth Holmes and Ramesh 'Sunny' Balwani, have received prison sentences of more than a decade each. The repercussions on the fields of chemistry and medical diagnostics remain to be seen.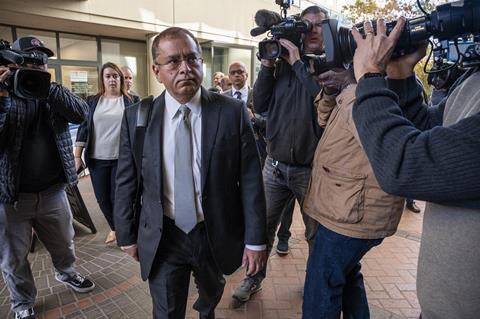 On 7 December, Balwani – Theranos' former chief operating officer and Holmes' ex-boyfriend – was sentenced to almost 13 years in federal prison, having been convicted in July of a total of 12 counts of fraud against both investors and patients.
Holmes had been convicted in January on four counts of defrauding Theranos investors (but not patients), and in November was sentenced by the same judge to 11 years and three months in prison.
Both will serve three years' probation after completing their jail time, and in each case the court has attributed investors losses of around $120 million to their actions – a portion of which each will have to pay back in restitution.
During Balwani's sentencing, the judge noted that Balwani was responsible for Theranos' lab activities, according to journalists in the courtroom. The judge rejected the Balwani defence team's claims that Holmes was entirely in charge, pointing out that Balwani hired his own dermatologist to run the company's lab, reporters relayed.
Holmes dropped out of a chemical engineering course at Stanford University, US, to found Theranos in Silicon Valley in 2003 at the age of 19. She claimed to have invented technology that could detect hundreds of diseases with just a drop or so of blood, which formed the basis of her company.
While Theranos counted various public figures among its board members and investors – including former US Secretaries of State George Shultz and Henry Kissinger and media mogul Rupert Murdoch – the company's technology never actually worked.
Derek Lowe, a pharmaceutical chemist, Chemistry World columnist and author of the popular industry blog In the Pipeline , was worried that the Theranos scandal would taint the field of microfluidic diagnostics, and he's thankful that this doesn't seem to have happened.
The chemistry wouldn't do what they wanted
'Holmes and Balwani have very little to do, in the end, with the actual field of analytical chemistry,' he tells Chemistry World. 'I mean, chemistry itself wouldn't do what they wanted it to do, so they quickly moved on to just making things up, the exact opposite of actual science.'
The perception of their crimes is that they are more of a financial and promotional fraud rather than a purely scientific fraud, according to Lowe. 'All the talk of how they had this huge deal with Walgreens that was going so wonderfully, how the machines were being used by the US military in Afghanistan, and on and on,' he continues. 'Microfluidics as a field has been around long before Theranos and is continuing to expand and develop all the time, and I have to say that I'm relieved that it hasn't been thrown into disrepute as I'd feared.'
'The conventional wisdom is that harsh sentences for white collar crimes are more likely to have a deterrent effect on the well-educated and wealthy,' says Ken White, a criminal defence attorney in Los Angeles, US. He notes, however, that it is questionable whether that is true since sociopaths aren't generally deterred any way.
Nevertheless, White suggests that all of the publicity surrounding Theranos and the jailtime for Holmes and Balwani might lead the heads of similar firms to be more careful about the representations they make while seeking funders and investors.
Indeed, there are several companies currently working on small-scale blood sample testing. For example, Genalyte says its Maverick testing system can run various panels of tests on single drops of blood, with results available in about 20 minutes.
Another example is the iStat portable blood analyser developed by Abbott, which uses two or three drops of blood and returns results in about two minutes, offering a range of testing cartridges that cover different clinical requirements from testing blood gases to specific biomarkers.
Ellen Kreitzberg, a law professor at Santa Clara University in California who has been following the Theranos case closely, doesn't expect that the Holmes and Balwani convictions or prison sentences will significantly impact medical diagnosis and technological innovations. 'New innovative companies can still tell investors that they hope or dream or are working on new products or tests,' she continues. 'The crimes in Theranos began only once the company told investors that their machines could actually perform tests or analysis now – when they knew that was not true.'

Rebecca became the US Correspondent for Chemistry World in September 2014, based out of Washington, DC, after writing for the magazine on a freelance basis since 2007.
View full profile