Top scientists say EPA should 'fundamentally alter' how it assesses chemical risk as the current process threatens public health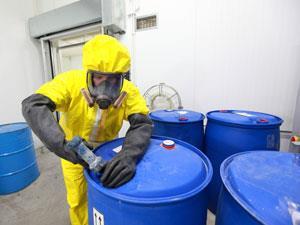 The US Environmental Protection Agency's (EPA) process for assessing the risk of human exposure to various chemicals is deeply flawed and actually threatens public health, according to two experts with inside experience. In fact, they are urging the agency to 'fundamentally alter' its approach to chemical risk evaluation.
In a Nature commentary, George Gray, who directs George Washington University's Center for Risk Science and Public Health, and Joshua Cohen, deputy director of Tufts Medical Center's Center for the Evaluation of Value and Risk in Health, note that many chemicals have never been examined by the EPA because the agency's risk assessments can take years or even decades.
The EPA is charged with developing regulations to protect human health and the environment, but Gray and Cohen – who have served on multiple US National Academies committees that have reviewed EPA chemical risk assessments – argue that the agency has compromised that role by undermining its own scientific credibility and subsequently delaying publication of risk estimates for chemicals.
'Importantly, the EPA's "science-policy", which prescribes erring on the side of overstating risks when addressing common scientific gaps, can mislead decision makers and result in sub-optimal protection of public health,' Cohen tells Chemistry World. In fact, peer reviewers have questioned the EPA's selective use of data and some assumptions that it has made to plug gaps in the scientific evidence. For example, the US National Academy of Sciences (NAS) recommended in an April 2011 report that the EPA better justify and quantify its risk assessment assumptions. That NAS report specifically questioned the evidence that the EPA used to support its conclusion linking formaldehyde exposure and certain health conditions like leukaemia. A few months later the EPA announced plans to improve its Integrated Risk Information System (IRIS), which is its public database that provides human health assessments on over 540 chemicals.
Foremost, Gray and Cohen want the EPA to offer faster summaries for more chemicals, arguing that rough-and-ready estimates are better than nothing and are often sufficient for policy-making. In addition, they suggest that IRIS include information from private groups and other governments and recommend that the EPA acknowledge uncertainty in its risk estimates by reporting a range of plausible values to reflect health or environmental risk, rather than a single number. They envision a scenario where that range might be quite large for chemicals that have limited data or more disagreement on safety.
'We are not calling for an overhaul of IRIS, but an expansion in many ways,' says Gray, who has served assistant administrator at the EPA's Office of Research and Development, and as the agency's science adviser. 'We are recommending that IRIS make itself bigger,' he adds.
The American Chemistry Council generally agrees with Gray and Cohen's assessment of the numerous scientific shortcomings plaguing IRIS. Specifically, the ACC agrees that the scientific basis for IRIS assessments must be improved, that the EPA relies far too heavily on conservative and outdated assumptions and that assessments need to be prioritised better. 'At best, these shortcomings have limited the programme's effectiveness and usefulness,' the ACC states. 'At worst, the "inflated risks" that Gray and Cohen speak to have created misperceptions and confusion about true risks, which can lead to unwarranted and costly decisions about how to manage those risks.'