First two modified T-Cell cancer therapies approved in the EU, but prices may be prohibitive for public health systems
The first two chimeric antigen receptor T-cell (CAR-T) therapies have been approved for use in the EU. However, there are already concerns that they will not be available for patients in some countries because of the cost.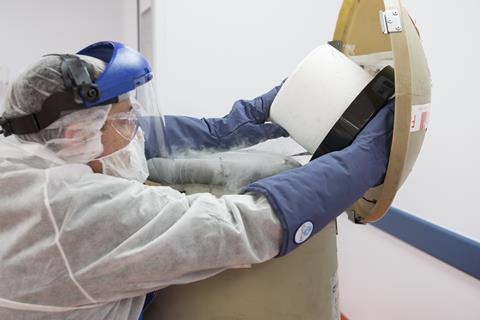 Both drugs were approved in the US in 2017 – Novartis' Kymriah (tisagenlecleucel) in August, and Kite–Gilead's Yescarta (axicabtagene ciloleucel) in October.
'CAR-T cells transform the fight against serious and often fatal diseases in the EU,' said Martina Schüssler-Lenz, chair of European Medicines Agency's committee for advanced therapies. 'Kymriah and Yescarta offer an innovative approach.'
The two are designed to treat blood cancers. Both are licensed for diffuse large B-cell lymphoma. Kymriah is also approved for acute lymphoblastic leukaemia, and Yescarta for primary mediastinal large B-cell lymphoma.
They will require long-term safety monitoring as they can cause cytokine release syndrome. This is the catastrophic immune response behind the disastrous clinical trial of TeGenero's TGN-1410 in March 2006.
While Kymriah and Yescarta promise hope to patients with various blood cancers, their cost is significant, not least because they are expensive to manufacture. Both are autologous cell therapies, which means they are made from T-cells harvested from individual patients. These cells are then genetically modified by adding a transgene encoding a chimeric antigen receptor, or CAR, so they identify and eliminate cells that express the protein CD19 on their surfaces – including the target cancer cells. The modified T-cells are then returned to the patient.
The European Commission approval coincided with publication of draft guidance on Yescarta by the UK National Institute for Care and Health Excellence (Nice). This recommends against its use by the NHS in England. Costing more than Nice's upper limit for cancer treatments of £50,000 per additional year of quality-adjusted life, or QALY, the agency concluded that it does not represent a good use of scarce NHS resources at the cost-per-patient set by Kite.
Meindert Boysen, director of the centre for health technology evaluation at Nice, said: 'We have been working with the companies involved, and with NHS England, with the aim of ensuring that patients in England are among the first to have access to these new treatments in Europe. Although promising, there is still much more we need to know about CAR-T.'
Discussions about pricing and reimbursement are ongoing across the EU. In the US, Kymriah costs up to $475, 000 (£369,000), and Yescarta $373,000. Kite–Gilead will initially make Yescarta available via an early access programme in Europe, while Novartis says it 'continues to collaborate with national health and reimbursement authorities across Europe on a fair, value-based pricing approach that is sustainable for national healthcare systems'.