Historic agreement will see curbs on carbon dioxide and China push to reach peak emissions sooner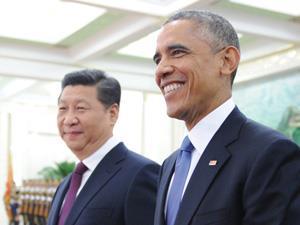 While a commitment to a new global treaty on cutting carbon emissions has remained elusive, a historic announcement by Chinese President Xi Jinping and his US counterpart Barack Obama has injected new momentum into the global fight against climate change.
On 11 November, China and the US, the world's two largest carbon emitters, set ambitious post-2020 emissions reduction goals. 'The United States intends to achieve an economy-wide target of reducing its emissions by 26%–28% below its 2005 level in 2025… while China intends to achieve the peaking of CO2 emissions around 2030,' according to the document released by the White House.
While the US promised to nearly double its previous target, it is the first time China, which accounts for around a quarter of the world's carbon dioxide emissions, has committed to a roadmap that will see its emissions peak much sooner. Previously, despite experts' appeals and international pressure, China has always insisted that it is impossible to stop its emissions growing before 2050, and has only promised a reduction in carbon intensity – cutting carbon emissions per capita of its GDP by 40% by 2020, compared with its 1994 level. However, several research teams have suggested that China's energy consumption peak could peak by 2030 or even earlier, which should mean the target is achievable.
China's policy change quickly drew plaudits from around the world. 'We estimate that the new commitments by the US and China would, if fully implemented, keep 640 gigatonnes of CO2 from being emitted,' according to the environmental thinktank climateinteractive.org. This is estimated to be more than global fossil fuel emissions between 1990 and 2013. Josep Canadell, executive director of science lobby group Global Carbon Project, praises China's unprecedented move as having both positive effects for global emission reductions and global leadership on climate change.
'China is under substantial pressure at home to address air pollution from burning fossil fuels and particularly coal. The Chinese manufacturing system has also discovered how to manufacture wind turbines and solar panels in larger quantities at low cost,' says William Moomaw, professor of international environmental policy at Tufts University in the US. He adds that this explains China's 'sudden' commitment, which was a result of nine months of intensive negotiations. Qiu Dengke, secretary general of Guangzhou Low Carbon Industry Association, adds that China's desire to be a leading international actor may have also played a role in the government's decision.
Implementation challenge
Despite progress, there is still a long a way to go before words are turned into actions, let alone a global emission reduction treaty some experts believe that the Sino–US deal can inspire at next year's United Nations Climate Change Conference in Paris.
Moomaw believes that if either nation failed to comply with the 'politically binding' agreement it would create major credibility problems at Paris if one or the other failed to honour their promises. However, the Republicans, who now control the US Congress, have threatened to undermine effort to cut emissions. 'This unrealistic plan, that the President would dump on his successor, would ensure higher utility rates and far fewer jobs,' said Republican Mitch McConnell, the US Senate majority leader, in a statement.
China has also committed to increasing the share of non-fossil fuels in its energy mix to around 20% by 2030. In 2004, China's long-term energy development plan, set a goal for non-fossil fuels of 15% by 2020.
With the joint announcement, 'there is much that could be learned by [Sino-US] collaboration on industrial processes such as steel making that is still quite energy intensive in China', Moomaw tells Chemistry World. Canadell says that there are many technologies available now to enable the ultimate transition to zero emissions. What is required is a rapid deployment of those technologies into industry and daily life through strong political will.