$17bn deal, intended to bolster sterile injectable and biologics capabilities, will be financed with existing cash and new debt
US pharma giant Pfizer aims to bolster its sterile injectable capabilities and gain access to biosimilars by buying injectables specialist Hospira. Pfizer anticipates that the $17 billion (£11 billion) deal will result in $800 million in savings by 2018.
Pfizer said in a statement that its acquisition of Hospira will create 'a leading global sterile injectables business.' The company estimates that the global market values for generic sterile injectables and biosimilars – copycat versions of biological drugs – will be $70 billion and $20 billion, respectively, in 2020.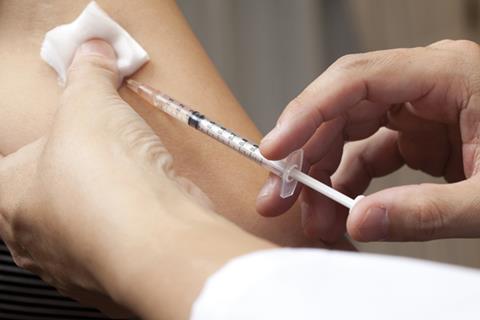 Hospira's injectable products are focused on acute care and oncology, and are expected to complement Pfizer's branded sterile injectables, which are predominantly anti-infectives, anti-inflammatories, and cytotoxics.
Further, Pfizer could expand the reach of Hospira's large portfolio of generic products, which are currently distributed primarily in the US, to Europe and key emerging markets.
Bob Kirby, a director at Fitch Ratings in Illinois, US, who analyses the healthcare and corporate sector, says the deal makes sense from the perspective of Pfizer's business in pharmaceuticals that are already established on the market.
'It builds out some areas of the business, gives it a little more scale, and certainly a greater presence in biosimilars,' he tells Chemistry World. 'But on the innovative side, I don't think it has done anything for the portfolio of new molecular entities,' Kirby adds.
Permanent or spin-off?
However, it remains to be determined whether Pfizer is building up its established pharmaceutical segment permanently, or if it will sell the business. 'The jury is out, but they are intimating that they will break that off, and spin it off or sell it,' Kirby states.
This deal is quite different than the one involved in Pfizer's failed takeover of UK-headquartered AstraZeneca last year. Unlike Pfizer's proposed merger with AstraZeneca, the Hospira acquisition does not offer Pfizer a tax-inversion benefit.
'The AstraZeneca path was driven more by innovation and certainly the tax advantage of the potential inversion,' Kirby explains. 'Whereas the Hospira acquisition is more focused on the [established] pharmaceutical side.'
Pfizer will finance the deal through a combination of existing cash –including some funds that were being held outside the US – and new debt. Approximately two-thirds of the value will be financed from cash and one-third from debt. Analysts say the company will also likely assume Hospira's $1.7 billion of debt.
President Obama proposed a plan in his 2016 budget, released on 2 February, for a 14% one-off tax on all earnings held abroad by US companies. In addition, Obama wants a new permanent tax of 19% for all future profits earned abroad.
Under the current US tax system, firms must pay a 35% corporate tax rate on all worldwide profits if the money is repatriated to the US.
Foreign profits held overseas by US corporations have increased six-fold since 2002 – growing from about $340 billion to $2.1 trillion, according to Capital Economics, an economic research firm based in London.
Pfizer is one of the biggest US corporate holders of foreign cash, according to Capital Economics, which estimates that the company would face payments of around $10 billion under Obama's proposal. However, the President's plan is unlikely to make it past the Republican-controlled Congress.