Agency that investigates serious chemical incidents is accused of sitting on its hands since resignation of former chairman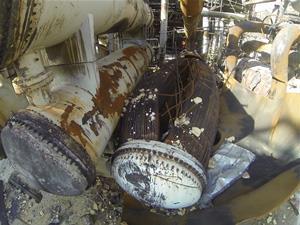 The independent agency charged with investigating serious industrial chemical accidents in the US, the Chemical Safety Board (CSB), is being accused of shirking its responsibilities in the face of internal squabbles.
There have been 19 major industrial accidents in the US since March, but the CSB has not opened any investigations into these incidents, the Washington, DC-based non-profit Public Employees for Environmental Responsibility (PEER) estimates. These accidents, which have resulted in 16 deaths and 32 serious injuries, PEER says. This inaction takes place against the background of the resignation of the CSB's former chairman, Rafael Moure-Eraso, in March, under pressure from the Obama administration and political leaders over alleged mismanagement.
PEER's executive director, Jeff Ruch, says that the CSB has been preoccupied with a months-long investigation of its own staff. In June, two of the board's top executives – managing director Daniel Horowitz and general counsel Richard Loeb – were suddenly placed on administrative leave. These suspensions have since been extended until at least mid-November, pending investigations of possible misconduct.
'The notion that the CSB's senior leadership has been on paid administrative leave for over five months, while the board is spending more money on internal investigations than they have spent on any accident investigation, suggests that they have their priorities screwed up,' Ruch says.
Accident inaction
PEER points out that four Williams Partners contractors died in early October during maintenance work at one of the company's natural gas plants in Louisiana. The CSB is already investigating Williams for a separate fatal accident in 2013. A second fatal incident at the same firm would normally trigger increased scrutiny, PEER states.
While the CSB says it doesn't have the exact data to verify the 19 accidents since March, the board admits to having had no new recent deployments because its attention has been focused elsewhere. The CSB had been averaging five-and-a-half new investigations per year, prior to March, with as many as eight new deployments launched in fiscal year 2011.
A source within the CSB says the criticism is fair, suggesting that such a period of inactivity is unprecedented in its recent history. There was a backlog of more than 20 cases when Moure-Eraso became the CSB's chairman, the source says, but that figure had fallen to seven by the time he was ousted.
Capacity challenges
Vanessa Sutherland, the current chair of the CSB who has been at the helm since September, says the board is working diligently to complete multiple ongoing investigations and clear the backlog. Sutherland says that the CSB hasn't launched any new investigations since she arrived because of challenges involving capacity, workload, budget and incident screening. From March through August, she says CSB senior staff and existing board members were conducting deployment meetings, even if no action was taken.
The board is spending more money on internal investigations than accident investigation
Regarding the most recent Williams incident, the CSB says the Department of Transportation's Pipeline and Hazardous Materials Safety Administration (PHMSA) deployed to that incident because the failure occurred at pipeline facilities. However, Ruch says the recent Williams explosion involved more than just the pipelines. 'That is sort of a puzzling abdication,' he tells Chemistry World.
PEER claims that a more recent example of the CSB's inaction is a fire that ignited during a chemical experiment at a Washington, DC high school on 30 October. The accident, which seriously injured six, appears to have been caused by the so-called 'rainbow experiment' that shows how different metals added to methanol produce different coloured flames when lit.
PEER faults the CSB for sending messages out on Twitter about the accident rather than attending the scene. The CSB source agrees, and says the board has investigated several similar accidents and issued an advisory bulletin in 2014. The source says this type of investigation is relatively easy and cheap to conduct and suggests that such a probe could examine how these chemistry demonstrations enter the school curriculum, and whether they require any particular approval or training to carry out.