Deal covers 14 acetyls and aromatics manufacturing plants and 10 joint ventures
BP is selling its remaining standalone petrochemicals businesses to Ineos for $5 billion (£4 billion), as part of a reorganisation aimed at meeting the challenge of a transition to cleaner energy.
The businesses focus on aromatics and acetyls, with interests in 14 manufacturing plants in Asia, Europe and the US, and 10 joint ventures. In 2019, they produced almost 10 million tonnes of petrochemicals.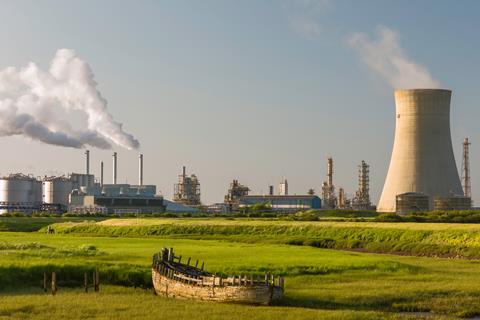 The aromatics operations make terephthalic acid (for plastics manufacture), and its precursor para-xylene. The acetyls business produces methanol, acetic acid and derivatives used in industries such as food, pharmaceuticals and paints.
Chief executive Bernard Looney described the units as sector leaders with 'world class technologies', but said that 'overlap with the rest of BP is limited and it would take considerable capital for us to grow these businesses'. This is particularly true of its chemical recycling technology Infinia, which converts unrecyclable polyethylene terephthalate (PET) waste into virgin-quality feedstock. Last year BP announced plans to construct a $25 million pilot plant to prove the technology.
The businesses will formally become part of Ineos Styrolution, which focuses on producing and recycling materials such as polystyrene and related polymers.
The sale means BP has reached its target of $15 billion in disposals, a year ahead of plans, bolstering its balance sheet after revealing last month that charges and asset write-offs relating to the recent oil price crash and the company's carbon emissions goals could amount to $17.5 billion. It's also still making payments in the aftermath of the Gulf of Mexico oil spill in 2010, although these are expected to be less than $1 billion this year.
In his assessment of the deal, Steve Jenkins of Wood Mackenzie said it makes strategic sense. 'BP held on to these assets in 2005 when they were making strong profits. Now these chemicals businesses are struggling with overcapacity and BP is urgently raising cash.' He anticipates that Ineos is 'relying upon capturing significant operational synergies as it integrates the two businesses. The deal includes a number of co-located assets and represents a good overall portfolio fit with very limited overlap.' The 1700 staff are expected to transfer to Ineos when the sale is completed at the end of the year.
According to the International Energy Agency, the petrochemical sector as a whole is expected to push up demand for oil – especially in developing economies, and that is inconsistent with BP's stated ambition to reach net zero emissions by 2050. However, the bulk of BP's current 415 million tonnes of greenhouse gas emissions come from customers burning its fuels.
While BP is one of only three oil and gas companies to have committed to getting to net zero emissions in absolute terms , details of how it plans to achieve the target are thin on the ground. Looney has promised more details in September.
Angeli Mehta is a freelance science writer with a research PhD, based in Edinburgh, UK
View full profile