Papers on cats, vampire bats, digeridoos and cheese disgust all won at science's most irreverent ceremony
Researchers answering whether cats are solid or liquid, how digeridoos can treat snoring and why we find cheese disgusting all triumphed at this year's Ig Nobel awards. Presented at Harvard University, US, on 14 September, the annual parody of the Nobel prize celebrated research that at first sight sounds like a joke but often has some serious science behind it.
The ceremony, hosted by Marc Abrahams, editor of Annals of Improbable Research, is famed for its light-hearted tone. As usual, the event included the audience throwing a deluge of paper aeroplanes and excessive acceptance speeches being timed out by an eight-year-old girl exclaiming her boredom. In addition to a trophy, all prize winners were presented with a cash prize by Nobel laureates in attendance – a 10 trillion Zimbabwean dollar bill (no longer legal tender, formerly worth around 20p).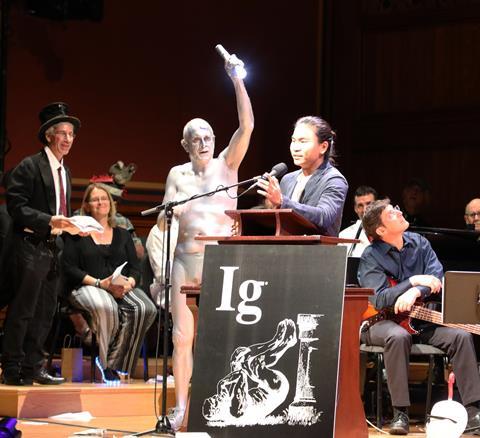 No chemistry prize was awarded this year, although several winning research projects touched on chemistry's fringes. Cat lovers were challenged by the winner of the physics prize to consider whether their feline friends are liquid or solid in nature, given their propensity to squeeze into the most improbable of tiny spaces. 'A liquid is a material that can adapt its shape to the container,' stated winner Marc-Antoine Fardin of ENS Lyon, France. 'This seems to be the case for cats.'
The nutrition prize went to a team from Cidade Universitária in Recife, Brazil, for the first identification of human blood in the diet of the hairy-legged vampire bat D. ecaudata. The team used PCR amplification to identify DNA fragments in bat poo and were surprised to spot human DNA fragments alongside the chicken DNA. Unable to attend in person, the trio's acceptance video showed them baring their own vampire teeth.
The medicine prize winners used functional MRI to investigate the neurological basis of disgust for cheese. The team found specific parts of the basal ganglia were activated more in haters when taunted with cheese, and another part of the brain, involved in the reward circuit, was deactivated. As Jean-Pierre Royet of the University of Lyon explained in his acceptance video: 'cheese is a thing of delight, especially with red wine, but you must come to France to experience this.'
Age is no barrier to winning an Ig Nobel. Now a student at the University of Virginia, the research that led to Jiwon Han's prize in fluid dynamics was carried out while he was in high school in South Korea. Han showed we spill coffee more than wine when walking about due to the cylindrical nature of coffee mugs. His mathematical models suggested that grasping the top of the mug claw-handed, rather than holding the handle, reduced the likelihood of inadvertent coffee escape. 'Research isn't about how old you are or how smart you are,' he told the audience. 'It's about how much coffee you can drink.'
Other highlights from the ceremony included a peace prize for treating snoring by playing the didgeridoo (with a live demonstration from one of the winners, whose own sleep apnoea was cured by didgeridoo-playing); an economics prize for showing that holding a live crocodile makes people more likely to gamble (cuddly crocodiles featured in the acceptance speech); and an anatomy prize for why old men have big ears – research from a British GP that was inspired by observing fellow bus passengers.
There were also awards for a Japanese team that identified a cave insect with female penises and male vaginas; the discovery that many identical twins can't work out whether photos are of them or their sibling; and a study that showed foetuses respond better to music played within the vagina than through the mother's belly.