Countries are now legally bound to cut mercury emissions
The United Nations Minamata Convention on Mercury came into effect on August 16, requiring governments to protect their citizens from the harmful effects of mercury. It is the first new global treaty on environment and health to be adopted for nearly a decade.
The 74 countries that are party to the Convention are now legally bound to take a range of measures to protect human health and the environment by addressing mercury throughout its lifecycle. This includes banning new mercury mines, phasing out existing ones and regulating the use of mercury in artisanal and small-scale gold mining, manufacturing processes, and the production of everyday items such as cosmetics, light bulbs, batteries and teeth fillings. The Convention also seeks to reduce emissions as side-effects from other industrial processes, such as coal-fired power stations, waste incineration and cement clinker production. It contains measures on the interim storage of mercury, on mercury waste and on measures to reduce the risks of contaminated sites.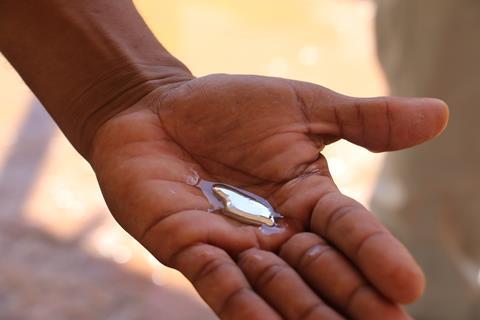 Signed by 128 countries, the Convention takes its name from the most severe mercury poisoning disaster in history, when industrial wastewaters were dumped into Minamata Bay in Japan, from 1932 until 1968. Japan subsequently compensated about 60,000 people for mercury poisoning.
The treaty is the beginning of the end of mercury in the global economy, says IPEN, a global network of environmental health NGOs. But to achieve its aim requires stronger coordinated global action. 'Mercury-contaminated sites have become a slow disaster in many countries,' says Lee Bell, a mercury policy advisor for IPEN. 'We need unified guidelines so that countries can identify and control risk from these sites and clean up communities. It is not enough to ban new industrial uses.' Countries must improve their monitoring, health measures, and food advisories, and increase the capacity of health practitioners to understand mercury poisoning, Bell adds.
Juliane Kippenberg, associate children's rights director at Human Rights Watch, points out that millions of children and adults are exposed to mercury on a daily basis. The organisation has documented exposure in people working in artisanal and small-scale gold mines in Ghana, Mali, Nigeria, Tanzania, the Philippines and Papua New Guinea. 'Now that the Convention is in effect, governments have to walk the walk and put the treaty into practice,' she says.
The first meeting of the Parties to the Convention will take place from 24-29 September in Geneva, Switzerland.