Firm aims to use bankruptcy protection and a $2bn trust to resolve thousands of cancer claims
Johnson & Johnson (J&J) has hived off its talc litigation and liabilities into a new US subsidiary. This entity, LTL Management, has filed for Chapter 11 bankruptcy protection in North Carolina's Western District – a court with a track record of looking favourably on such cases. The manoeuvre comes in the wake of ongoing legal action from many thousands of plaintiffs who claim asbestos in J&J talc products caused their cancer.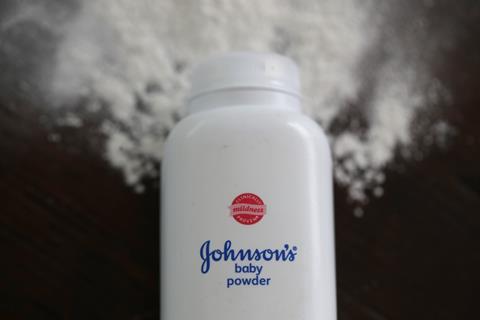 A $2 billion (£1.4 billion) trust will be set up to resolve the claims. 'We are taking these actions to bring certainty to all parties involved in the cosmetic talc cases,' says Michael Ullmann, J&J's general counsel. 'While we continue to stand firmly behind the safety of our cosmetic talc products, we believe resolving this matter as quickly and efficiently as possible is in the best interests of the company and all stakeholders.'
This is not the first time a company has created a subsidiary to protect itself in the face of liability claims. Notably, Koch Industries-owned Georgia Pacific subsidiary Bestwall, which took on the company's asbestos liabilities, filed for Chapter 11 bankruptcy protection in 2017 in the same court being used by J&J.
Lawyers representing plaintiffs in talc cases have pushed back. 'It seems inconceivable that bankruptcy involving a highly profitable $500 billion company could be contemplated, let alone become reality,' says Andy Birchfield of Georgia-based law firm Beasley Allen, who is representing thousands of plaintiffs. However, pre-emptive legal attempts in August to prevent J&J going down this route were rejected by the courts.
Various other cases involving J&J talc products are still pending, including multidistrict litigation covering thousands of plaintiffs that is being heard in federal court in New Jersey. 'We are committed to challenging this petition at every level and fighting any attempt by J&J to further delay scheduled trials and prolong the suffering of thousands of ovarian cancer victims and their families,' says Birchfield.
While J&J has prevailed in many of the liability cases it has faced, significant damages have been awarded in several others. In the largest of these, in 2018 a court in St Louis, Missouri awarded a total of $2.1 billion in damages (revised from $4.7 billion on appeal) to 22 women who claimed their ovarian cancer was caused by the talc. The Supreme Court decided not to hear J&J's appeal in June, so the ruling stands. The company maintains that none of these, or any other pending cases, have any scientific merit.