Report for the UN Human Rights Council condemns agrochemical industry and calls for a treaty to phase out toxic pesticides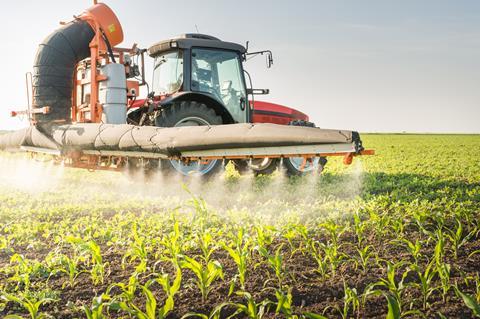 The agrochemical industry has rejected criticisms that pesticide use is endangering people's basic human rights to food and health, while two advisers have told the UN Human Rights Council that it's time to overturn the myth that pesticides are necessary to feed the world.
In a new report, two of the Council's special rapporteurs – independent, unpaid advisers – accuse industry of downplaying the dangers of agrochemicals and call for a new global treaty to phase out hazardous pesticides.
Pesticides are responsible for around 200,000 deaths every year, the Council was told by special rapporteur on the right to food, Hilal Elver, and special rapporteur on toxics, Baskut Tuncak. Most of these fatalities occur in developing countries. 'The burden of the negative effects of pesticides is felt by poor and vulnerable communities in countries that have less stringent enforcement mechanisms,' Elver tells Chemistry World.
In their report, Elver and Tuncak accuse the agrochemicals industry of denying the dangers associated with certain pesticides and the scale of the impacts, as well as shifting the blame to farmers for misusing products. They also express concern about industry's 'aggressive, unethical marketing tactics', and the amount of money spent on influencing policymakers and contesting scientific evidence. 'There continues to be a general lack of awareness of the dangers posed by certain pesticides, a condition exacerbated by industry efforts to downplay the harm being done as well as complacent governments that often make misleading assertions that existing legislation and regulatory frameworks provide sufficient protection,' the report says.
Both rapporteurs call for a binding global treaty to regulate hazardous pesticides throughout their life cycles. International and national legislation, as well as non-binding guidelines, already exist but aren't effective, they say. For example, industrialised countries can still produce banned pesticides and export them elsewhere. They also want the global community to move towards sustainable agricultural practices. 'Agricultural policies, trade systems and corporate influence over public policy must all be challenged if we are to move away from pesticide-reliant industrial food systems,' they write.
Mixed reception
However, the European Crop Protection Association, which represents agrochemical companies across Europe, says the premise of the report ignores the UN Food and Agriculture Organization's own finding that without crop protection tools, such as pesticides, farmers could lose as much as 80% of their harvests. 'It seems to be at odds with other UN positions on the role of agricultural technologies; one wonders if the rapporteur is more interested in the politics than practicalities,' comments Graeme Taylor, ECPA's director of public affairs. '[Ironically] the report not only denies the right to food, but also the right to an objective analysis of the issues at stake exemplified by the reference list which reads like an anti-pesticide NGO induction manual.'
CropLife International, an international trade association for the plant science industry, also disagrees with many of the 'unfounded and sensational assertions' made throughout the report. 'When government-approved crop protection products, both organic and inorganic, are used responsibly and according to their label instructions they should not pose any unacceptable risk to human health or the environment,' a spokesman says. 'We support the work of government regulators to continually monitor the use of pesticides to identify any potential negative effects on human health and the environment, and take appropriate action to restrict or eliminate products that are found to pose such risks. However, arbitrary limits on pesticide use will impact food supply, drive up food prices and ultimately make it harder to fulfil the right of every citizen to access affordable food.'
Meanwhile, in a joint statement, the Center for Environmental Law and EarthJustice, two non-profit environmental law organisations, welcomed the report and urged the Council to act on its recommendations. 'Extensive scientific research confirms that pesticides used for food production cause an array of harms. The overuse of pesticides having systemic effects is unnecessary to feed the world population, and threatens not only the health of workers and consumers, but also biodiversity, which undermines the very basis of agriculture and of the right to food.'