AAAS members taking to social media and blogs to help inform science and technology discourse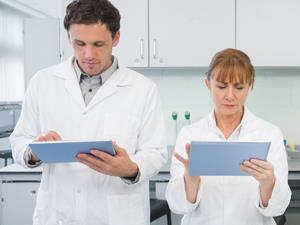 Scientists are keen to talk to the public and believe that they should take an active role in public policy debates when it comes to science and technology, according to a survey of American Association for the Advancement of Science (AAAS) members. Furthermore, 43% of the scientists polled said that engaging with the public and the media could actually benefit their careers.
The survey, which was conducted by the Pew Research Center and commissioned by the AAAS, polled more than 3700 AAAS members and found that 87% thought scientists needed to get involved in public discussions that revolve around science and technology. Of those surveyed, 71% thought that the public had an interest in their specific field and more than half thought that debate about their research area was aired in the media.
Nearly all of the scientists Pew spoke to said they talk to members of the public about research from time to time and half said they talked to reporters about scientific developments. And almost half used social media channels such as Twitter and Facebook to talk about science and their own work, with 22% believing that this was important for career advancement. And of those who use social media to talk about research, only 16% are using it solely to talk with other experts in their field. Of the disciplines surveyed, chemists were among the least likely to follow other researchers on social media or blogs.
'What's changing here?' asks Cary Funk, one of the authors of the Pew report. 'I think one thing that's changing, if you look at it from a broader context, is that for more than a decade we're seeing a broader public discourse about science. The best example is certainly about climate change but really about other topics as well.' She adds that social media has also given scientists an opportunity to reach out to a much larger audience directly, without having to go through gatekeepers like the traditional media.
However, Dominique Brassford, chair of the department of life sciences communication at the University of Wisconsin-Madison in the US sounds a note of caution. She says that this survey can't be used to build up a picture of what all scientists think of public engagement as only AAAS members were polled. She points out that the AAAS has an advocacy mission so members are bound to be more supportive of public engagement. Added to this, she says the AAAS is not representative of the wider scientific community with a third of its members over 60. A survey she conducted at her own university found that only 10% of those polled blogged and just 12% used Twitter.