After years of litigation, two prominent scientific publishers have settled copyright infringement lawsuits with the academic social networking site ResearchGate. The agreement, the specific terms of which are being kept confidential, allows authors who have published research articles in American Chemical Society (ACS) and Elsevier journals to share their work on the ResearchGate platform in a copyright-compliant way.
In 2017, the two publishers sued ResearchGate for allegedly violating US copyright laws, specifically relating to 50 research papers uploaded by users to the site. In a separate case in Germany, a district court in Munich ruled at the end of January 2022 that ResearchGate is responsible for scholarly papers uploaded to the site in violation of copyright law. However, that German court dismissed the damages claimed by Elsevier and the ACS, arguing that the publishers hadn't proven that they had bought the licensing rights from all co-authors of the manuscripts in question. ResearchGate had appealed that ruling, while the US lawsuit was also ongoing until now.
ACS president James Milne, who chairs the Coalition for Responsible Sharing, said the 15 September settlement is good news for researchers. 'We're pleased that this settlement helps remove uncertainty for researchers sharing their work on the ResearchGate site,' he stated.
ResearchGate co-founder and chief executive Ijad Madisch said the agreement marks a new chapter in the relationship between the two publishers and ResearchGate. He explained that the automated solution that they have landed on 'performs a series of checks to determine applicable sharing options at the point of upload'.
From disruptor to partner
Specifically, during upload the ResearchGate platform will check rights information for ACS and Elsevier published content and immediately determine how the content can be shared on the site. Authors will be able to store the final versions of ACS and Elsevier published articles privately in their ResearchGate profiles and share them privately when requested by other users.
Lisa Janicke Hinchliffe, a librarian and professor of information science at the University of Illinois Urbana-Champaign, says the settlement agreement 'signals that ResearchGate has completed its journey from disrupter to partner within the scholarly communications ecosystem'. She notes that Elsevier and ACS have been using ResearchGate's content blocking technology since at least early 2022, which indicates that 'a more collaborative relationship' has been in development for some time.
In April, the Royal Society of Chemistry (RSC) entered into a partnership with ResearchGate to expand the reach of its open access (OA) portfolio. Through that arrangement, all articles from the RSC's eight recently launched OA journals were syndicated directly to ResearchGate. And Hinchliffe notes that several other publishers have also been syndicating their content to ResearchGate and anticipates that Elsevier and ACS will move in a similar direction.
Rick Anderson, senior librarian at Brigham Young University in Utah, points out that settlement hasn't resulted in a licensing agreement that gives ResearchGate 'blanket permission' to post the publishers' content.
Instead, Anderson says, there will be an automatic check on copyright status when an Elsevier or ACS author attempts to post the article on ResearchGate. The paper will then be posted publicly if such permission has been granted, or stored privately at the author's discretion if publication rights remain reserved, he adds.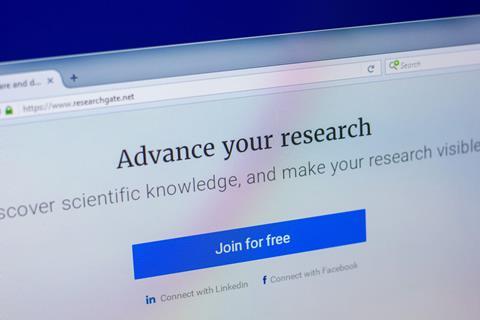 The settlement acknowledges that a company or entity like ResearchGate cannot provide unrestricted public access to copyrighted articles when neither the authors nor ResearchGate are the rights holder, says Daniel Himmelstein, a data scientist who is the head of data integration at Related Sciences, a startup based in Denver, Colorado, that uses machine learning to develop new medicines. 'There was never legal uncertainty in this regard,' he tells Chemistry World. 'ResearchGate was able to garner early adoption by providing a venue for authors to post their articles despite having relinquished the copyright to do so.'
When article sharing on ResearchGate became popular, publishers inevitably cracked down on what they viewed as major source of unauthorised distribution, he adds, noting that the early adoption benefits to ResearchGate might outweigh its current legal costs.
It will be interesting to see how convenient the private article requests will be for ResearchGate users, Himmelstein says. The proposed solution is not much different than the #ICanHazPDF Twitter hashtag or the more traditional approach of directly emailing authors for a copy of their articles, he suggests.
'All of these methods impose substantial inconvenience on requesters,' Himmelstein states. Specifically, he says they restrict the free flow of publicly funded information and do not allow further redistribution, which is increasingly important as the use of text and data mining tools becomes more widespread. Himmelstein predicts that for convenience most users will prefer 'the blatantly unauthorised approach of pirate sites' like Sci-Hub, which illicitly hosts millions of pay-to-read scientific papers.
A study published in the arXiv electronic preprint repository back in December surveyed more than 3,300 academics around the world and found that over half of them have used scholarly piracy sites such as Sci-Hub to overcome paywalls and access research.
Update: A clarification was made to Lisa Janicke Hinchliffe's affiliation on 19 September 2023.

Rebecca became the US Correspondent for Chemistry World in September 2014, based out of Washington, DC, after writing for the magazine on a freelance basis since 2007.
View full profile