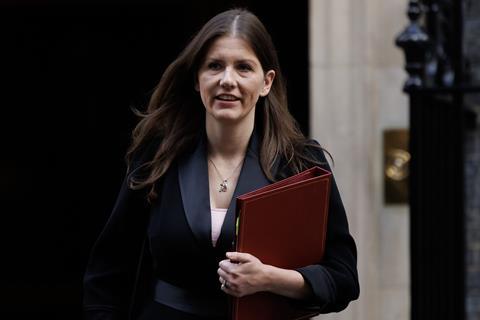 A growing number of academics are resigning advisory roles with UK Research and Innovation (UKRI) after it suspended its first equality, diversity and inclusion (EDI) advisory group following pressure from a government minister. The University and College Union has said that if UKRI does not reverse its decision by the weekend it will call on its members to resign from voluntary positions with the funding body. The row looks set to damage the sector's confidence in the independence of UKRI's decision-making processes and could have long-lasting repercussions.
Secretary of state for science, innovation and technology, Michelle Donelan, published an open letter on 28 October objecting to 'extremist views' shared on X, formerly Twitter, relating to the Israel–Hamas war by members of Research England's EDI advisory group. While acknowledging that academic freedom and free speech are 'totally sacrosanct', Donelan said she was outraged by several posts expressing sympathy or support for Hamas and demanded a response from UKRI by Monday 30 October. Her letter named two committee members and called for the EDI group to be discontinued as it added 'burden and bureaucracy' and showed little evidence of effectiveness.
Academic freedom & free speech are totally sacrosanct. But Hamas is a proscribed terrorist organisation. This is outrageous from a public body. See my letter to @UKRI_News 👇🏻 pic.twitter.com/4qWEbmfdo7

— Michelle Donelan MP (@michelledonelan) October 28, 2023
Donelan's comments followed a note produced by Policy Exchange, a right-wing thinktank, on 27 October, the day after Research England named its first EDI advisory group. It said that 'many' members of the advisory group 'have shown support for radical anti-Israeli views, whilst others have been active in promoting other controversial and politically contested views on race and gender'. It gives several examples including a board member who described a Guardian article on the Home Secretary's instructions to police to clamp down on Hamas supporters in the UK as 'disturbing'. The chair of the panel also retweeted a message on social media that linked Israeli policies to 'genocide and apartheid'. The X accounts of the board members are now locked so it is impossible to view the original posts.
In response to Donelan's letter, UKRI suspended the EDI panel with immediate effect, launched an investigation and promised to review its advisory structures. Jessica Corner, executive chair of Research England, will use the investigation's findings to decide on the future of the EDI advisory group.
Yesterday, UKRI responded to a letter from Secretary of State, Michelle Donelan. Now we are publishing that response and the Terms of Reference for the review we are setting up. pic.twitter.com/RjZypgnbVK

— UK Research and Innovation (@UKRI_News) October 31, 2023
Almost 3000 academics have signed a petition calling on UKRI to, among other things, assert its independence from the government. The petition states that signatories 'refute the suggestion that expressions of support for Palestinian civilians and their right to engage in organised political resistance can be equated with support for Hamas'. It states that Donelan's comments are an attack on individual freedom of expression and academic freedom, and constitute unacceptable political interference in the decision-making and governance of UKRI.
One of the signatories, Bill Spence, a theoretical physicist at Queen Mary, University of London, says: 'That UKRI should immediately suspend and question the future of their EDI committee because the government minister says she doesn't like it seriously questions UKRI's commitment to independence from political interference. It also questions their commitment to promoting EDI.'
'Chilling effect'
'UKRI's actions will have a chilling effect on anyone considering taking up a post with them,' he continues. 'Several people are already posting on social media that they have lost confidence in UKRI and are resigning. The issue is that UKRI's actions suggest that if the government publicly labels you as an extremist, or criticises your work, UKRI will immediately assume there are grounds for suspension and an inquiry. Following this they will give you no public support whatsoever. Note that the minister's definition of extremist here includes anyone agreeing with Amnesty International's conclusion that Israel has an apartheid political system.'
Spence says that UKRI should first have established if there were grounds for an inquiry, issued a statement deploring and questioning the way people working for them were publicly labelled as extremists and defended their EDI committee and its work.
Rachel Oliver, a materials scientist at the University of Cambridge, says UKRI was put in a difficult position. 'UKRI could have immediately sacked the individuals but instead chose to investigate which is what any responsible employer would do. The investigation is the best we could hope for. [Its] outcome and impact are incredibly important for academic freedom in the UK.'
However, Oliver questions the decision to suspend the EDI group. 'If a member of staff was the subject of serious complaints, a university might suspend them pending an investigation, but they wouldn't close down their department, even temporarily. This looks like UKRI bowing to political pressure. It sends the message that equality is expendable.'
Oliver believes that UKRI must issue clear guidelines for all those associated with UKRI, detailing what they can discuss in public without risking censure. 'I for one will be very reluctant to take on any additional duties for UKRI until such guidelines are issued. And if the investigation decides that an academic tweeting "this is disturbing" about a Guardian article has overstepped the bounds of their right to free speech because of their engagement with UKRI, I doubt very much if I will take up those duties again. I'm not keen to give up my time for what is essentially voluntary work to expose myself to potential abuse and repercussions for my career.'
Setting up a review was one of the few things UKRI could have done to reassert their autonomy, says Kieron Flanagan, a science and technology policy researcher at the University of Manchester. 'It's clearly an attempt to take the heat out of the situation. However, by suspending the EDI panel, they've fallen into the trap set by the original letter. Many academics will feel that they have conceded the very principle of an EDI panel.'
However, Nick Hillman, chief executive of the Higher Education Policy Institute, thinks the minister has a right to express her views. 'On the other hand, the whole point of UKRI is to keep research decisions separate from the day-to-day cut-and-thrust of party politics and very few experienced researchers would want to work there if it were simply an appendage of Whitehall,' he adds. 'Overall, I think the decision to pause things is much the best option as it will allow time for reflection. I suspect the whole scenario could have been avoided if there had been more due diligence on the appointees in advance, and that may be the key learning point here.'