Chemists search for better ways to block UV rays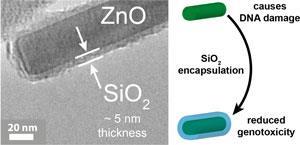 Nanoparticles coated with an inert layer of silica could be used in sunscreens and cosmetics to reduce the potential hazards of these increasingly indispensable materials, new research shows.
In recent years, zinc oxide nanoparticles have been used in sunscreen because of their ability to block ultraviolet radiation and produce less opaque products that are attractive to consumers. This isn't the only application where nanoparticles are making an impact, being found in everything from cancer drugs to batteries.
However, the potential adverse health effects of nanoparticles have not been fully explored and there is mounting evidence that they display toxicity inside the human body, potentially even causing DNA damage.
'The toxicological effects of nanomaterials are often neglected,' says Philip Demokritou who led the study at the Harvard School of Public Health in Boston, US. He stresses that developing nanoparticles that cause less damage to the environment is crucial to the sustainability of the nanotechnology industry. '30 years ago we put materials out there with very good properties and years later we've spent billions of dollars to clean up the environmental mess with lots of lives lost. We don't want to replicate the 20th century.'
To this end, Demokritou and co-workers have devised a method that generates nanomaterials described as 'safer-by-design'. Their technique involves the encapsulation of flame-generated nanorods with a thin layer of silica in a large scale reactor. The major advantage of this approach is that it effectively kills two birds with one stone; the particles still possess desirable UV blocking properties, but DNA damage is reduced, all thanks to their transparent inert shell.
Alok Dhawan, a nanotoxicology expert at Ahmedabad University in Gujarat, India, says that this is a good approach that 'paves the way for efficient nanotech products without risking human and environmental health'. However, he adds that in depth studies into exposure times to evaluate their cyto- and geno-toxicity are still needed.
The group continue to work on new ways to apply similar scaleable approaches to other classes of non-flame generated nanoparticles. Demokritou says he has been encouraged by the response of industry partners collaborating with their Nano center commenting that 'some have already expressed an interest in looking into this approach for some of their products'.