Philippines wants French drugmaker to cover immunisation program costs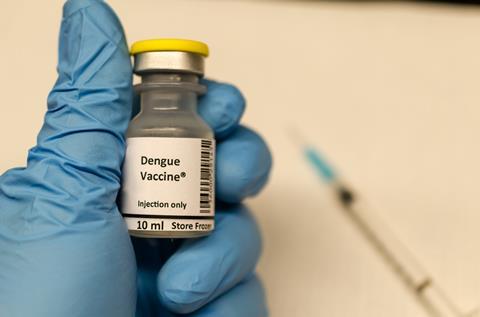 Sanofi's Dengvaxia dengue vaccine has been withdrawn in the Philippines, and the government is demanding a refund from the company of the PHP3.5 billion (£52 million) it had paid for the vaccines as part of an immunisation programme.
The decision comes in the light of an analysis of long-term data on the vaccine, gathered over six years, which indicated that its performance was dependent on previous infection with the mosquito-borne dengue virus. The analysis showed that the vaccine gives persistent protective benefit against dengue in those who had previously been infected with the virus. However, there were more cases of severe disease if the first infection occurred after vaccination.
'These findings highlight the complex nature of dengue infection,' says Su-Peing Ng, Sanofi Pasteur's global medical head. 'We are working with health authorities to ensure that prescribers, vaccinators and patients are fully informed of the new findings, with the goal of enhancing the impact of Dengvaxia in dengue-endemic countries.'
The company was criticised by a joint hearing of the government's public accountability and health & good government committees, according to a report in The Philippine Daily Inquirer. Sanofi Pasteur Asia Pacific head Thomas Triomphe maintained that the advisory about the vaccine was not a cause for panic and alarm, and it remained safe. However, the committee was unhappy.
'We need to do something … because of your statement,' said representative Estrelita Suiansing. 'It is Sanofi itself who issued the advisory that there is a problem.'
Triomphe was forced to apologise, the newspaper reports. 'I want to provide the facts and I want people to understand there's no need to panic,' he said. 'I do apologise if there's a misunderstanding.'
Sanofi is now looking to update the prescribing information to request that healthcare professionals assess the likelihood of previous infection before vaccination. Those who are unlikely to have been infected should not be vaccinated.
There are currently four different serotypes of dengue virus in circulation, and thus people can be infected up to four times in their lifetime. Data from countries where the virus is endemic indicate that 70–90% of the population will be exposed to the virus at least once by the time they reach adolescence. Severe disease is more likely to occur in people who have already been infected with one serotype when infected by a different one.
Dengvaxia is a tetravalent live, attenuated vaccine designed to protect against all four serotypes. It is currently indicated in most dengue-endemic countries. Trials in 10 endemic countries in Asia and Latin America showed it prevented 93% of severe disease and 80% of hospitalisations.