7.5% funding boost for science and technology fails to offset cuts of more than 20% last year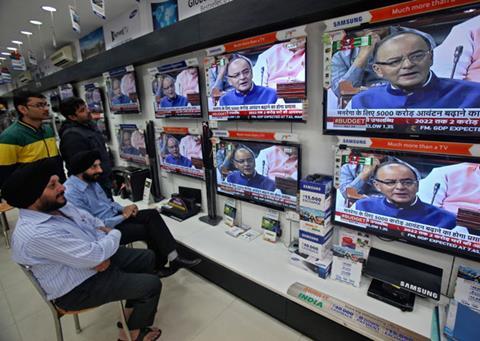 The Indian government's 'big-bang' budget has left the country's science community sorely disappointed. The budget offered only minor increases to science and technology (S&T) funding to offset inflation, and for some sectors government backing has nose-dived.
Last year, Narendra Modi's Bharatiya Janata Party devoted more space to the promotion of science and technology in its election manifesto than any other political party. This year, the science and technology budget has been increased by roughly 7.5% over last year's allocation to INR95 billion (£1 billion), whereas for space exploration and nuclear energy, which are funded separately, the increase was merely marginally. Money for health research has remained largely stagnant and the environment budget has been cut by 15%. Last year, expenditure was slashed by a whopping 20% or more across the board, causing anger in many sectors.
A new, exceptionally ambitious target to generate 175GW of renewable energy by 2022 has been announced. This will entail the installation of 100GW solar, 60GW wind, 10GW biomass and 5GW small scale hydroelectricity power plants. Chandra Bhushan, deputy director general of the Centre for Science and Environment, an Indian environmental thinktank, says there is currently a mismatch between the government's good intentions and budgetary allocations: cash for new and renewable energy schemes has fallen by 7%.
'We have to invest in science and technology much more to make sure that there are at least a few institutions in science which are as good as the best in the world,' says Chintamani Nagesa Ramachandra Rao, a chemist and former head of the Indian government's scientific advisory council. 'Right now, there is not a single institute or university [in India] which is comparable to the best in the world.' He adds that India must improve its scientific publication record and aim to be in the top five in the world, and that this will drive economic development.
Broken promises
'There is an overall budgetary downgrading of S&T and related sectors instead of the much needed enhancement,' says science policy expert Dinesh Abrol, a visiting professor at the Centre for Studies in Science Policy at India's Jawaharlal Nehru University. 'Politicians have been talking about investing 2% of GDP in S&T since 1989 but we have reached only 0.9% till now, whereas China and South Korea have rapidly moved towards 3% or beyond,' says Raghunath Anant Mashelkar, chemical engineer and president of the Global Research Alliance, a network of nine research intensive universities aiming to tackle some of the world's toughest problems.
'Science and technology R&D investments in India are predominantly public sector driven with little input from the private sector, which seriously needs to change,' says Anil Kakodkar, former chair of India's Atomic Energy Commission. 'We need to improve the ecosystem for [private R&D investment] and if there is adequate connectivity and mutual confidence between industry and publicly funded R&D labs – with industry taking advantage of this and building on it – S&T investment will increase from near 1% of GDP to 2% rapidly.'
Finance Minister Arun Jaitley also announced money for more than a dozen new research institutes working in areas such as medicines, drug development and science and technology education. However, experts like Abrol warn that India does not have enough top flight researchers to run these institutions, courtesy of underinvestment in the sciences.
Last month thousands of early career scientists took to the streets across India threatening nationwide lab shut-downs, unless a stipend hike promised by the government last year materialised. In the end the government caved in to demands and increased young researchers' basic pay.
'More support is always welcome but focusing on numbers after the fact is navel-gazing,' said Krishnaswamy VijayRaghavan, secretary of the Indian government's department of biotechnology. The focus now must be on improving internal processes and choosing which areas to support, he says. 'We need to get things done with what we have and do a great job and we will get a lot more as the economy moves up.'
Budget plans a business friendly India
The government expects the Indian economy to grow by 7.4% this year, making India the fastest growing large economy in the world. It even dreams of double digit growth in the coming years. And to support this growth the main thrust of the budget is on infrastructure development led by India's public sector, as well as providing a business friendly environment. The budget also emphasises making India a hub for manufacturing, under Modi's programme 'Make in India'.
'There is nothing specific announced in the budget for any particular industry including chemicals and the fertiliser industry,' said R Mukundan, managing director of Tata Chemicals, 'however, a reduction in customs duty on certain raw materials will surely help manufacturers.'
'There are close to 800 leading companies from the world that have set up their R&D centres in India, recognising the prowess of Indian scientific talent,' says Mashelkar. The pharma companies in India are now moving towards creating new molecules, not just copying known ones, he adds. 'As opportunities in the newly established institutions and innovation driven Indian enterprises are increasing, I am also seeing a reversal of brain drain,' he adds.