Academic human rights organisations say that the trial did not meet international standards of justice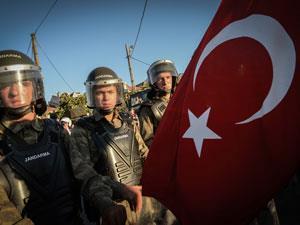 Chemical engineer Kemal Gürüz and five medical doctors yesterday received long prison sentences for their part in a conspiracy to overthrow the Turkish government. They were sentenced along with 275 other people convicted of fomenting terrorism, a number of whom received life sentences, in the long-running Ergenekon trial. However, supporters of the academics claim that the trial did not meet basic standards of justice.
The verdicts were read out by a special authority court in a closed-doors session at the Silivri high security prison, where only lawyers and suspects were present. Protesters and the police clashed outside the prison.
The Ergenekon trial was triggered when grenades, similar to those used in past attacks on state institutions, were found in a house in Istanbul in 2007. Since 1960, the Turkish army have deposed three governments in coups, and overthrown one government in 1997 in the bloodless 'postmodern coup'.
The trial has involved not only military personnel, but also journalists, academics and politicians accused of being members of a terrorist organisation intent on subverting the state. In 2012, a European commission report expressed concerns over judicial shortcomings in the Ergenekon trial. Violations include keeping 66 defendants imprisoned for more than four years pending a verdict.
Last week, the International Human Rights Network of Academies and Scholarly Societies (IHRNASS) – an organisation representing 79 academies and scholarly societies – issued a report stating that the scientists' trial 'is far from a system that would satisfy international standards of justice', and called for their release or a fair trial. 'Statements from judges implied that the presumption of innocence was not part of their mind-set. For example, they have refused forensic evidence that some electronic proofs could not have been created when the prosecutors said,' says Peter Diamond, professor emeritus at the Massachusetts Institute of Technology and an economics Nobel laureate, who visited Turkey and co-authored the IHRNASS report.
Gürüz, former head of the country's Higher Education Council, was sentenced to 13 years and 11 months, and the five doctors, all of them former university rectors, were given between 10 and 23 years. Gürüz's sentence is suspended until his appeal is heard, but he will remain in prison as he has also been indicted in the postmodern coup trial. 'We face a very difficult time,' his wife Güniz Gürüz, a retired professor of chemical engineering at the Middle East Technical University in Ankara, said yesterday. Kemal Gürüz attempted suicide in jail on 14 June.
'We are greatly disappointed at the convictions of doctors and scientists: we have looked into the charges and did not find solid reasons for conviction,' says Diamond. 'These people have no background in doing or advocating for violence, there are no proofs they were involved in any way with the military. Academic freedom has been under attack for a while in Turkey: this trial is a continuation of this tendency.'
The article was updated on 8/8/2013 to correct an error connected to the discovery of explosives that triggered the trial