Criticism of research grants and a power shift in Congress spark concern that budgets and independence will be cut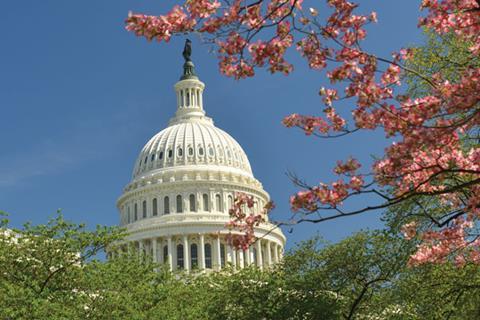 A conflict several years in the making between Republican leaders in Congress and US science agencies has reached boiling point. Science advocates and researchers that depend on government grants are particularly worried now that Republicans control both chambers of Congress. They fear that science budgets will be cut and the independence of research agencies curtailed.
Their concerns have been sparked by two simultaneous developments: increasing public criticism by key Republicans of research funded by agencies like the National Science Foundation (NSF) and a congressional power shift that has placed many vocal so-called climate change sceptics and opponents of environmental regulations in positions of power. This shift has been marked by a number of top Republicans publicly questioning the value of some research based on a reading of the grant's title and abstract.
But the problem appears to go beyond mocking apparently silly-sounding research. 'It is not only that politicians are making fun of scientific projects that sound outlandish or impractical, they are literally rejecting science in order to gain political advantage,' says Sean Carroll, a theoretical physicist at the California Institute of Technology, US. This could have to do with pleasing campaign contributors or constituencies, he suggests.
'There is an attack on the actual substance of the science being done in an attempt to limit the type of science that federal agencies can do because the results of that investigation would be politically inconvenient,' says Will White, a marine biology professor at the University of North Carolina-Wilmington, US, who has received science agency grants in the past.
Frivolous research?
The recent spat between science agencies and Republicans was intensified shortly after Congressman Lamar Smith took over chairmanship of the House of Representatives' science, space, and technology (HSST) committee in 2013, and repeatedly accused the NSF of wasting taxpayer money on frivolous research.
Smith has publicly questioned at least 50 specific research projects – including a $340,000 (£221,000) grant to examine the ecological consequences of early human-set fires in New Zealand – and demanded to examine the agency's peer review process underlying those awards.
There is an attack on the actual substance of the science being done
Smith's activities have prompted criticism from the US academic research community, as well as from his Democratic colleagues. They claim that his actions strike at the very heart of the country's scientific peer review system, and suggest that scientists rather than politicians should determine what research is worthy of public funding.
The top Democrat on the HSST committee, Representative Eddie Bernice Johnson, has lashed out at Smith and said 'there are no credible allegations of waste, fraud, or abuse associated' with the NSF awards he has highlighted. 'Seeking to substitute your judgment for the determinations of NSF's merit review process is the antithesis of the successful principles our nation has relied on to make our research investment decisions,' she wrote in an October 2014 letter.
However, Smith's rhetoric has softened somewhat in recent weeks, and he has praised the peer review process. The congressman has also said that the NSF's plan to produce non-technical summaries for each of the grants it funds address some of his concerns.
Good stewards
Responding to critics, Smith and like-minded colleagues have repeatedly argued that they simply want to increase transparency and accountability for taxpayer-supported scientific research, and be good stewards of public funds. In fact, Smith considered it a victory when NSF director France Córdovaoutlined the agency's new approaches to enhance transparency and accountability in December. Among other things, the NSF revised its guidelines to require that programme officers describe the project's significance and importance to the national interest.
But the target is not just the NSF. The National Institutes of Health's (NIH) budget has also been under scrutiny. In October, NIH director Francis Collins suggested that government spending reductions that hit the NIH delayed the development of an effective Ebola vaccine, and his remarks have made the agency a target on Capitol Hill.
During a Republican rally for Virginia congressional candidates in October last year, Senator Rand Paul poked fun at the argument that the NIH has insufficient money to pursue Ebola research. 'Have you seen what the NIH spends money on,' he asked. Paul went on to cite a $939,000 grant to 'discover whether or not male fruit flies would like to consort with younger female fruit flies', as well as a $117,000 project to 'determine that most monkeys are right-handed', and a $2.4 million project to develop 'origami condoms', which Paul refused to elaborate on.
Paul noted that the NIH budget was about $17 billion in 2000, and is now around $30 billion. 'Look at the bottom line, no money has been cut in Washington, but it is about time that we do cut money,' he said.
Attack on science
Spencer Black, a Democrat who chaired the House Natural Resources Committee for 26 years and is currently an adjunct professor of urban and regional planning at the University of Wisconsin-Madison, says there has been in Congress 'a general attack on the integrity of science, and an unwillingness to listen'. 'It is not new, but because there are people now who are in power who wish to stifle independent scientific inquiry, it's a lot worse than it once was,' Black continues.
There are people now who are in power who wish to stifle independent scientific inquiry
The issue has also dragged in the Environmental Protection Agency (EPA) and Nasa. Key Republicans in Congress have repeatedly accused the EPA of basing its regulatory decisions on questionable science and inaccessible data. EPA administrator Gina McCarthy hit back during a speech to the US National Academy of Sciences in April 2014, complaining that her agency's science 'seems to be under constant assault from a small but vocal group of critics'.
Rather than trying to keep its science secret, as political opponents have suggested, McCarthy said the EPA is simply safeguarding confidential personal health data. She seemed to be speaking directly to Smith, who in August 2013 tried to subpoena McCarthy in order to gain access to the data behind the EPA's air quality standards.
Targeting environmental laws
But Smith is not the only powerful member of Congress who's got the EPA in his cross-hairs. Senator James Inhofe immediately announced, on taking up the chair of the committee that oversees environmental policy and research, that one of his top priorities will be to conduct 'rigorous oversight' of EPA regulations.
'I strongly believe that the president's misguided agenda on climate change has led to an onslaught of new regulations that is endangering future job creation, energy independence and the reliability of the power grid,' Inhofe stated. During a House floor speech in January, Inhofe said the climate has always changed and that 'man can't change climate'.
In addition, Republican Senator Mitch McConnell—who has also said his goal is to 'get the EPA reined in' – is the new Senate majority leader, and he also now sits on the Senate appropriations subcommittee that funds the EPA. McConnell has vowed to use his new power over the EPA budget to 'fight back against this administration's anti-coal jobs regulations'.
Two more Republicans who have publically denied the role of human activity in climate change – Senators Ted Cruz and Marco Rubio – have assumed leadership of two influential subcommittees of the Senate commerce, science and transportation committee.
Cruz, who earlier this year called for Nasa to refocus its investment on the hard sciences and low-Earth orbit exploration rather than 'political distractions' that he labelled as 'extraneous' to the agency's mandate, will chair the panel's space, science, and competitiveness subcommittee that oversees Nasa. Observers worry that Cruz sees climate science as just such an 'extraneous' pursuit and they note that roughly 10% of Nasa's budget currently funds earth sciences, including monitoring global warming and climate change.
During a Senate Commerce Committee hearing on 15 March, Cruz asserted that earth science is not a 'hard science' and that Nasa has to 'get back to hard sciences.' He added that since President Obama entered office, there has been a 'disproportionate increase' in funding for Nasa's earth science programme, which has come at the expense of space exploration as well as planetary science, heliophysics and astrophysics.
He apparently isn't alone. The new chairman of the appropriations subcommittee that fund Nasa and the NSF, Republican John Culberson, has reportedly recently reiterated that the earth sciences don't meet his definition of 'the pure sciences'.
'Constant assault' anticipated
Rubio will chair the oceans, atmosphere and fisheries subcommittee that has jurisdiction over the National Oceanic and Atmospheric Administration (NOAA) – the agency that focuses on the health of the oceans and atmosphere. In May, he said the climate is always changing, suggesting that scientists are using a 'handful of decades of research' to serve as evidence of a longer-term trend that is directly attributable to human activity.
Rena Steinzor, a University of Maryland environmental law professor, expects to see 'a constant assault' on EPA science from the new Congress. She anticipates a series of regulatory reform bills that will require more analysis from the agency before it can take any action like restricting chemicals. She also foresees language attached to science agency funding bills that prevents them from spending money on certain areas or types of projects.
White predicts similar developments on Capitol Hill, with efforts to limit the EPA's ability to limit carbon emissions. 'A lot of what NOAA and Nasa do right now is focused on measuring the Earth's climate and atmospheric effects of climate change,' he tells Chemistry World. 'I would expect to see restrictions on the parts of the budget of the agencies that collect that sort of data … and proposed cuts to the divisions of those agencies that deal with Earth observations and climate prediction.'
Whatever the outcome for science agencies, the battles between politicians with differing world views show little sign of abating with science stuck squarely in the middle. And the loser in this fight will be science.