After three months without a dedicated science minister, the UK government has handed the role to Conservative MP Nusrat Ghani. The appointment comes at a time of deep uncertainty for UK science, with the government having just scrapped its cabinet science committee and continuing doubts surrounding the country's involvement in Horizon Europe.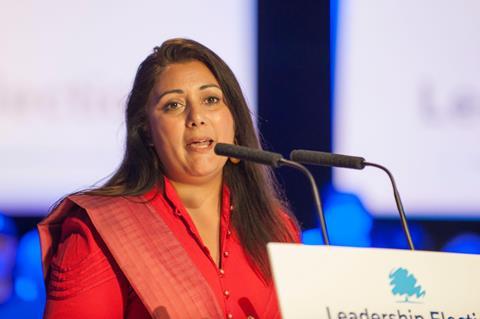 Ghani has been given the title 'minister for science and investment security'. Her responsibilities include areas such as Horizon Europe membership, innovation strategy and vaccine production, while also covering shipbuilding and critical mineral supply chains. Ghani has previously served on the business, energy and industrial strategy select committee, but has little other previous experience of the research sector.
Ghani will immediately have to face a number of challenges, as questions continue to be asked about the new government's commitment to science. In September, the government scrapped the national science and technology council (NSTC) – a cabinet committee launched by Boris Johnson just 15 months ago, which he claimed would tackle societal challenges and help 'cement [the] UK's position as a science superpower'.
Martin Smith head of policy at research funder Wellcome told Research Professional that the uncertainty around Horizon Europe and the scrapping of the NSTC make it a 'nerve-wracking' time for the country's research community. However, Kieron Flanagan, an expert in science policy from the University of Manchester, notes that it's hard to tell how much impact the NSTC really would have had in terms of science policy. 'We don't know how often it's met or how consequential it has been, so it is difficult to make a judgement on whether this is a big loss,' he explains.
Funding cuts?
According to Flanagan, a bigger concern is the fallout from chancellor Kwasi Kwarteng's mini-budget, unveiled near the end of September. Kwarteng's growth plan says relatively little about the government's intentions for science, other than the launch of a new £500 million fund designed to encourage investment from pension schemes and other investors in UK technology companies. But Flanagan believes that the government's desire to reduce tax could put pressure on planned UK science spending, particularly with regards to large infrastructure projects.
'I think the budget creates a huge question mark over future spending cuts and the spending review settlement that was announced only a few months ago by Rishi Sunak with its big, significant projected increases for science spending. Inflation is already eating into those increases, obviously,' he says. 'But if this government is forced to make cuts to that projected spending to appease the markets and appease the Office for Budget Responsibility, then I would be worried about the projected growth assessment. And I'd especially be worried about capital spending – because unfortunately, we saw this with the coalition with austerity, it's very tempting to cut capital spending back because you can tell yourself you're going to just cut it temporarily.'
Flanagan also notes that the current weakness of the pound will add to the pressure on laboratory budgets. 'The weak pound means imported equipment and materials might become more expensive. All these things will have an effect eroding the value of the science budget.' Heads of chemistry departments have told Chemistry World that the price of some consumables have fluctuated considerably in recent months, and shortages of some lab chemicals and equipment have caused problems.
Energy costs
One aspect of Kwarteng's mini-budget that will have come as a relief to science departments was the announcement of a discount on energy prices for public sector organisations, including universities, for the next six months. Prices are expected to be capped at £211/MWh for electricity and £75/MWh for gas, which the government states is less than half the forecast winter wholesale prices.
The Royal Society of Chemistry's head of policy Tanya Sheridan notes that while September's mini-budget primarily focused on dealing with cost of living crisis, it is important for the government to remember 'the vital role UK science has to play in our economic recovery'.
'Existing plans to increase spending on R&D to 2.4% of GDP and move the country to a net zero economy are essential to the success of any moves and must remain a priority,' she says. 'It was good to hear the chancellor recognising the important contribution that our science sector makes to innovation and economic growth in our country, though there is much more detail required on his plans to make that a reality.'
Sheridan also reiterates the need for clarity over UK participation in Horizon Europe – an issue that has been a major concern to the research community since the beginning of the year. 'While we recognise the wider political challenges around the UK associating to Horizon Europe programmes, association remains the best outcome for the research and innovation sector and the chemical sciences, and we urge the government to continue to focus on finding an agreement with the EU,' she says. 'In parallel the government now must urgently publish further detail on its longer-term alternatives to Horizon Europe and work with the research and innovation sector to ensure these alternatives provide the same combination of benefits for the UK.'

Jamie Durrani is senior science correspondent for Chemistry World. He reports on the latest chemistry research and related topics including environment, energy and science policy.
View full profile