The first genetically modified potato that produces less acrylamide has been granted approval in the US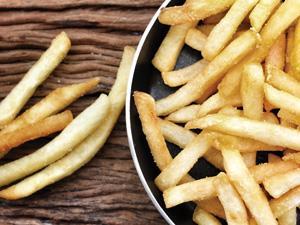 The US Department of Agriculture (USDA) has approved the first genetically engineered (GE) potato variety designed to produce less of the suspected carcinogen acrylamide when cooked. The approval means that the Idaho-based J R Simplot Company (Simplot) can now begin commercial planting of its new product, called the 'Innate' potato.
Acrylamide is generated during the Maillard reaction when potatoes are fried or baked at high temperatures. Animal studies have found that acrylamide exposure increases the risk for several types of cancer, but the evidence from human studies – some of which have also linked the chemical to elevated cancer risks – is incomplete, according to the US National Institutes of Health.
The new potato produces less of the amino acid asparagine, a precursor to acrylamide. Simplot used RNA interference (RNAi) to silence several genes associated with asparagine production, along with genes that lead to the bruising responsible for the black or greyish colour that forms inside damaged potatoes.
'This is a really interesting development – something with a clear potential for consumer benefit,' says Nigel Halford, a crop scientist with Rothamsted Research, UK, who has led work in the past exploring the levels of acrylamide produced by different potato varieties. 'The published work shows a clear and substantial reduction in acrylamide formation without any effect on colour, flavour and aroma,' he adds.
But fast food giant McDonald's, to which Simplot has been a major supplier of potatoes since the 1960s, has indicated that it won't use the new GM potatoes. Responding to USDA's approval of Innate, the company said: 'McDonald's USA does not source GMO [genetically modified organism] potatoes nor do we have current plans to change our sourcing practice.'
Simplot, however, doesn't seem concerned. The company says Innate potatoes are not destined for the processed frozen fry market because of low supply – with only about 400 acres set aside on which to grow them. Instead, Simplot is targeting non-export markets, and says the new variety will provide 'significant health and sustainable value' to growers, retailers and consumers in the fresh and fresh-cut markets.
Stanley Omaye, a nutritionist and toxicologist at the University of Nevada, US, remains unconvinced about the health risks associated with acrylamide, and argues the new potato is addressing a 'non-issue'. He points to recent studies indicating that dietary acrylamide is unrelated to the prevalence of most common cancers.