Food agency prohibits the use of three perfluorinated compounds linked to cancers in food-contact materials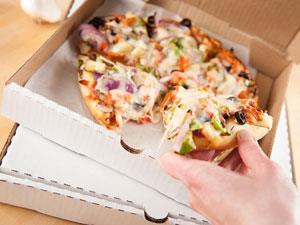 The US Food and Drug Administration (FDA) has banned the use of three perfluorinated compounds (PFCs) in food packaging because of their structural similarity to other toxic substances. The chemicals in question are used as grease-proofing agents for pizza boxes, microwave popcorn bags and other food containers.
Three perfluoroalkyl ethyl containing food-contact substances (FCSs) were banned: certain diethanolamine salts of mono- and bisphosphates; pentanoic acid, 4,4-bis [(?-?-perfluoro-C8-20-alkyl)thio] derivatives; and perfluoroalkyl substituted phosphate ester acids can no longer be used as oil and water repellents for paper packaging.
The agency said its decision is based on information that has now come to light demonstrating 'there is no longer a reasonable certainty of no harm from the food-contact use of these FCSs'. Its action responds to a petition filed by several environmental lobby groups in October 2014. One of the petitioners, the Environmental Working Group (EWG), claims that the PFCs to be banned are linked to cancer and birth defects.
Although these three substances haven't been made in the US since 2011, there has been concern about food packaging with those chemicals manufactured abroad being imported into the country.
The EPA announced back in February that its major industrial partners were on track to phase out production of long-chain PFCs in the US by the end of 2015.