Even America's best chemical incident data is only 10% accurate, a Dallas Morning News investigation has found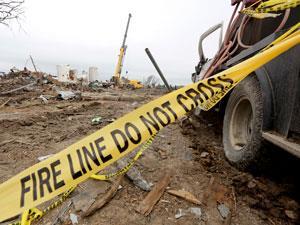 The US government lacks accurate information about the frequency of serious industrial chemical accidents in the country, according to an analysis by the Dallas Morning News published on 24 August. After examining more than 750,000 federal records, its reporters found that even the nation's best data on chemical accidents only has an accuracy rate of about 10%.
The paper determined that it is extremely difficult to tease the number of severe chemical accidents out from the hundreds of thousands of records covering such incidents that exist in various federal databases.
For example, the Morning News found that there were 158 calls to the US Coast Guard's National Response Center (NRC) about chemical spills and other accidents during 2008–2011, but only 12% of those could be confirmed in any of the other government databases. Overall, they concluded that at least 24 serious or potentially serious chemical accidents occurred in Texas during that time. 'On rough average, that's one every two months — a lot more than make headlines,' the authors noted.
The newspaper's probe was spurred by a fire and explosion at the West Fertilizer chemical plant in Texas in April, which federal officials blamed on the large amount of improperly stored ammonium nitrate. The accident killed at least 14 people and injured more than 200.
The Morning News reporters were trying to determine how many similar accidents have occurred in the US, but they couldn't find adequate data. 'As we got further into it, we realised that we couldn't find the data because no one was collecting it,' Daniel Lathrop, one of the reporters who broke the story, tells Chemistry World.
Not a surprise
Their findings were unsurprising to at least one expert in the field. 'The issues which were brought forward are important,' says Sam Mannan, who directs Texas A&M University's chemical process centre. 'There is a dearth of accurate data to answer simple questions like: 'Are we getting better or worse on chemical safety and what are the trends in terms of where the accidents are happening?".'
In particular, Mannan notes that the US Occupational Safety and Health Administration (OSHA) has a database that combines information on all injuries, illnesses and deaths caused by chemical exposures with data on trips, falls and personnel issues. As a result, he says, it's hard to distinguish the chemical incidents from other workplace injuries recorded there.
Meanwhile, Mannan also says that the US Environmental Protection Agency's (EPA) risk management programme has criteria for chemical accident reporting that appear somewhat random, like specific chemical weight triggers. He also describes the NRC database as 'a 9-1-1 type of log' offering first response reports that don't necessarily contain technically correct information.
Mannan calls the analysis 'fair' and 'accurate'. He is hopeful that the paper's findings will influence the Obama administration's efforts to improve chemical facility safety through better data sharing and collection.
In response to the West disaster, President Obama issued an executive order on 1 August mandating that agencies improve chemical accident data sharing. However, the Morning News warned that this effort will not help the government answer even the most basic questions about chemical safety unless the deficiencies identified by its reporters are addressed.
Experts like Mannan urge the establishment of computer programmes that can filter out inaccuracies in the various databases that contain chemical accident information at the NRC, OSHA, EPA and the Department of Transportation. The next step, they suggest, is to triangulate the data in those databases.