New rules governing so-called 'dual use' research will take effect in a year, but there is concern that they will stymie critical studies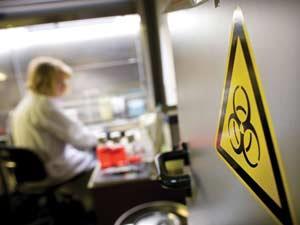 The White House has intensified federal oversight of research involving dangerous pathogens with new safety rules for universities and other research institutions that carry out such work.
The new policy, which was announced on 24 September and takes effect a year from that date, applies to so-called 'dual use research of concern' (DURC) – a subset of life sciences research that can be directly misused in ways that could significantly threaten public health and safety, the environment, or national security.
Specifically, the imminent rules pertain to studies using any of 15 particular agents and toxins, including the anthrax bacterium Bacillus anthracin, influenza virus and botulinum neurotoxin.
Under the new policy, federal agencies and the research institutions that they fund are required to establish infrastructure and training to ensure that risky work is identified and threats are reduced. Academic researchers with federal funding must inform their institutions if the studies they are involved with raise red flags, and then those institutions are required to review the projects and report to the government whether they agree.
The rules also mandate that agencies and universities work together to complete a draft risk mitigation plan within 90 days of the determination that the research in question qualifies as DURC. The price of noncompliance includes loss of federal funding.
Dealing with Delays
Though the new regulations are designed to improve safety, some scientists are concerned they could hold up vital research. Andrew Pekosz, a molecular biology and immunology professor at Johns Hopkins University, notes that the timelines involved in getting such research approved are already 'agonisingly long.' He predicts that the protocols established in the new rules will delay things even further.
'Having 90 days to review a protocol strikes me as a long period of time, I am concerned that it is going to hamper research,' Pekosz tells Chemistry World. He warns that this wait period, along with several others built into the new policy, could defer a research proposal for six months or longer.
'I am not saying that we should take short cuts on safety, but the review process could be faster,' he states. Sometimes, Pekosz says, conditions dictate that researchers need to move quickly to develop better information or treatments, such as in the middle of a disease outbreak.
For example, he points to the recent explosion of enterovirus D68 in the US. From mid-August to 25 September, 226 people from 38 states were diagnosed with respiratory illness caused by EV-D68, according to the US Centers for Disease Control and Prevention (CDC). If the administration's new proposal were in effect, and the enterovirus was on that list of 15 flagged agents, it could be several months before researchers would be able to initiate experiments with the virus, Pekosz suggests.
The Obama administration says it made the decision to take 'decisive steps to strengthen biosafety and biosecurity' after a series of recent lab incidents at key US facilities.
For example, more than 70 lab workers at CDC were potentially exposed to live anthrax in June due to lapses in lab safety practices, and a few weeks later an accidental cross-contamination of non-pathogenic avian influenza with the highly pathogenic H5N1 strain was uncovered at the agency.