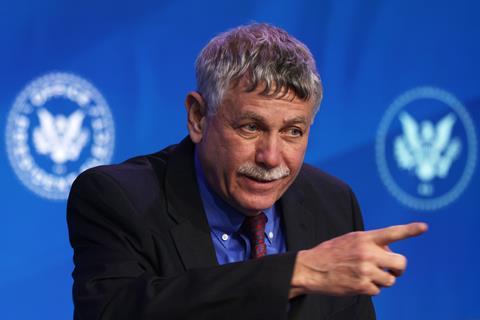 President Joe Biden's renowned and widely respected science adviser Eric Lander has resigned amid allegations that he 'bullied and demeaned subordinates'. Lander is the first Cabinet member of the Biden administration who has left or been terminated.
Lander's appointment a year ago by Biden was met with an enthusiastic response from the scientific community and prior to joining the White House team he served as president and founding director of the Broad Institute at the Massachusetts Institute of Technology and Harvard University. The geneticist, molecular biologist and mathematician sparked controversy with a 2016 essay in Cell that downplayed the role of two women – University of California, Berkeley's Jennifer Doudna and Emmanuelle Charpentier from the Max Planck Unit for the Science of Pathogens in Germany – in developing the revolutionary gene-editing system Crispr-Cas9. Lander's essay instead played up the role of the Broad Institute's male biochemist Feng Zhang in that discovery. Doudna and Charpentier went on to win the chemistry Nobel prize in 2020 for their work.
After Politico broke the story on 7 February that a White House investigation had yielded 'credible evidence' that Lander had acted inappropriately with staff and violated the White House's workplace policy, Lander stepped down the same day. Of the 140 staffers in the White House's Office of Science and Technology Policy (OSTP) that Lander headed, 14 current and former workers had shared similar descriptions of a 'toxic work environment' where he allegedly intimidated and humiliated staff, recordings and documents obtained by Politico showed.
In a press briefing, Biden spokesperson Jen Psaki acknowledged that Lander's behaviour was 'inappropriate' and that 'corrective actions needed to be taken'. She said the White House would monitor for compliance moving forward, and also noted that Lander had sent a message to his staff outlining steps he intended to take to build a respectful work environment. He reportedly apologised for his behaviour but, just hours later, Lander announced his resignation and Biden accepted it.
At the 7 February press conference, Psaki had faced a barrage of questions from reporters about why Lander hadn't been fired, given that Biden had warned staffers and appointees on his first day as president not to disrespect colleagues. 'If you are ever working with me and I hear you treat another colleague with disrespect, talk down to someone, I promise you I will fire you on the spot. On the spot, no "if", "ands" or "buts",' the president stated on 20 January 2021.
The American Association for the Advancement of Science's (AAAS) leadership issued a joint statement saying they were 'disappointed' to learn about the White House investigation's findings that 'reportedly found Office of Science and Technology Policy director Eric Lander is not conducting himself in a manner befitting a scientist or scientific leader – much less a cabinet-level leader in the administration.' The AAAS's chief executive Sudip Parikh, chair of the board Claire Fraser, president Susan Amara and president-elect Gilda Barabino added: 'Unfortunately, toxic behavioural issues still make their way into the Stem community where they stifle participation and innovation. OSTP should be a model for a respectful and positive workplace for the scientific community – not one that further exacerbates these issues.'
The Democratic chairwoman of the House Science, Space and Technology Committee and its top Republican sent a joint letter to Biden asking for a copy of the investigation report and a briefing on the steps being taken to ensure a safe, respectful OSTP workforce environment that furthers the office's mission to maximise the benefits of science and technology.

Rebecca became the US Correspondent for Chemistry World in September 2014, based out of Washington, DC, after writing for the magazine on a freelance basis since 2007.
View full profile