A $1.4 billion retrofit of a Canadian power station will mean 1 million tonnes of carbon dioxide is captured per year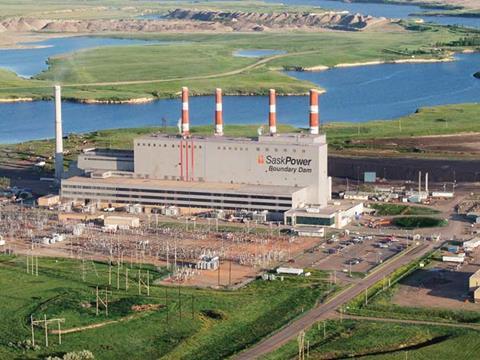 The world's first large-scale power station equipped with carbon capture and storage (CCS) technology officially opened in Canada on 2 October, and it's expected to trap around 1 million tonnes of carbon dioxide every year. The International Energy Agency (IEA) called the development a 'historic milestone' toward a low-carbon future.
The $1.4 billion (£870 million) facility will capture carbon dioxide released from its coal-fired Boundary Dam power plant near Estevan, Saskatchewan and transport it by pipeline to nearby oil fields where it will be used for enhanced oil recovery. Any remaining carbon dioxide will be permanently stored deep underground and continuously monitored. Overall, the goal is to demonstrate the economic, technical and environmental feasibility for coal-fired power generation with CCS.
The carbon dioxide is captured by pumping the flue gas to a facility where it is passed through an amine solution. The carbon dioxide is then extracted from the solution and sent off for storage or for other uses.
Storage sites are selected after undergoing a battery of tests to ensure that they have the proper rock formations to seal in the gas. Saskatchewan has access to a limestone basin several kilometres beneath several layers of solid stone that seal in the gas. Sites must also be clear of volcanic and major earthquake activity and have enough capacity to store carbon dioxide for the long term.
Valuable waste
Beyond carbon dioxide, there are opportunities to sell other by-products from the project. For example, sulfur dioxide will be captured, converted to sulfuric acid and sold to industry. In addition, fly ash, a by-product of coal combustion, will be sold for use in ready-mix concrete, pre-cast structures and concrete products.
The executive director of the IEA, Maria van der Hoeven, stated that the Boundary Dam project's launch represents 'a momentous point' in the history of CCS development. She said CCS is the only known technology that will enable the continued use of fossil fuels, while de-carbonising the energy sector. Since fossil fuel consumption is expected to continue for decades, Hoeven said the deployment of CCS is 'essential'.
The rest of the world is 'very interested to learn how they too can produce environmentally sustainable coal power', said Saskatchewan premier Brad Wall.
According to the IEA, CCS will have to play a central role in any attempt to address climate change. The agency's analysis shows that without significant deployment of CCS, more than two-thirds of current proven fossil-fuel reserves cannot be burnt before 2050 if the rise in global temperature is to be kept below 2°C.
Captivating future
Globally, about two dozen CCS projects are under construction or at the advanced planning stage. Last month, the US Department of Energy broke ground on a CCS facility at a coal-fired power plant near Houston, Texas. Dubbed the Petra Nova project, it aims to capture 1.4 million tonnes of carbon dioxide that would otherwise have been released into the air.
Elsewhere, Finland's Neste Oil Corporation has partnered with Japan's industrial gas company Taiyo Nippon Sanso to build a carbon dioxide recovery and liquefaction plant at Neste's renewable diesel refinery in Singapore. Construction is slated to start in late 2014, and the plant – which will process 36,300 tonnes of carbon dioxide-rich gas from the refinery yearly – should be fully operational by the fourth quarter of 2015.
In addition, Drax, which operates the biggest coal power station in the UK, has an ongoing project to build a power plant that will see 90% of its carbon dioxide emissions captured and transported by pipeline for permanent storage deep under the North Sea. In January, the project received up to €300 million (£235 million) under the European NER300 programme.
Bridging technology
In Norway there were plans to build a full-scale CCS facility at an oil refinery and gas-fired power plant in Mongstad, but that project was scrapped last year. Norway's minister for petroleum and energy said the risk connected to the Mongstad facility was 'too high'. Nevertheless, Norway has indicated that it aims to have a full-scale CCS facility in operation somewhere in the country by 2020.
Arvind Rajendran, an associate professor of chemical engineering at the University of Alberta, Canada, says countries need to slowly move to renewables, and this project will provide key data about the price of capturing carbon dioxide. 'This will give us an idea of how much it will really cost, and if this is a technology worth pursuing,' Rajendran states.
He says the Boundary Dam Project should be viewed as a 'bridging technology' until there is significant implementation of renewables. 'During this transition period, we have to curb carbon dioxide emissions and this is one option to do that,' Rajendran states.