Laboratories are noisy places. Stop and listen.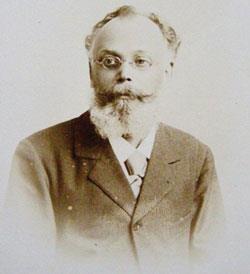 Laboratories are noisy places. Stop and listen. In the background is the muffled bass of the fumehoods; pumps throb and gurgle; a Tesla coil crackles; the displex of a helium cryostat pulsates; water trickles from a condenser into a sink; flasks clink; a centrifuge whines; and then a colleague drops a flask. This is the soundscape of our lives.
Few bits of glassware have an unmistakeable sound of their own. Methanol stills thump when the solvent bumps and Schlenk flasks hiss as we pump and fill. But the happiest sound is the gurgling laugh of a Büchner funnel as the last of the mother liquor is sucked past the plate. It is an unmistakeable sound that every chemist knows and loves. It is the sound of the beginning of the end game in synthesis, when our product takes centre stage and braces itself for trial by fire and light.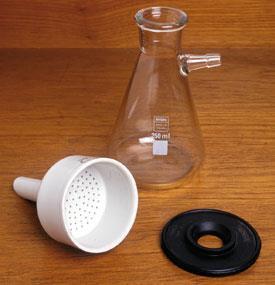 Filtration had long been a tedious process, and in the 1880s the search was on to speed things up, particularly for large-scale reactions. Increasing the pressure difference across the filter medium could be accomplished in two ways. One was the filter press, whereby the mother liquor was quite literally squeezed by means of horizontal or vertical piston, a method well-suited to large-scale operations. The alternative was to use a vacuum to suck the solvent through. As described earlier in this series, Otto Witt had developed the 'Witt' - a perforated disc to sit within a funnel, providing a stage for filter papers, and Robert Hirsch soon developed an all-in-one version, perfect for small scale filtrations (see Chemistry World March 2009).
Less than six months after Hirsch's report, the director of a medium-sized ultramarine factory in the town of Pfungstadt, just outside Darmstadt in Germany, Ernst Wilhelm Büchner, published his design, a modification of Hirsch's but with vertical sides, that allowed it to handle a much larger volume of solution.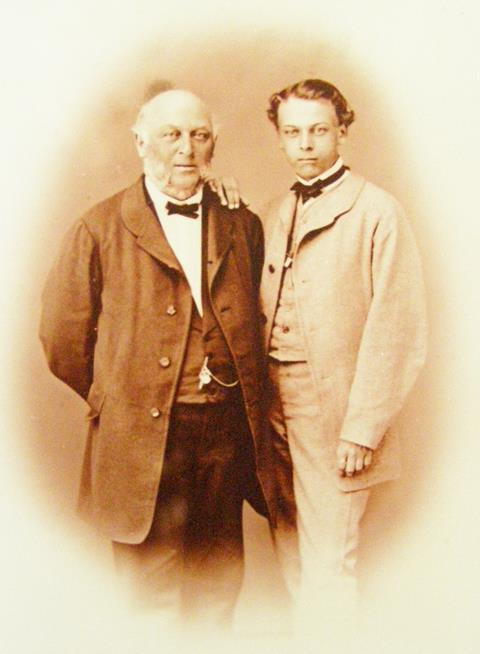 Ernst was the son of Wilhelm Büchner, a wealthy politician from a highly educated family. Wilhelm's brilliant elder brother, Georg, had rebelled at his privileged and cosseted upbringing. Inspired by the spirit of revolution, he began, while a student in Giessen in the 1820s, to write incendiary tracts. His most famous play, Woyzeck , though unfinished, was the first in which the central characters were from the working class. Both the play, and Alban Berg's opera, remain as disturbing today as they were 150 years ago. Georg caused such a furore that he was forced to flee, and died of typhus in exile in Zurich at the age of 23.
The more respectable Wilhelm studied chemistry, first with Gmelin and then Liebig. Returning to Pfungstadt in 1841 he started tinkering in his home laboratory, and worked out a way of making ultramarine, the synthetic analogue of the precious mineral lapis lazuli. The business took off, and Büchner used the profits to buy an estate, and then moved into national politics, championing the liberal causes espoused by his elder brother.
Ernst, born in 1850, probably suffered in the shadow of his larger than life father. He was packed off to a tough boarding school in Weinheim 30 km away, then studied with Fittig in Tübingen, publishing a study of ultramarine in 1874 and a dissertation on the decomposition of bromoaniline the following year. He married a cousin in 1876, but she soon left him, taking their two children with her.
In 1882 Ernst took over the running of the firm from his father. It was a poisoned chalice. Perkin's discovery of mauvine in 1856 had signalled the beginning of a whole new dye technology based on the more versatile aniline chemistry. Ernst worked in the lab - he published a paper on red and yellow ultramarine, and, of course, he designed his funnel in 1885. But in spite of his experience in aniline chemistry, Büchner did not develop the business in that direction. The company went into decline. They were not alone. Carl Leverkus, one of the biggest producers (remembered in the name of the town of Leverkusen) tried to stem the tide in 1890 by gathering 14 producers into the United Ultramarine Works. On joining the group, Ernst agreed to close his factory, and found himself out of a job.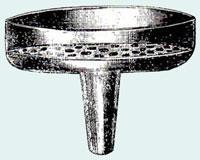 Wilhem died in 1892. Over the next few years Ernst tried his hand at a number of things - coal gasification, photography - bombarding the Darmstadt town council with cunning plans and clever tricks. Eventually, they just ignored him. Slowly the money trickled away until the family was destitute. In 1925 Ernst's second wife Mary died, and five days later Ernst took his own life. They are buried near Ernst's aunt, Luise, rather than his parents.
But his funnel had taken on a life of its own. A leading lab supplier, Martini and Kaehler sold them until 1920, when the patent expired. In Germany, it soon became known as a 'Nutsche', an onomatopoeic name derived from the sucking sound - like the word 'lutscher', for a boiled sweet. Scaled up to several metres across, Nutsche filters became the workhorses of industrial filtration. But back in our noisy labs, Büchner's funnels - now in plastic, ceramic or glass - laugh with us every time we isolate a new compound.
Andrea Sella is a lecturer in inorganic chemistry at University College London.
References
Thanks are expressed to Peter Brunner, Pfungstadt, for invaluable assistance and images