Support from the international scientific community is vital as Ukrainians continue to face the terror and devastation of war
Serhii Radio is head of the department for research at Vasyl' Stus Donetsk National University. The university was originally based in Donetsk, but the war in Donbas in 2014 caused a number of staff and students to leave the region and reestablish the institution in Vinnytsia. After a brief pause in teaching after 24 February, work at the university has continued.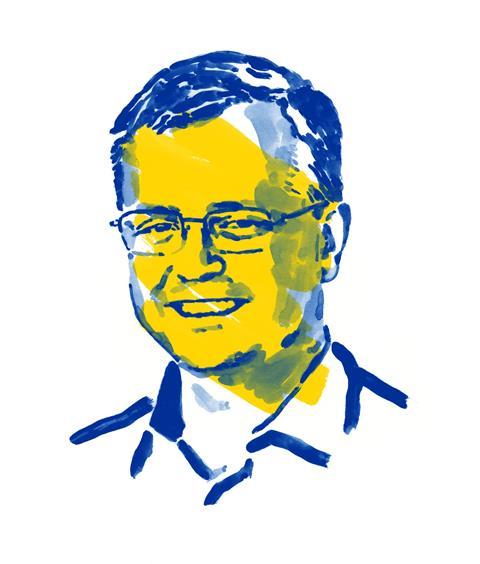 We are the first internally displaced university in Ukraine. We had to rebuild many things from zero in 2014. I had five first-year students that year, and for those five students I had four test tubes.
We could take almost nothing from Donetsk. The only thing we could take, at our own risk, was some chemical reagents. We took what we were mainly working with: lanthanide compounds of rare earth elements. They are pricey and not easy to buy. Transporting those reagents was dangerous because if they were found at the bloc posts between the temporarily occupied territories and Ukraine-controlled ones, one can only guess what could happen. But luckily, we managed to bring some reagents with us. That was the start, so we could continue our research and complete master's projects.
Afterwards, we started to restore the material-technical base. We have nearly everything needed for the educational process now. But of course, it would be nice to have some additional scientific equipment, such as an IR spectrometer, a scanning electron microscope. This year, we planned to purchase hydrothermal autoclave reactors, but now it's not clear if the Ukrainian manufacturers will be able to make them.
Since 24 February, the university has continued its work. Lectures were already happening online, but now we cannot have students in the university building. Student attendance dropped a bit. For recent lectures, only 40–50% of people in the group connect, but we communicate with the rest. Some are in remote village regions; some joined the Ukrainian Armed Forces or territorial defence units.
In a way, we all died in Bucha
We've worked closely with other European institutions since moving to Vinnytsia. The PhD student in our group spent August 2021 until January 2022 at TalTech, in Tallinn, Estonia. When the war began her mum was in Kharkiv, hiding in bomb shelters for some time there. Together they went to Tallinn and got her mum the temporary protection status for residence. And TalTech gave this student 'visiting student' status until the end of her PhD in August. In a similar way, we have a colleague who sent her resume and a request for work to four European institutions, and all four agreed to accept her. She is currently applying for a visa.
Internationally, libraries are opening their resources; the Royal Society of Chemistry is offering free membership for Ukrainian scientists. This inspires and reassures us. You understand that colleagues are here for you, they are helping.
In a way, we all died in Bucha. I saw the photos, and this is a frightening situation. That is what the international community should know about. There is war in the country, and we face its most terrifying side. Our students and colleagues were mobilised to the Ukrainian army, and tragic events happen. Our student from the faculty of economics was killed, and the former dean of the biology faculty died of a heart attack in Mariupol – his house burned down as a result of the bombing of the Russian army. This is very painful.
We need peace; we need the victory. Then we will talk.
This article is based on an interview performed by Anastasia Klimash
Living through the war in Ukraine
1

2

3

4

5

Currently reading

Chemists in Ukraine: Serhii Radio

6

7

8

9

10

11