15 years ago in Chemistry in Britain
The RSC launched itself into cyberspace this summer by setting up its own server on the world wide web. It plans to develop the web server as a major information source for chemists on the internet.
The launch ceremony at Thomas Graham House in Cambridge was attended by local MP Anne Campbell, a member of the House of Commons' Science and Technology Select Committee, and by a number of distinguished chemists.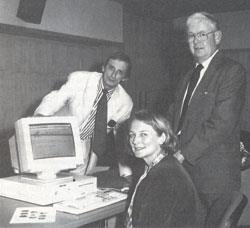 The RSC server currently contains almost 200 'pages' of information, many of them describing the role of the Society and benefits of membership. Users can access the RSC publications catalogue, the library and information centre's online public catalogue and details on all the meetings and conferences organised by the RSC and its subject groups. The news pages will not only provide science journalists with immediate access to news releases from the Society's press office, but keep chemists up to date with the RSC's efforts to promote and publicise chemists' research and its input to government policy.
The RSC server will have a key role in the Clic consortium electronic journal project, a collaboration between Cambridge University, Leeds University, Imperial College and the RSC. This will involve launching an electronic version of the Society's flagship primary journal, Chemical Communications .
Chemistry in Britain (August 1995)
Ed. The current RSC website is a major portal into the chemical sciences, with more than 4 million page views per month.