25 years ago in Chemistry in Britain
Rank Hovis McDougall (RHM) has gone into partnership with ICI to develop its new protein food - mycoprotein which is made using fungi growing on glucose made from wheat or other cereal. ICI is already producing a bacterial animal feed, Pruteen, at a Billingham production facility. The 1000 tonne pa pilot plant on which Pruteen was developed will be used to scale up RHM's mycoprotein process, which is currently running on a 50 tonne pa scale at High Wycombe.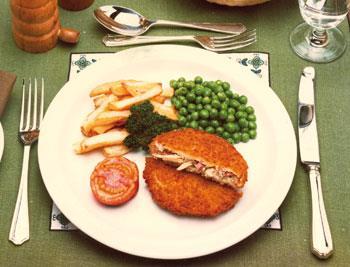 Unlike Pruteen, mycoprotein is intended for human consumption. It combines high protein and dietary fibre content with low fat levels and an absence of cholesterol. Unlike soya it is tasteless, which means that any desired flavour can be added, together with appropriate colours. Texturising machinery can turn the mat of fungal fibres filtered from the broth into an authentically meaty texture. Products have been tried out in RHM's own canteens with, it is reported, favourable results.
The joint project has been named New Era Foods. It will be managed by a group including Jack Edelman, RHM's research director and Rob Margetts, ICI Agricultural Division's research and biological products director, with Jim Steven of RHM as chief executive.
Chemistry in Britain (October 1984)
Ed. In 1985, mycoprotein was approved by the UK's Ministry of Agriculture, Fisheries and Food (MAFF) as being suitable for food use, and the first Quorn product - a savoury pie - was launched by Marlow Foods, the newly named RHM-ICI joint venture. Today over 500,000 Quorn meals are eaten every day in the UK.