Measuring pollutants with paper devices
At low concentrations, phosphates are essential nutrients in freshwater, but when they get too high river systems can start to struggle. Excessive amounts can spark algal blooms that block sunlight, reduce oxygen levels, and produce toxins on decomposition. These changes can affect the population of fish and other species living in freshwater systems, and alarmingly, data from the UK Environment Agency in 2016 found 'unacceptable phosphorous levels in over half of English rivers'.
More recently, researchers from the school of chemistry and biochemistry at the University of Hull have been working with volunteers to monitor phosphate levels in their local river systems (the Pocklington canal and the River Aire in Yorkshire) and in other sites across the North Sea region, including Belgium, Germany and the Netherlands.
As part of the Sullied Sediments project (funded by Interreg North Sea Region and the European Development Fund), the team wanted to do research in a way that engaged users of the waterways to participate in data collection and to facilitate two-way dialogue between academics and members of the public.
'Instead of just taking the approach that I think can often be used and just saying, "well, we're going to tell everybody about what we're doing," we wanted to involve people with what we were doing,' says Mark Lorch, professor and head of school at the University of Hull.
Originally, the idea was to develop a paper-based device that citizens could use to monitor chemicals on the European Commission's surface water watch list, such as endocrine disruptors, but this proved to be more challenging than expected. The team instead chose to validate their citizen science approach by measuring phosphates, pollutants with century-old methods of detection that are present in far higher concentrations than most of the watch list chemicals.
Paper-based titre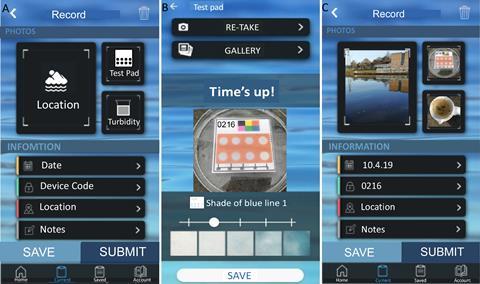 A colorimetric assay, whereby molybdenum-impregnated devices react with phosphates and turn blue, proved to be a reliable method for use in the field. 'That chemistry was developed a very long time ago, and we were just adapting it and making it suitable for a paper-based platform rather than lab-based class beakers,' explains Samantha Richardson, a PhD student and first author of a recent preprint describing the work.
The team developed a protocol that allows participants to monitor phosphates in their waterways in just three minutes using only a container, a paper-based device, and a smartphone app. Tim Charlson, one of the citizen scientists who contributed to the research, and a co-author on the paper, explained why he joined the project. 'It was important to me to find out what was in the water of the canal and what exactly is being sprayed, dumped, applied by local farmers on the land adjacent.'
For Lorch and Richardson, the project marked a first foray into citizen science on this scale and an approach they think that other chemists should consider in their research. 'I'd definitely encourage it in the right setting,' says Richardson. 'Not every research project is going to lend itself to citizen science. I think if you're going to do it, you need to set out from the beginning with the intention of working with volunteers.'
Lorch agrees. 'I think the trick to getting it to work is making sure you have those partners and have those volunteers involved really, really early on so that you don't presuppose anything before you roll it out.' The team tries to share data on the project webpage as soon as possible to feedback results to the volunteers who contribute their time and expertise.
What we lose in the shadows
Training and instruction for participants was critical, with the team learning quite early on that the way that the devices were photographed prior to upload was particularly important.
'One of the things we just hadn't anticipated is that if you take a photo and there's a shadow being cast across it, that affected the image processing later,' explains Lorch. 'So, we had to then go out and make sure people were clear that we needed very even lighting on there.'
The conversations with participants also proved to be very important for the researchers. 'It's always interesting when you go out and you still work with these volunteers, you're very much then on their terms, they know far more about that watercourse than you do,' says Richardson. 'It's all about building up relationships. Although we take these devices and they [volunteers] want to talk to us, and they're interested in the science and things, you have to listen as much as talk during these conversations, and really learn from them and their knowledge and expertise.'