All chemists encounter temperature control systems. As long as the grey box chugs away in the corner, they tend to go unnoticed, unloved even. But if they go wrong or you need to intervene much head shaking ensues and valuable time is lost.
Julabo believe it's the little things that make life easier. Their Presto range of temperature control systems is built with this in mind. Like wheels. And handles. In all seriousness, Julabo is the only company in the market that considered the benefit of fitting these to their units. "It sounds like an obvious thing, but only we do that. Every unit has a built-in handle so it can be moved around by just one person," explains Gary Etherington, manager of Julabo UK. Portability is a real issue – flyweight systems weigh in at 60 kilos but the heavyweights can push the needle over 800 kilos.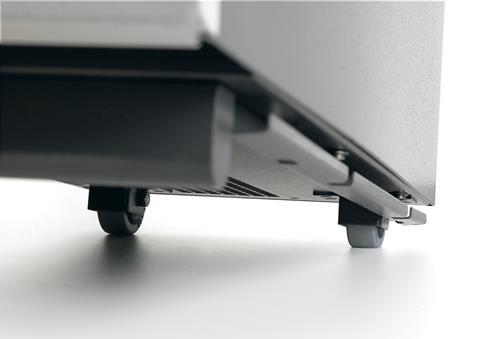 Any contented relationship with lab hardware starts with ease of use and routine maintenance. The good news is that Julabo's temperature control systems don't need pampering; the evaporator grid just needs to be cleared of fluff and dust. The Presto range makes this simple. The grid is handily placed behind a panel on the front. Take it out and brush it; it's all done and dusted in seconds. Competitors sometimes hide their grid beneath the unit, which must then be tipped back for access. Another example is that the Presto unit is filled via a port on top. "In competitor units, there is a fill port which is right next to an open vent with electronics," says Etherington. Again, simple things – like keeping electricity and oil apart.
The extra thought infused into the Presto range was no accident. Julabo is a German headquartered company, with over 300 staff, that is celebrating its 50th anniversary this year. It's a market leader in microprocessor-controlled thermostats but it wasn't first out of the blocks for closed temperature control systems. The upside of this is that the company asked questions and spent time figuring out what customers actually wanted. Because the technical specifications for such units are pretty similar across all manufacturers, Julabo focused on adding value to the Presto range through user-centric design and neat little improvements that make Presto perform better than the rest in the real world.
"All our units have a built-in pressure monitor," says Etherington. "If you connect sealed systems to a glass reactor, the pump can generate too much pressure. Only we provide pressure regulation as standard." Another thing that distinguishes the Presto units is that they are quieter, especially the smaller units that go into laboratories. This makes for a much happier working environment – no one enjoys having something as noisy as a tractor next to them.
Etherington is robust about the time and effort Julabo have put in to make their units stand out from the crowd and he regularly puts his confidence to the test. You can try before you buy. "We are quite happy to offer units on a trial basis," says Etherington. "This is potentially a budget risk for some people, so we remove that risk by allowing them to borrow a unit for a few weeks or couple of months." The cheapest unit is around £10,000, the most expensive around £60,000, and Etherington has loaned out both and everything in between. "On paper, there is little difference between the performance of companies' products, but the ease of use always means a user is going to prefer our units so I loan them out because the units sell themselves."
Gary Etherington manages the Julabo UK office.
You can contact Gary and his team for more information or a free trial at:
Tel. +44 01733 265892
Fax +44 01733 264111
info@julabo.co.uk
You can request a catalog if you'd like to see the full product range from Julabo.
The Presto range has expanded over time, with units that boast ever lower temperatures and more power, so better cooling or bigger reactors can be covered. They are ideal for highly precise, external temperature control tasks form -92°C to +250°C, with rapid heating and cooling. Powerful circulation pumps hum under the hub, electronically adjustable in stages or by setting the pressure. They are the only highly dynamic temperature control systems with side panels without vents, which means you can save space by sidling them together. The system is completely closed, with no unpleasant oil vapours.
A colour touchscreen is standard and machines are easily interfaced with a lab network. Units can handle one litre reactors up to 200 litre reactors. Prestos are beavering away in all sorts of sectors in the UK, including pharma, automotive, electronics, academia, and chemical pilot plants. "This week I visited a customer who is making flowmetres for crude oil and they were testing out heating up flowmetres and flow mechanisms to a temperature of 200°C, which you would never do in a chemical reactor, so applications are really varied," Etherington explains. A typical customer might have a 50 to 100 litre steel reactor in a chemical pilot plant or chemistry R&D folks who want to get to minus 30°C in a bench reactor.
Due to wide range of uses for temperature control units, in any given week in an academic lab or a large pilot plant, these units are being hauled around, but it is easier with Presto. "One reason we win orders is because the units are on wheels. It's a really odd little detail, but it seems to be very important," says Etherington. The company's UK subsidiary has a sales and service office based in Peterborough; it holds stock and spare parts and can carry out care and repair of any units there.
So, if you have a chuntering unit in your lab, hid away and getting on a bit in years, the new Presto range is ready to roll in and do the job. "Customers love the ease of use. The other comment we get is how good our after sales and support is," enthuses Etherington.

Experience, competence, innovation – for the highest standards in industry, research and science. For more than four decades JULABO continues as one of the world's leading experts for temperature control systems.