AstraZeneca's collaborations with academia are essential to harnessing the latest technology in the pursuit of new and sustainable medicines
The climate crisis is driving governments, industry and individuals around the world to reduce emissions. In the pharmaceutical sector, companies are focusing on the need to find more sustainable approaches to the discovery, development and manufacture of medicines, and AstraZeneca is no exception. In 2020, it launched Ambition Zero Carbon, a bold commitment to become carbon negative across its value chain by 2030, and to have its targets verified according to the Science Based Targets initiative standard.1
Lifecycle assessments show that active pharmaceutical ingredients (APIs) are a significant contributor to the carbon footprint of a medicine, so synthetic chemistry has a key role to play in minimising our emissions and other environmental impacts. For example, placing more emphasis on traditional medicinal chemistry objectives such as potency and dose can reduce the quantity of an API that needs to be synthesised. The waste associated with a synthesis can also be reduced by using advances in bond construction methodology to radically shorten a route, or by employing innovative manufacturing processes. AstraZeneca's recent investment in a continuous manufacturing facility at its Macclesfield, UK, site is testament to the impact that new manufacturing technologies can have. In addition, adoption of the 12 Principles of Green Chemistry2 enabling a deeper consideration of the input materials and subsequent waste streams can provide opportunities for new approaches to lower the environmental impact and enable recovery and reuse of materials.
Our close relationship with academia is essential in our journey to being carbon negative

Dave Ennis, vice president of chemical development at AstraZeneca
As developments in medicinal chemistry occur, they also bring new challenges for sustainable synthesis: the inherent complexity of emerging modalities such as oligonucleotides, for example, or the increasing complexity of small-molecule drugs. Timely adoption of disruptive technologies such as photochemistry and electrochemistry is also essential, along with developing the associated skills to ensure continued excellence in synthetic chemistry and process development.
Meeting these challenges and realising the benefits of new methods and technologies for sustainable synthesis is only possible through collaborative research. For many years, AZ has developed significant pre-competitive collaborations with peer pharma, SMEs, governments and academia to develop key areas of science and technology. For AZ scientists, keeping abreast of the latest advances is also an essential part of their work.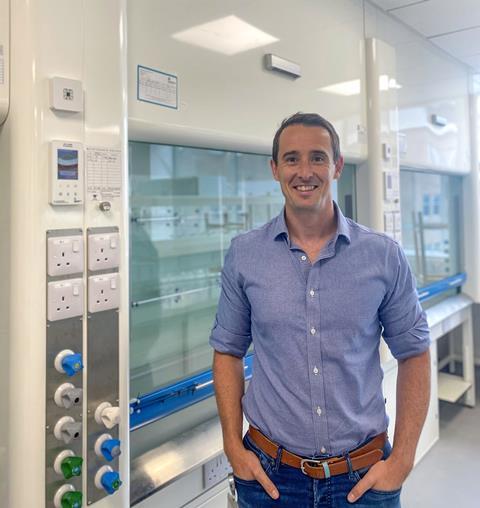 Dave Ennis, vice president of chemical development at AstraZeneca, explains: 'Being able to apply the latest developments from our close relationship with academia is essential in our journey to being carbon negative, be that with traditional small molecules or with the emerging portfolio of new modalities. We've seen some great impact in recent years from our scientists implementing academic discoveries soon after they've been published with direct impact on measures of sustainability.'
Recognition of excellence in synthetic chemistry
To recognise the impact of the academic community, AstraZeneca awards an annual prize to an early career academic working in the synthetic chemistry arena, a prize which is voted for by AZ chemists. The 2022 prize winner is Allan Watson of the University of St Andrews for his research into developing new synthetic chemistry methods that are useful for discovery and development chemists at AstraZeneca and beyond. The Watson group's research is highly relevant to sustainable synthesis with interests spanning from using green solvents to switching rare platinum group metals for more sustainable alternatives in key transformations such as the Suzuki–Miyaura coupling.3
Collaboration with AstraZeneca allows us to see problems at the forefront of medicinal and process chemistry

Allan Watson, University of St Andrews
'Our group focuses on problems at the interface between fundamental and applied chemistry. We aim to generate understanding of reactions so that we can improve existing processes or generate new methods for making bonds or structures that are important for industrial application,' Allan explains. 'For example, we've used this approach to try to make cross-coupling processes more sustainable by moving away from palladium and using nickel or copper instead, or to provide greener ways of making amide bonds.'
The Watson group has generated mechanism-led approaches to the formation of carbon–carbon and carbon–heteroatom bonds, with organoboron chemistry at the heart of these methodologies.4,5 'It has been awesome to see the methods we've developed applied by colleagues in industry in both discovery chemistry and chemical development and we're enormously grateful for the support from our industrial partners that allows us to do this.' The applicability of this chemistry is exemplified in two syntheses (Scheme 1): the highly efficient and chemoselective tandem sequence of cross-couplings used in the synthesis of a BET bromodomain inhibitor, and the scalable synthesis of an HCV NS5B inhibitor intermediate through sulfonamide N-arylation, chemistry that was enabled through developing deeper mechanistic insights into the Chan–Lam reaction.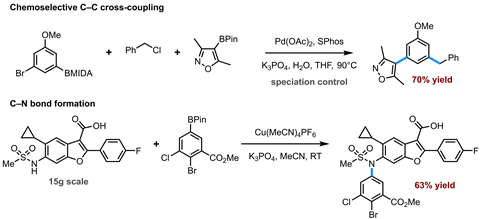 Importance of collaboration
AstraZeneca has developed a strong reputation for supporting academic research through collaboration. 'We are very proud of our academic collaborations and support over 80 PhD students via Industrial Case [co-operative awards in science and technology] studentships, as well as eight UK doctoral training centres. We also see the industrial mentorship of students as a valuable part of our scientists' continuing professional development. This has been harder to do recently but we're starting to enjoy more in-person collaboration as we emerge from the Covid pandemic,' says Ennis. Collaboration is not limited to support of PhDs though – AZ has a number of active post-doctoral programmes to aid discovery and implementation of new methodologies. AZ also hosts a significant number of industrial placement students during their year in industry and has developed an active and successful apprenticeship programme. Current opportunities at AstraZeneca can be viewed here: https://www.astrazeneca.co.uk/careers.html
'Collaboration with a company like AstraZeneca allows us to see what the problems are at the forefront of medicinal and process chemistry and inspires the generation of new ideas and projects,' says Watson. 'By working closely together, we can target solutions that can be immediately applied. The Case investment from AZ is an incredible opportunity for synthetic chemists in the UK to develop research with real impact, and to train new researchers with the skills and mindset needed to make meaningful contributions in contemporary research.'
Prize winning lecture
Allan Watson will receive his award and deliver a lecture on highlights of his group's work at the 4th annual New Frontiers in Synthetic Chemistry conference, organised jointly between the Royal Society of Chemistry and AstraZeneca. The meeting will be held in person this year on 23 November at Burlington House in London, and promises to showcase exciting advances in synthetic chemistry, with a mixture of industrial and academic talks that should promote discussion. Oxford University's Véronique Gouverneur, an expert in fluorine chemistry will deliver the headline address, with other UK academics exploring topics enabling efficient synthesis and reaction optimisation. Industrial speakers will provide additional context from the pharmaceutical industry and there will be an opportunity for a lucky AstraZeneca Case student to present their project.
References
1 https://www.astrazeneca.com/sustainability/environmental-protection/ambition-zero-carbon.html
2 P Anastas and N Eghbali, Chem. Soc. Rev., 2010, 39, 301, DOI: 10.1039/B918763B
3 A J B Watson,Synlett, 2020, 31, 1244, DOI: 10.1055/s-0039-1690904
4 J C Vantourout et al,J. Am. Chem. Soc., 2017, 139, 4769, DOI: 10.1021/jacs.6b12800
5 J C Vantourout et al,ACS Catal., 2018, 8, 9560, DOI: 10.1021/acscatal.8b03238