Healthcare biotech is dressed for success
From the moment process chemist Dana Kralisch first saw soft cellulose in a petri dish, she was enthralled. 'It was so moist and wet, yet as a hydrogel it was mechanically stable,' she recalls. The jelly-like substance had been cultivated from Komagataeibacter xylinus bacteria in the lab of Kralisch's colleague Nadine Hessler, a bioorganic chemist also at Jena University in Germany.
That was in 2006. Kralisch and Hessler soon began collaborating to coax the bacteria, which weaves its cellulose biofilm for protection, to grow in controlled conditions and mass-produce the fibres. They succeeded in making several hundred kilograms of fleece-like cellulose sheets and in 2012 they founded Jenacell to commercialise the material.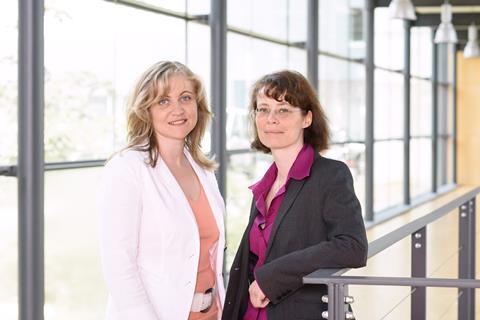 The company is now generating tonnes of microbial-made cellulose and has launched its first product: a dressing for burn wounds called Epicite that gained CE registration in 2016 and is distributed by QRSkin. A clinical trial has begun and the product is being made available to specialist burn centres across Europe.
Cellulose from cells
Chemically, Jenacell's cellulose is identical to wood cellulose, but its 3D structure sets it apart. Plant cellulose needs to be purified to remove the lignin and hemicellulose, a process that breaks its native structure. In contrast, K. xylinus produces almost pure cellulose, so no purification process is needed, and the material has a higher molecular weight with thin fibres of 100nm that boast a tensile strength comparable to steel.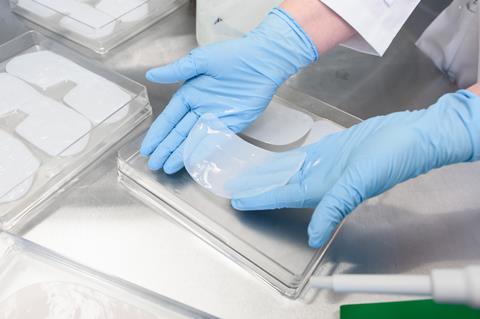 These properties have attracted various companies to biocellulose, but Jenacell is distinct in getting the bacteria to spin out the cellulose in a continuous process. 'Everyone was working with a classical fermenter,' says Kralisch. 'We developed a continual biotechnology process and set up a pilot plant in the university.' Today, meticulously controlled horizontal lift reactors culture the bacteria while the sheets of cellulose are continuously pulled from the tanks. Jenacell's patented process controls the thickness and length of the fleece, which is almost 98% water, by controlling how quickly it is harvested – which makes it a key part of their IP. 'It is not that easy to harvest a tear-resistant but jellylike fleece full of liquid without disturbing the 3D network,' she explains.
The first funding came from High-Tech Gründerfonds. Kralisch says the pitch wasn't a hard sell. 'When someone holds our material in their hand for the first time, they can see it is special. It feels like jelly, it conforms to your skin, is so soft and smooth, yet doesn't tear or leak water,' explains Kralisch. 'It starts to cool your skin immediately and you can imagine the sorts of applications possible.'
The company dabbled with potential cosmetic applications, but decided not to enter the crowded beauty therapy market yet – opting instead to focus on healthcare. 'We couldn't start with a product that required hundreds of tonnes per month, which was unrealistic for us. We looked at different medical applications and saw that there was a need for innovative burns dressings,' says Kralisch.
'There is definitely still vast room for improvement in wound dressings,' remarks Nora Nugent, burns specialist at the Queen Victoria Hospital in London. 'Burns are quite painful, so we are looking for a dressing that is relatively comfortable.' Ideally dressings should also shape to the body; be stable, easy to apply and remove; improve skin healing, and reduce scarring. Microbial cellulose ticks all the boxes.
'Due to its nanoscale fibres and availability of a large number of hydroxyl groups, cellulose adsorbs large amounts of water, giving it a jelly-like texture,' notes Deepak Kalaskar, a cellular engineer and head of a master's course on burns, plastic and reconstructive surgery at University College London. 'Bacterial cellulose has been investigated for wound dressing widely, being a strong material that provides mechanical support for handling, with hydration providing a moist environment for the wound.'
Clinical performance
Epicite is now being investigated in a clinical trial in the Medical University of Graz, Austria, of partial thickness wounds (second degree burns). 'The dressing is wet and mouldable and doesn't adhere to wounds. And there is a cooling effect on the wound, which is really good for patients,' says David Lumenta, plastic surgeon and head of the research unit at Graz. 'It is easy to handle and is non-tear. You can put antiseptic on top of it and it goes to the wound, through the dressing.' A Mexican study found that Epicite kept third degree burn wounds in good condition until a skin graft could be performed after five to seven days.
QRSkin and Jenacell plan to release further dressings such as a version with lower water load that makes it more absorptive for weeping burn wounds. Jenacell also has a second product, Epi Nouvelle+, which it sells directly, and which has a different water content and pH to support skin regeneration after sun burn, allergic reactions or plastic aesthetic surgery.
The next generation of Jenacell products will incorporate active compounds into the dressings, with cosmetic agents, waxes, natural compounds and antimicrobial agents being considered.
And the chemistry of cellulose opens up other avenues. 'Cellulose has lots of hydroxyl groups and that makes it very reactive,' says Mihaela Leonida, professor of chemistry at Fairleigh Dickinson University, New Jersey. 'You can make it negatively charged or convert it into a positively charged material. You don't need special chemistries then to associate it with active compounds like antibiotics,' Leonida says. Nanocellulose has also been reported to promote angiogenesis – the formation of new blood vessels – and to be haemocompatible, she adds. The next generation of Jenacell products will exploit those properties to incorporate active compounds into the dressings, with cosmetic agents, waxes, natural compounds and antimicrobial agents being considered.
In November 2017, Jenacell won 'science start-up of the year 2017' at the Falling Walls Venture competition in Berlin. The company is in the process of registering its products in China, India and Latin America, and intends to go global in 2018. Since its first product received CE registration, 'demand from clinics is steadily on the rise,' says Bernard Mohr, head of Evonik Venture Capital, another of Jenacell's investors. 'The company has clearly started to turn its great technology into a successful business case.'