Collaboration introduces new technology to sectors where historical barriers have limited adoption. Here, CPI outlines how the Medicines Manufacturing Innovation Centre drives cooperation
A diverse, ageing population with increasingly complicated health problems, combined with rising costs for drugs and a need for more personalised treatment places significant stress on our healthcare system. To meet these needs, the medicines manufacturing industry must adapt and take full advantage of recent advances in digitalisation and other technological innovations. In other industries – including the automotive and energy sectors – these innovations are becoming widely adopted. However, the high cost of implementation within the strictly regulated medicines manufacturing sector has limited new technology uptake.
The assurance that a project will benefit both sides is critical to collaboration success
Improvement requires strong, cross-sector collaboration to increase knowledge sharing. The Medicines Manufacturing Innovation Centre comprises a consortium of CPI, the University of Strathclyde, and founding industry partners, AstraZeneca (AZ) and GSK, with additional funding provided by UK Research and Innovation and Scottish Enterprise. The centre is located in Renfrewshire, Scotland and the consortium working from it enables academia, industry, government institutions and other stakeholders to work together to develop and test new, digitally-enabled, next-generation medicines manufacturing technologies. This model of partnership across different sectors and disciplines will de-risk new technologies, providing a clear pathway for their widespread adoption within the pharmaceutical industry.
Listen in…
In this podcast, CPI's Dave Tudor discusses how collaboration at the Medicines Manufacturing Innovation Centre drives innovation in pharma manufacturing.
The power of collaboration
Ushering in the future supply chain for the pharma sector requires a combination of academic expertise, industry application and government support. Fostering cross-sector collaboration supported by a strong aligned community allows partnerships to be rapidly formed around an innovative technology or research discovery. Critical to innovation, it allows academic and industrial scientists to pool their knowledge, expertise and experience in faster timeframes.
Assuming that competition between same sector leaders impacts collaboration can hinder advancement
Differences in culture however, can negatively impact academia and industry partnerships. And the metrics for determining each party's success may be different – be they academic papers, patents, intellectual property, economic success or technology growth for example. Consequently, the assurance that a project will benefit both sides is critical to collaboration success. In the case of the Medicines Manufacturing Innovation Centre, establishing alignment between engineers, academics and industry scientists has prompted remarkable outputs by identifying and translating advanced manufacturing and digital technologies.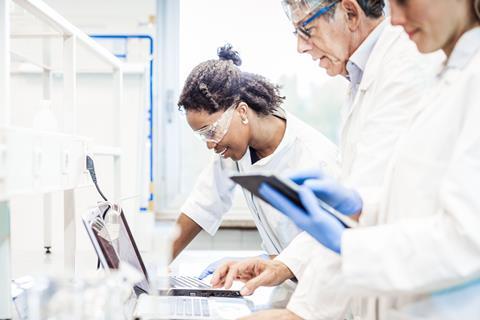 Collaboration over competition
Partnerships within industry are no less challenging. There's an assumption that innate competition between leaders in the same sector negatively impacts large company collaborations. But this misunderstanding, and fear of competition, may ultimately hinder new technology development.
Rival pharma giants contribute to new technology equally, and harness relationships that collectively advance pharma
With its founding industry partners AZ and GSK, the Medicines Manufacturing Innovation Centre tackled this preconception head on. Though direct competitors in the global pharmaceutical sector, they are allies and partners within the centre's pre-competitive space. Here, they contribute equally to develop new technology, and they harness relationships that collectively advance pharma in the UK and beyond.
In addition to AZ and GSK, the Medicines Manufacturing Innovation Centre continually welcomes new partners to its flagship projects, the Grand Challenges. Both well underway, Grand Challenge 1 devises digital solutions for the continuous manufacture of oral solid drug formulations. Grand Challenge 2 will boost supply chain efficiency and flexibility for small molecule drugs with an automated just-in-time pharmaceutical supply chain platform.
Collaboration partners continually add, and advance, emergent and disruptive technologies
Facilitating collaboration and establishing a pre-competitive environment is not only key to large multinational companies but also to smaller industry partners with specialised innovations and technology. By underpinning a vibrant technology ecosystem, the Medicines Manufacturing Innovation Centre helps collaboration partners continually add, and advance, emergent and disruptive technologies.
By rising above artificial points of competition and working together to input specialised skills, expertise and experience – even if they superficially overlap – a better medicines manufacturing future is within reach.
A multidisciplinary approach
In the coming months, five new partners with a range of backgrounds and skills from lateral – and diverse – fields will join the centre to help drive these flagship projects through to completion. While collaboration between groups with shared backgrounds is beneficial, excellence also springs from multidisciplinary approaches. Of the five, three provide digital solutions including real-time information, predictive process modelling and advanced process control. These technologies will advance continuous manufacturing methods and increase supply chain efficiency.
Multidisciplinary working creates a mutual benefit for our partners, which solidifies their respective connections
A major professional services company and world-leading semiconductor company are the other new centre partners. The latter will apply its specialised automation software to Grand Challenge 2 and help distribute medicines to clinical trial sites more quickly and flexibly through smarter planning. The professional services firm plans to use its global reach, strong networking skills and expertise to create new opportunities and secure funding for the centre.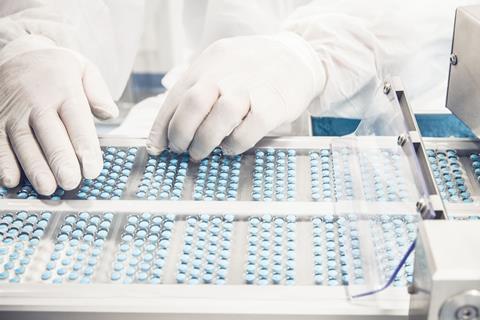 The alternative viewpoints and skillsets of these additional consortium partners will bring far-reaching benefits into the Grand Challenges. And multidisciplinary working allows partners to showcase their technology and expertise in a new way, creating mutual benefit that solidifies these connections.
Ongoing growth
Grand Challenges 3 and 4 will be announced in the coming months, followed by 5 and 6. By introducing two new Grand Challenges every 18 months or so, the consortium will be ahead of the curve for ambitious and disruptive technology. Through collaboration – in particular those beyond conventional, within-discipline, partnerships – the medicines manufacturing industry can develop the technology needed to become more efficient and cost-effective. By learning from other sectors, the consortium will not only meet the Grand Challenges but set the stage for a new advanced manufacturing hub and create a technology adoption roadmap for other sectors.
Covid-19 has proven how strong, worldwide connections and collaborations can deliver rapid innovation towards a common good, and similar partnerships underpin the Medicines Manufacturing Innovation Centre. From the technology provided by partners around the world to the in-house expertise of CPI's scientists and engineers, these collaborations enable the pharmaceutical sector to embrace digital solutions and innovations that are hard to accomplish alone. The consortium is built around the goal of improving medicines manufacturing and ensuring patients receive the care they need. Overall, the centre is an excellent example of the potential for successful collaborations with multiple stakeholders. When all the ingredients are considered, this melting pot of innovation is the perfect recipe for success.

CPI is a UK-based technology innovation centre. Established to support the UK process manufacturing industry, CPI collaborates with universities, SMEs and large corporates to help overcome innovation challenges and develop next generation products and processes.
View full profile
Collaborative chemistry
1

2

Currently reading

Are collaborations the ultimate cure-all?

3

4

5