How two German chemists shaped chemistry education and research in Britain
In the mid-19th century, two Germans drastically accelerated Britain's development in chemical science and industry. Justus von Liebig and August Wilhelm Hofmann transformed chemical education and agriculture in England and helped initiate the country's organic chemistry boom.
Liebig was born in 1803 in the city of Darmstadt. At the age of 21, he was appointed chemistry professor at the University of Giessen. He later became famous for inventing meat extract after he founded a company that trademarked the Oxo brand beef stock cube. He also discovered that yeast could be concentrated which is why he is also credited with the invention of Marmite.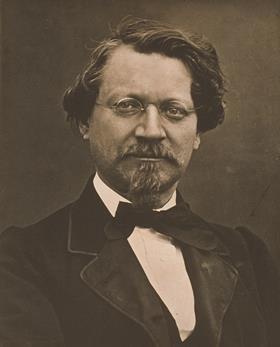 But his true achievements went much deeper: he is one of the founding fathers of organic chemistry. In the 1830s, Liebig had analysed parts of animals and plants in terms of their chemical composition and identified nitrogen, phosphorus and potassium as essential plant nutrients. He brought up the idea of supplying plants with those nutrients in the form of inorganic materials, inventing the concept of fertilising.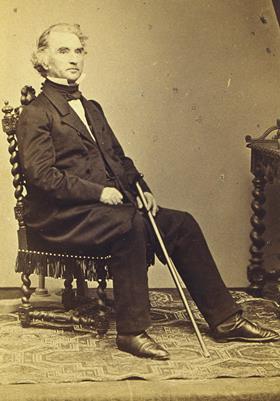 His ideas promised higher yields in agriculture, and plentiful food for a growing human population. The Brits were thrilled. Between 1815 and 1846, the Corn Laws had imposed restrictions on importing grain to the UK. 'It became difficult to feed everyone,' says Peter Morris, science historian and research fellow emeritus at the Science Museum in London, UK. 'The key was to improve agriculture – and that is where Liebig came in.' Liebig's fertilising concept seemed to be the solution the UK had been looking for.
'Liebig was a big story in the UK in the 1840s,' says Bill Brock, emeritus professor of history of science at the University of Leicester, UK. 'The British loved him passionately.' A 2m2 oil painting of Liebig still hangs in the Burlington House library of the Royal Society of Chemistry in London.
The fascination was mutual, according to science historian Christoph Meinel at the University of Regensburg, Germany. During several trips to England, Liebig's interest in the country and its industrial revolution had been awakened. 'For a chemist, England seemed to be the land of boundless possibilities,' says Meinel. Liebig foresaw an exciting future for chemistry in the country, and even founded a fertiliser factory in Liverpool.
In 1852, Liebig left Giessen to become a professor at the Ludwig Maximilian University of Munich and scientific advisor to King Maximilian II of Bavaria. He died in 1873, and his grave in Munich is marked with a 2.5m high tombstone with a statue of Liebig atop.
A chemists factory
It wasn't just his chemistry ideas that made Liebig famous: the way he taught hands-on chemistry in his laboratory was revolutionary too. 'He produced huge numbers of future chemists in his labs in Giessen, and later in Munich, something which had never been done before,' says Frank James of the Royal Institution in London. Previously, academics had just a handful of students under their guidance. James and other science historians call Liebig's lab 'a factory for producing chemists'. His lab is considered the root of today's modern university lab, with students being introduced to ongoing research projects earlier than was previously typical.
From the 1830s onward, dozens of British students went to Germany to be trained in Liebig's lab, says Morris. 'People with a PhD from Germany were taken seriously.'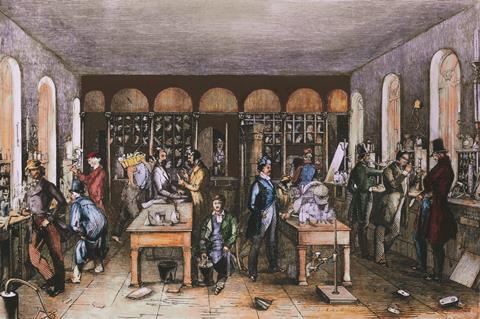 In 1844, two English businessmen who had previously worked in Liebig's lab – Lloyd Bullock and John Gardner – proposed starting a private chemical research and education institute in London following the Giessen model. Landowners, ore mine operators, physicians and manufacturers as well as Prince Albert, Queen Victoria's German husband, all supported the idea of a British 'chemists factory' teaching practical chemistry. And in 1845, the Royal College of Chemistry (RCC) was founded.
'It was determined that the director of the RCC should be a German,' says Brock. Liebig's contemporary chemistry fellow Robert Bunsen, at that time at the University of Marburg, and Heinrich Will, also at the University of Giessen, declined the invitation to move to London. And so 28-year old Hofmann entered the picture.
A young German in London
Hofmann, born in 1818 in Giessen and the son of an architect, had travelled a lot with his father as a young man and was keen to learn and speak foreign languages. He had studied chemistry under Liebig and had been Liebig's assistant before he went to the University of Bonn as a lecturer.
When James Clark, physician to Queen Victoria, offered him the directorship of the RCC, Hofmann accepted. 'What a fantastic opportunity to make progress in science England does offer,' he wrote in a letter to Liebig. But he also made sure he could come back to Bonn, should the RCC fail to be successful.
When Hoffmann first arrived in London he lived and taught at 16 Hanover Square. In 1846, the college moved to cheaper rooms in Oxford Street. Hofmann then lived at 9 Fitzroy Square, now in the district of Fitzrovia, which today is marked with an English Heritage blue plaque. In 1853, the RCC merged into the Royal School of Mines and eventually became the Imperial College London chemistry department.
Science history books describe Hofmann as 'likeable', 'full of humour' and with 'a wit that never offended'. 'He was very popular, very outgoing and charismatic,' agrees Bill Griffith, emeritus chemistry professor at Imperial College London. 'People spoke very highly of him, his students and his colleagues. He must have been a nice chap.' Brock adds that Hofmann 'got on with everybody, all shapes and sizes'.
His strengths were negotiating skills, diplomacy and integrity. 'He was a master in converting tensions into a common identity with unbroken self-confidence and in preventing open conflicts,' writes Meinel. By contrast, Liebig was known to be quite aggressive at times, writing vicious denunciations about science in Prussia and Austria, which he found to be of low quality.
Hofmann fitted well into life in London. 'He was respected,' says science historian Robert Bud of the Science Museum in London. 'You never get the sense of him being talked about as a foreigner.' Given Germany's reputation for chemistry research, it was entirely fitting for Hofmann to be appointed the director. For a chemist at that time, it was 'natural to be a German', Bud says. Hoffman also joined the Chemical Society (a precursor of the Royal Society of Chemistry) in 1845 and was elected its president in 1861. He became a fellow of the Royal Society in 1851.
Frederick Abel, one of Hofmann's students, once said that Hofmann was homesick for London when visiting Germany on a summer vacation. Hofmann reportedly claimed: 'I am dying to get back. Germany no longer feels like home to me'.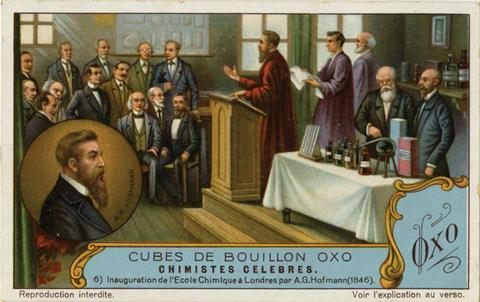 Chemistry on a large scale
Hofmann successfully achieved what he had come to England for: he implemented the country's first institute for producing chemists. But while it is often said that Hofmann established an exact London-based replication of the University of Giessen in London, Bud disagrees.
Instead, Bud says Hofmann adapted Liebig's training methods to what was needed in London – giving an even greater emphasis to learning practical techniques. 'Hofmann didn't have a German university in London in the Humboldtian sense. Instead, he had a British college,' he explains. Most of Hofmann's students became farmers, pharmacists or consultants working for the chemical industry, rather than professors. About half of the students stayed only for one semester, learning to use a specific analytical technique that was important for their profession.
In addition to its role as a teaching institute, the RCC was also an analytical service carrying out testing and providing expertise for its private investors. 'There wasn't any room in London for the primacy of pure solely knowledge-driven science,' according to Meinel.
As well as being the first person in the country to formally teach chemists how to work at a bench, Hofmann is also credited with initiating chemistry's role as a large-scale discipline. 'Hofmann had a huge number of successors as chemists on these islands, and that was really important in getting chemistry going in a big way. Hofmann's impact on chemistry in this country is really significant,' says James. Chemists frequently track back their 'academic family tree', looking at who was a teacher of whom and determining which chemist appears on the top of their tree, he explains. 'In the UK, you always get back to Hofmann – and thus to Liebig.'
From coal to colour
During his time in Giessen, Hofmann had started to examine organic bases of coal tar. His research on aniline later became the basis for the chemistry of dyes, thus converting a black, rather displeasing byproduct into bright colours and founding a new sector of the chemical industry.
While Liebig became famous for analysing substances, Hofmann pushed forward the era of synthesis, converting his research lab into a workshop to produce new compounds and derivates. He was the first to convert ammonia into ethylamines and to synthesise quaternary amines. The Hofmann rearrangement from amides into amines is named after him. In 1866, he also invented the Hofmann voltameter, an apparatus for electrolysing water.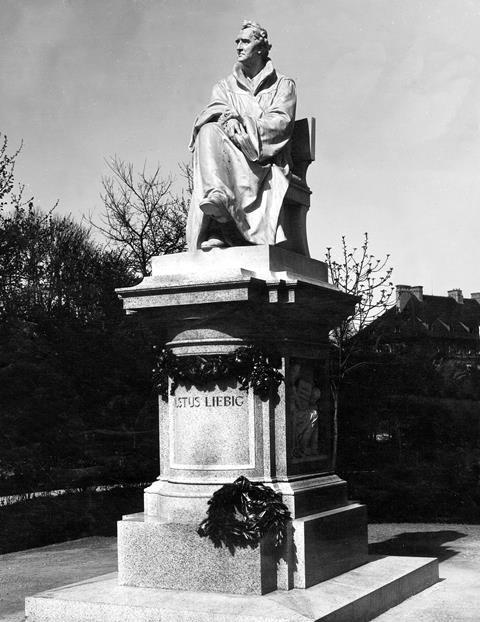 Hofmann had good connections with the chemical industry throughout his career, but always remained an academic and retained the title 'herr doktor professor', says Bud. He never yielded to the start-up fever of that time to try his luck in industry like so many other chemists did, including Liebig.
Some of Hofmann's students – or rather their research – gained enormous importance for Britain later on. One of them is William Henry Perkin, who accidentally discovered mauveine, the first aniline dye. Charles Mansfield distilled benzole from coal tar. Tragically, Mansfield died in an accident at the age of 35 when preparing benzole specimens for the Paris international exhibition of 1855. Abel became an expert in explosives and helped to safely manufacture guncotton.
Leaving England
In 1865, after 20 years in London, Hofmann returned to Germany. The Prussian government had offered him a chair at the Friedrich Wilhelms University in Berlin. This opportunity was simply too exciting to turn down, says Brock. 'I wouldn't want to decline the opportunity of a chair in Berlin with no monetary restrictions at all [either].'
Morris thinks Hofmann's decision might also have been motivated by the fact that Germany was on the up again. After the failed German revolution of 1848, many Germans had left the country – now they were coming back. 'Things were moving in Germany, both in chemistry, the chemical industry and in Germany in general,' says Morris. The unification of the German states was in the air. 'People like Hofmann wanted to be part of the new Germany.'
Hofmann held his British farewell lecture in the Royal Institution. He showed molecular models for the first time, using croquet balls of different colours, bolted together and set up on tripods. 'He had got the idea of trying to demonstrate the atomic and molecular structure of organic compounds,' says Brock. 'And of course we are still doing it.'
Something else took off after Hofmann had returned to Germany: the idea of chemical societies. In 1867, Hofmann co-founded, and became the first president of the German Chemical Society in Berlin. 2017 marks the 150th anniversary of this society. Much later, on his 70th birthday, Hofmann was ennobled, and today we know him as August Wilhelm von Hofmann.