$21bn deal gives AbbVie a share in sales of blockbuster cancer drug as its own biggest sellers face patent expiry
AbbVie has agreed to buy US biotech Pharmacyclics for $21 billion (£14 billion) in a bid to re-stock its pipeline. The move grants AbbVie a share of future sales of anticancer drug Imbruvica (ibrutinib), which launched in December 2013 and generated $548 million in sales in 2014.
Peak sales of the drug are expected to reach $6 billion per year. Whether this will be enough to justify the price of the deal, however, remains to be seen. Pharmacyclics already has a 50:50 marketing deal for Imbruvica with Janssen (part of Johnson & Johnson), so AbbVie will only be entitled to half of the income. Pharmacyclics has three other candidates in its pipeline, but none has yet progressed beyond Phase II trials.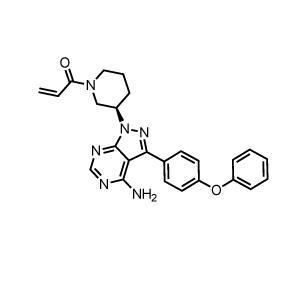 Nonetheless, Imbruvica will provide a much needed boost to AbbVie's portfolio. The kinase inhibitor is already approved for three blood and lymphatic system cancers, and Pharmacyclics is investigating its effectiveness in seven other conditions.
AbbVie owns anti-inflammatory antibody Humira (adalimumab), which is currently the best selling drug in the world, with $10.7 billion in sales in 2013. But its patent protection will expire in late 2016, opening the door to generic competition from biosimilar versions. This has pushed the company to top up its pipeline with deals. In July 2014, the firm entered a $55 billion merger with Shire, which would have allowed AbbVie to cut its US tax bill, by registering the new company in the UK. But AbbVie abandoned the deal in October 2014, after the US government changed the rules covering so-called 'tax inversions'.
The current deal highlights a remarkable turnaround in fortunes for Pharmacyclics. The company was founded in 1991, but it was not until 2006 that acquired the basis for ibrutinib from US genetic sequencing firm Celera. In 2007, the US Food and Drug Administration (FDA) rejected anticancer candidate Xcytrin (motexafin gadolinium). It was then hit hard by the economic crash of 2007–2008. In 2009, the shares changed hands for about $1 each. Now, AbbVie has agreed to pay $261 per Pharmacyclics share. This means that someone who had invested £4000 in 2009 would have made £1 million in six years.
'There is a noteworthy synergy with AbbVie's oncology pipeline, which is itself expected to deliver peak annual revenues of $3 billion,' says Joshua Owide, director of healthcare industry dynamics at market research firm GlobalData. AbbVie will have the eighth most valuable oncology portfolio in the sector. 'While the Pharmacyclics deal is very costly, there is an opportunity for AbbVie to derive value from the deal in the long term, as well as use Imbruvica as a springboard for its strategic move into oncology.' Owide expects ibrutinib to generate sales of more than $40 billion over 15 years.