Toxic releases have led to the indefinite closure of the facility after a decade-long legal fight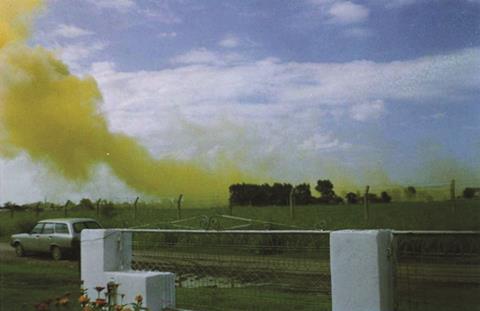 Multinational chemical company Atanor has been ordered to temporarily close its plant in San Nicolas, Argentina that produces the widely used herbicide atrazine. The decision was made earlier this month by a provincial judge after Atanor was determined to be spilling thousands of litres of contaminated water each day into the Paraná River, despite a ruling by a local court two years ago prohibiting such practices.
No vehicles are allowed to enter the plant premises, under the court ruling. The judge has also ordered the local police to enforce an immediate cessation of all activity at the plant.
Chemical engineer Martín Solé, a legal expert who testified for the plaintiffs in the case against Atanor,states that each tonne of atrazine produced at the San Nicolas plant could generate 7.5 tonnes of waste that contains dangerous residues like simazine and propazine.
Solé says the plant did not properly treat waste before diluting it, to comply with discharge rules. Widespread pollution is a concern because that river is part of the extensive Plata Basin, which is the second largest watershed in South America, after the Amazon River basin.
Legal action against Atanor was initiated about a decade ago by a former employee of the company, Walter Ibarra, who now leads the non-profit Paraná River Environmental Protection. A neighborhood located nearby the plant has been dubbed 'Química', which translates as 'chemical', and the latest estimates indicate that as many as 200 of its residents have died of chemical exposure-related causes since 2009.
Larger issues
According to Solé, blood samples taken from residents of the 'chemical' neighbourhood have turned up heptachlor, a now widely banned organochlorine compound that was used as an insecticide decades ago. It has been associated with cancer, endocrine disruption and developmental toxicity.
A technical report from the National Technological University in San Nicolas enabled the lawyers who took on Atanor to connect cancer deaths, as well as diseases of the skin, kidneys, lungs and respiratory system, to the toxic waste from the San Nicolas plant.
The plaintiffs in the lawsuit are trying to get Atanor to significantly reduce or eliminate the residual chemical waste.'Now federal courts willanalyse our demand to remove all hazardous waste and remediate the soil, since the population's health is being threatened,' Ibarra tells Chemistry World. The plant can resume producing atrazine if Atanor changes its waste disposal policy, he notes.
Atanor is Argentina's second largest producer of the herbicide glyphosate. The company, which is primarily owned by the US pesticide company Albaugh and partly owned by China's Huapont Nutrichem, has eight production plants across Argentina.
Atanor has faced multiple allegations of environmental pollution in Argentina. The company's Vicente López plant, also in Buenos Aires province, was closed in 1997 amid accusations of spills and escaped hazardous gases.
More recently, Atanor came under fire in 2014 after one of its trucks overturned in an Argentinian province and spilled around 18,000 litres of the herbicide 2,4-D. There is some evidence suggesting that 2,4-D is neurotoxic, carcinogenic and can disrupt hormone function.