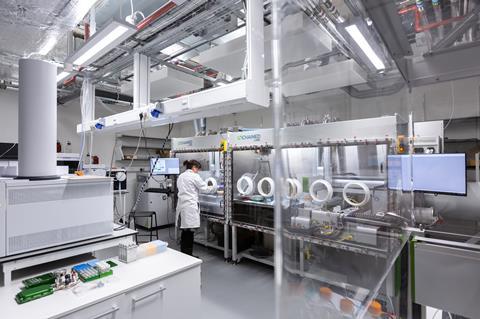 The UK's first automated national centre for the study of reactions has been launched at Imperial College London. Laboratory robots at the £4.7 million facility will automatically set up experiments, while online analytical instruments will take samples and analyse reactions in real time.
The facility at the university's White City campus is part of the Dial-a-molecule initiative, which aims to make chemical synthesis faster and more reproducible. Automating lab processes will help researchers to record in-depth data about their reactions, which then can be fed to machine learning algorithms.
'As well as using state-of-the-art equipment, [the Centre for Rapid Online Analysis of Reactions] will develop new techniques in running efficient experiments and evaluating the data that emerge from them,' said the facility's director, catalysis researcher Mimi Hii.
While not all equipment is set up yet, calls have been announced for projects that use the facility's reaction kinetics and analysis platforms. The centre will also collaborate with industry partners to keep improving their equipment and protocols. In addition, an exchange programme with the Scripps Research Institute in the US, which runs a similar lab, is planned.