Plant with modular design would occupy about half the area of a squash court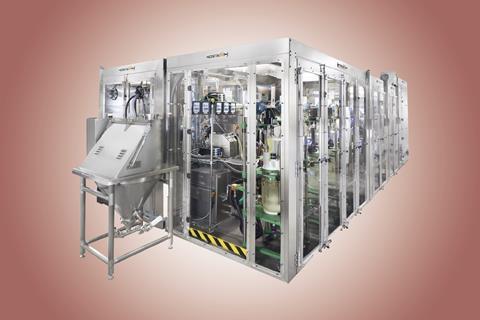 Scientists have constructed a modular plant that can produce a generic drug in less than 30 hours. The plant, which is simple to reconfigure to produce other small-molecule pharmaceuticals, could eliminate drug shortages.
Batch production, involving many steps across different sites, currently dominates pharmaceutical manufacturing. This fragmented approach can take over a year to go from raw ingredients to the final drug. Now, researchers led by Salvatore Mascia from Continuus Pharmaceuticals in the US have developed a miniaturised plant that can produce active pharmaceutical ingredients (APIs) in their final dosage form in under two days.
The plant occupies 30.7m2, about half the area of a squash court. It runs continuously and independently, and is capable of making over 40 million tablets per year, while reducing costs by 30 to 50%.
Users swap in different combinations of modules to produce different APIs. 'It's universal as far as small-molecule drugs and this multi-applicability is due to its modularity; like a plug-and-play system you need certain pieces to make this drug, other pieces to make this other drug,' explains Mascia.
'This end-to-end process assembles crystallisation, filtration and formulation functions into one operation line, with in situ monitoring technologies to control and optimise the whole process. It signifies a bright future for the next generation of industrial continuous manufacturing of pharmaceuticals,' says Huaiyu Yang who researches biopharmaceutical manufacturing at Loughborough University, UK. The researchers combine the in-line sensors with a model running in tandem with the synthesis to maintain quality contr­­ol. 'If the sensor detects disturbances outside of the specification, the system will change the critical process parameter to bring the process back into its acceptable design space,' explains Mascia. When it can't, the control system removes the offending material from the system, allowing the process to continue without the unacceptable products.
'This is an exemplary showcase of innovation in pharmaceutical manufacturing that demonstrates the impact of automation and control, and will catalyse the change from batch to continuous processes in advanced pharmaceutical manufacturing,' says Zoltan Nagy who develops process systems engineering approaches for pharmaceutical manufacturing at Purdue University in the US.­­­
The technology is currently only able to synthesise small-molecule APIs but the researchers hope to extend the plant to produce biologics. 'We envision a future when this production line can be deployed directly at the distribution point, at the point of care,' says Mascia. 'So with this technique, we can really improve accessibility of drugs on a global scale.'
References
This article is free to access until 14 February 2020
C Hu et al, Chem. Commun., 2020, DOI: 10.1039/c9cc06945c