As extreme weather events become more frequent, chemical and pharmaceutical producers are taking steps to fend them off in future
The summer of 2018 has highlighted how business-as-usual greenhouse gas emissions might prevent the chemical and pharmaceutical industries from doing business as usual. A long drought in Europe underlined German chemical giant BASF's reliance on the parched Rhine. Low river levels forced it both to adjust production at its Ludwigshafen headquarters, unable to draw water for cooling, and explore delivering its products by routes other than shipping. Meanwhile in the US, two senior executives from French speciality chemical firm Arkema were charged over an explosion at its Crosby, Texas, plant during hurricane Harvey in August 2017. If found guilty of 'recklessly' allowing chemicals to get into the air they could be fined up to $1 million and jailed for five years.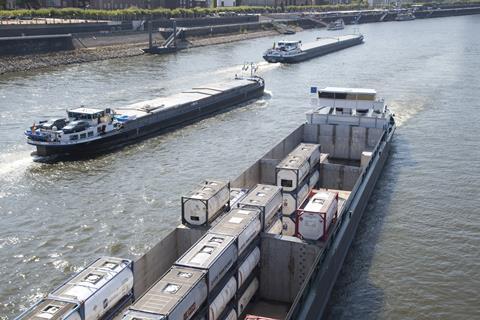 Beyond more frequent records for high temperatures, global warming drives records for intense wetness and dryness, in part because hotter air can carry more water. To continue to profit in the current and future changed climate, businesses should have suitable resilience plans. Companies must consider a wider range of scenarios, says Swenja Surminski, head of adaptation research at the Grantham Research Institute on Climate Change and the Environment in London, UK. 'We need to accept that so-called freak weather events occur much more frequently,' she adds. 'It's not really good enough to say that this flood was unprecedented, so we were surprised.'
Such planning can bring enormous benefits, potentially reducing disruptions to the pharmaceutical or chemical industries of several months to just a few weeks. And while climate resilience planning competes with many other activities for attention and funding, as extremes get less freakish organisations do indeed appear to be taking it seriously. In fact, companies may even be using their plans to build an advantage over their rivals.
August's climate-related chemical news is typical of risks and challenges faced by chemistry-based manufacturing, notes Surminski, a lead author for the UK's climate change risk assessment, published in 2017. Her team looked at different industry sectors and identified the key issues they face, including the chemical sector. 'It's usually too much water in the wrong place, or too little water,' Surminski observes. 'A lot of chemical plants are close to rivers. They depend on the water, but that exposes them to flooding.'
So-called freak weather events will occur much more frequently. It's not really good enough to say we were surprised
Engineering consultancy group Ramboll – based in Copenhagen, Denmark – helps firms become resilient to such problems, explains technical director Bram Miller. 'Climate resilience refers to the ability of a system to anticipate, accommodate and recover from the effects of a hazardous climatic event while preserving basic structures and functions,' he says. 'Climate is changing, but we're not just talking about the future. It's about looking at the resilience of a facility or an organisation to deal with climatic events now and in the future.'
Key decisions include how much disruption a company wants to accommodate and whether basic function is full or reduced operation. Anticipation steps might include stopping water inundating a site by ensuring appropriate flood defences and keeping drainage waterways clear. Accommodation includes stopping water flowing into outflow pipes, protecting process-critical equipment and preventing chemical and hazardous waste release.
Think frequent, not freak
One of Ramboll's key activities is 'due diligence' assessments of companies being taken over, when climate resilience can be important. 'We did a project that involved a large portfolio of chemical plants, trying to assess where there might be climate risks,' says principal consultant Nick Howard. 'Approximately 20% had a higher risk. We reported to the purchaser that this was an extra factor they needed to consider.'
A resilience exercise can cost between a few thousand and tens of thousands of pounds, Miller says. But implementing them can cost significantly more, adds Howard. 'Plants have got to meet targets and budgets,' he says. 'Where does the cash come from for these potential resilience measures, where it's not necessarily obvious that there's a return on that investment? How does the chemical industry get to a point to say yes, we do need to invest £1 million in these protection measures?'
For the Chemical Industries Association (CIA), the organisation that represents chemical and pharmaceutical businesses throughout the UK, part of the answer is considering climate alongside other business risks. In 2015, the CIA published a report describing how to prepare a climate change adaptation plan to help companies to do just that.
'Climate change, as opposed to shorter-term severe weather changes, is typically viewed on perhaps a 25-year timescale,' comments Phil Scott, the CIA's director of safety and security. Scott therefore says that businesses should take climate risks into account when considering 'future investment opportunities or site adaptation needs'. Companies are 'used to and quite familiar with' managing business risks in this way, Scott adds.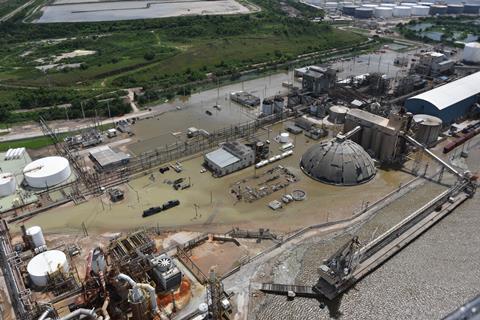 Surminski adds that proper adaptation starts with careful business-wide analysis of the consequences of extreme climate events. 'You can start with employees: can they come to the site?' she asks. 'Then you have your customers: are you able to supply?'
Companies in chemical manufacturing are woven together in complicated international supply chains, Surminski adds. 'Myriad components need to be at a site at a certain time,' she says. For example, the 2011 tsunami that hit Japan affected Mitsubishi Gas Chemical and Hitachi Chemical. These companies dominate speciality microchip bonding resin production, and their disruptions slowed down smartphone manufacturing. 'It's not just how close I am to the river, but also how safe are my suppliers?' Surminski highlights.
The nature of chemical manufacturing sites is a particular issue in the UK, Surminski adds. 'The infrastructure and asset base is quite old. You have to consider how viable your current site is. If you then want to invest in a new site, there's an opportunity to bear in mind the risks that the site would be considering over the next 30–40 years.'
Such analyses offer evidence for benefits from investments in resilience and adaptation. Surminski cites a study from the UK's Department for Environment, Food and Rural Affairs (DEFRA) as part of the Economics of Climate Resilience project. It asked what might happen if a major flood hit a cluster of chemical companies. The study first looked at the likely outcome based on companies' current status, and projected production disruptions of 3–6 months. But if they adapted to improve their resilience, that fell to 2–4 weeks. 'That should be a major incentive for companies to think about these issues proactively and invest in strategies to help them get back to normal,' Surminski stresses.
Ramboll's Howard cites a similarly persuasive real-world story from a flood at one of his clients' sites around 18 months ago. 'The flood was several feet deep on one part of the site,' he explains. 'The flood waters rose to such a degree that it impacted some chemicals that were in transit, left on the site, and caused an exothermic reaction that set fire to a building. One probably wouldn't have anticipated a fire as a result of a flood.' Howard considers the key lesson from this to be ensuring climate impact risk assessments are sufficient, considering domino effects and potential worst-case scenarios.
Climate resilience is happening
Yet Miller is concerned about how widely such assessments are being done. He is curious how widely the CIA's 2015 guidance on how to conduct climate resilience exercises is used. He points out that the advice was put together in partnership with the Environment Agency's Climate Ready programme, which has since been subject to government cuts. Howard echoes this, noting that the majority of interest Ramboll receives for support on climate resilience exercises from chemical and pharmaceutical companies are reactive. 'A lot of the enquiries are in response to an event or a release,' he says.
If we can't contribute to carbon reduction, then we will certainly face increased costs, if not the risk of having to close down
'It's difficult to say how much activity there is in the chemicals or any other sector on climate change,' concedes the CIA's Scott. Because of the long timescales that climate change plans span, activities 'may not always manifest themselves in short-term site change', he says. But since 2015, the CIA has also developed a range of severe weather guidance, both in collaboration with others and sometimes just for its own members. 'This has definitely resulted in more resilient workplaces,' Scott asserts.
The CIA also sometimes asks for feedback after floods and surge tides, with feedback showing improvements because of the increased resilience and preparedness. 'Companies have learned the lessons from severe weather events in recent years,' Scott says.
The chemical industry must also adapt to a changing business environment, shaped by the 2015 Paris agreement on climate change, notes Nick Sturgeon, the CIA's energy and competitiveness director. 'If we aren't able to contribute to carbon reduction in those operating environments, then we will certainly face increased costs, if not the risks of perhaps having to close down,' Sturgeon warns. He points to the EU's emissions trading scheme, where companies need to hold emissions allowances and surrender them annually to cover their actual emissions. Prices are now increasing as the market factors in soon-to-be-tightened allowance supplies. 'It increases our carbon-related costs, both directly and indirectly, because electricity generators are covered by carbon trading as well,' Sturgeon says.
Howard sees a similar shift, with some of Ramboll's clients adding sustainability performance to annual reports traditionally covering only growth and profitability. 'Ultimately there are cost drivers of trying to minimise climate impacts, trying to become more energy efficient,' he underlines. Many companies are therefore considering more on-site renewable energy generation, although chemical firms often still require energy generated elsewhere.
Chemical and pharmaceutical manufacturers can be relatively confident in planning adaptation because their processes must already meet higher safety standards than other industries, Surminski says. 'That should give the sector a good starting place in incorporating these issues into their risk strategies,' she explains. 'There is evidence that larger companies are doing that, but for smaller businesses this is often very challenging.'
Even more positively, there are opportunities companies can grasp arising from our changing world. 'They can say, yes these are challenges, but we're ahead of the game,' Surminski says. 'We understand that in order to continue operating we'll have to look for new processes and new types of production.'