Agrochemicals companies make hay
The booming global farming sector made agrochemicals the business to be in for chemical companies in the second quarter of 2008. The latest financial results show crop protection product sales continue to grow strongly - although earnings in other areas fared less well.
US giant Dow's AgroSciences arm reported record sales during the quarter, reaching $1.36 billion (?724 million), up 25 per cent on the same period in 2007. However, the company's overall net income for the quarter fell 27 per cent to $762 million, as the cost of energy and raw materials continued to rise, and demand from the US construction and automotive sectors fell.
'The surge in oil prices from first to second quarter added another $1 billion of cost sequentially,' says Andrew Liveris, Dow's chairman and CEO. The company is in the process of acquiring US speciality chemicals firm Rohm and Haas, as it bids to cut its dependence on low-margin bulk chemicals (see Chemistry World , August 2008, p14).
DuPont, Dow's US rival, also saw a jump in sales for its agricultural products, up 23 per cent to $2.5 billion. DuPont chairman and CEO Charles Holliday says the company also captured increased sales in emerging markets, and overall net income rose 11 per cent to
$1.08 billion, despite the escalating cost of oil.
Some of the sector's smaller companies also reported strong results. Netherlands firm DSM reported its best ever quarter, after deciding to focus on life science and materials science sectors, with net profit (excluding exceptional items) growing 22 per cent to €193 million
(?153 million).
Germany's BASF and Bayer both enjoyed growth in sales. BASF reported net earnings of €1.3 billion for the quarter, up over 33 per cent on 2007. But Bayer's earnings slipped by 13 per cent to $574 million. Currency fluctuations hit the firm's bottom line - Bayer HealthCare's sales rose 0.5 per cent, but adjusting for the strength of the euro against the dollar, this figure rises to 6.6 per cent.
But US pharmaceutical firms benefited from the weak dollar, with Pfizer, Eli Lilly and Bristol-Myers Squibb all reporting strong sales growth based partly on increased overseas sales. However, UK-based GlaxoSmithKline reported a 3 per cent fall in income, making
?1.29 billion for the quarter. The company recently revealed plans to shake up its drug discovery operations in a bid to bring more new medicines to market (see p16). James Mitchell Crow
CHEMICAL INDUSTRY
Sabic licenses spheripol
Sabic affiliate Arabian Industrial Fibres has licensed LyondellBasell's spheripol polypropylene production technology for its new plant. The Netherlands-based company's technology, which is based around a multi-zone reactor, will be installed at the 525 kilotonne per year facility being built in Yanbu, Saudi Arabia. Production at the plant is due to start in 2012.
Chemicals from coal
US industrial gas company Air Products has agreed a deal to supply gases to Shaan'xi Weihe Coal Chemical group, who will use coal-to-chemicals technology to make methanol, acetic acid, acetic anhydride, and syngas. Air Products will build a new air separation unit at the site, which is based in Weihe in Shaan'xi Province, western China.
Evonik boosts peroxide sales
Korea's SKC has started up the world's first commercial-scale plant making propylene oxide (PPO) using hydrogen peroxide. The technology is licensed from German firm Evonik, who developed a new catalyst to make PPO from propylene and hydrogen peroxide. Evonik, the world's second largest producer of hydrogen peroxide, says the new technology could boost the hydrogen peroxide market by 200 000 tonnes per year over the next decade.
Air sells healthcare arm
US-based Air Products has announced it will sell its underperforming US healthcare business. From the fourth financial quarter of 2008, the company will report the business as a discontinued operation - and take a $315 million (?158 million) charge - but will continue to operate the division until a buyer can be found.
Sabic streamlines
The European arm of Saudi petrochemicals firm Sabic is to restructure its aromatics production on Teesside, UK. After considering the long-term economic viability of the site, the company will close the Aromatics 2 unit, but is considering upgrading the remaining Aromatics 1 unit.
Relocation, relocation
German speciality chemicals company Lanxess is to relocate its headquarters to Cologne. The firm has been based in Leverkusen since it split away from parent company Bayer in 2005. Lanxess says it has outgrown its Leverkusen facilities, and plans to relocate to Cologne by 2011, where it is evaluating possible sites.
PHARMACEUTICALS
US drug seizures
US marshals have seized $74 000 of unapproved pills that drugmaker SEI Pharmaceuticals had refused to recall as requested by the US Food and Drug Administration. FDA analysis had shown that the tablets, called Xiadafil VIP, contained hydroxyhomosildenafil - an analogue of sildenafil, the active ingredient in Viagra. Xiadafil is not approved for erectile dysfunction, or any other drug use.
Marshals also seized $24.2 million-worth of medicines from Missouri-based KV Pharmaceutical, after FDA inspectors found the company was manufacturing unapproved drugs for a variety of conditions, from coughs and colds, to narcotic drug products.
Panel seeks Vytorin study data
US pharmaceutical firms Merck and Schering-Plough have had more negative news over cholesterol drug Vytorin, after a clinical trial showed the drug failed to meet the main goal of a study looking at thickening of the main valve to the aorta. Vytorin sales have slipped since January 2008, when the two firms published a study showing the drug was no better at cutting arterial plaque than a cheap statin. The latest trial also links the drug with an increased risk of cancer - a finding the study's authors dismiss as an anomaly. However, the US House Energy and Commerce Committee
has asked the FDA to turn over the results of the cancer risk analysis.
ImClone rebuffs BMS
Bristol-Myers Squibb has offered $4.7 billion to buy the outstanding 83 per cent of ImClone shares that the company doesn't already own. The two companies jointly produce the blockbuster cancer drug Erbitux. The offer values ImClone at around $5.2 billion - but ImClone's board of directors say it 'substantially undervalues' the firm.
Alzheimer's drug slows mental decline
Singapore-based spin-out company TauRx Therapeutics received widespread attention at the International Conference on Alzheimer's disease, held in Chicago, US, 26-31 July. The company presented new data showing that its experimental drug, rember, dramatically slowed cognitive decline associated with the disease. In a small Phase II clinical trial of 321 patients, rember slowed decline in 81 per cent of patients taking the drug.
This is the first clinically-tested therapy to target tau protein, which forms insoluble bundles of fibrils, or neurofibrillary tangles, found inside nerve cells in the brains of Alzheimer's patients.
According to business analyst Datamonitor, the 2008 conference may in the future be viewed as a 'water-shed in the development of truly effective disease modifying treatments'. The physical changes in the brain associated with Alzheimer's are the formation of insoluble plaques - made primarily of the peptide beta-amyloid, and tau neurofibrillary tangles. And while treatments targeting beta-amyloid plaques (found between nerve cells) have produced some disappointing clinical results, approaches targeting tau are emerging as the most promising candidates (though see also this issue, p10).
Side effects hit shares
Shares in US-based Biogen and Ireland's Elan fell 28 per cent and 50 per cent, respectively, after two new cases of a potentially fatal brain disease were linked to Tysabri, their multiple sclerosis drug. Tysabri was withdrawn from sale in 2005 over concerns it could trigger progressive multifocal leukoencephalopathy, but was allowed back on to the market in 2006, and is typically used as a drug of last resort when patients develop resistance to first line treatments.
Lilly sells drug development site
US pharmaceutical firm Eli Lilly is to sell its Greenfield, Indiana drug development site to Covance for $50 million. The two companies also will sign a 10-year, $1.6 billion service agreement, whereby Covance will assume responsibility for Lilly's toxicology testing and other R&D support activities at the site. Lilly claims the move will help improve productivity by gaining speed to market and cutting drug development costs.
Genentech rejects Roche bid
Genentech directors have rejected a $44 billion bid from Roche. The Swiss firm already owns a controlling stake in the US-based biotech, but is looking to integrate the two companies more closely, and has offered to buy the outstanding shares. However, Genentech directors say the Roche proposal substantially undervalues the company - although they would consider a proposal that 'recognises the value' of the firm. Meanwhile, Roche has also agreed to buy Canadian RNAi therapeutics firm Mirus which has developed a proprietary method to deliver RNA into cells. Roche will also acquire Arius for approximately $191 million.
CSL buys blood plasma rival
Australian blood plasma product maker CSL has agreed to buy US-based Talecris Biotherapeutics for $3.1 billion, subject to regulatory approval. CSL says the acquisition would complement the company's existing business, particularly within plasma therapeutics.Talecris's biggest selling product is Gamunex, made from blood plasma antibodies and used to treat primary humoral immunodeficiency disease.
Questioning cost-effectiveness
In a preliminary report, the UK National Institute for Health and Clinical Excellence (Nice) has rejected four treatments for kidney cancer from being provided by the National Health Service, because although clinically effective they are not cost-effective. The drugs - Pfizer's Sutent, Roche and Genentech's Avastin, Bayer's Nexavar and Wyeth's Torisel - cost between ?20 000 and ?35 000 per year, exceeding Nice's threshold 'cost per quality-adjusted life year'.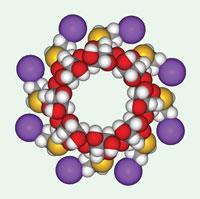 Sugammadex: the perfect host for muscle relaxant molecules?

EU and US differ over anti-anaesthetic
On July 29, Schering-Plough announced it had received European Commission approval for Bridion, a drug that helps patients quickly recover from anaesthesia following surgery. However, just three days later, the company received a 'not-approvable' letter from the US FDA.
The cyclodextrin-based structure, which works by encapsulating commonly used muscle relaxants rocuronium or vecuronium, rendering them inactive, is also known as sugammadex. The drug was acquired by Schering when it bought Organon from Akzo Nobel in 2007 for $14.5 billion (see Chemistry World , May 2007, p17). Analysts had suggested the drug could reach annual sales of
$1 billion, if approved in key markets, including the US.
Schering says that the issues raised by the FDA were primarily related to hypersensitivity and allergic reactions, and not to the efficacy of sugammadex. It plans to continue working with the agency to address the problems.
Pharma alliance
GSK has entered into a five year, $25 million collaboration with the Harvard Stem Cell Institute (HSCI). The agreement is one of the largest investments in stem cell research by pharma, and reflects big pharma's growing interest in the area. GSK will fund some early stage stem cell biology research, but the fund will primarily support stem cell science related to new medicine discovery in a variety of areas from neuroscience to cancer to obesity.
Roche suspension
Roche has been suspended from the Association of the British Pharmaceutical Industry (ABPI) because of what the association has described as 'serious breaches of the ABPI code'. According to the ABPI, a complaint was made by a former Roche employee, who referred to an article in the Financial Times (12 February 2008) which alleged that Roche sold large quantities of Xenical (a prescription only medicine for the treatment of obesity) to the operator of private diet clinics, and that Roche had agreed to provide ?55 000 for the operator to purchase another clinic.
Plavix patent dented
A German court has ruled that generic drug makers Ratiopharm and Yes can sell their own version of anticlotting drug Plavix. Sanofi-aventis and Bristol-Myers Squibb co-market the drug, which with 2007 sales of $7.3 billion is the world's second highest seller after Pfizer's Lipitor. The generic versions are a different salt of the active ingredient (clopidogrel besylate rather than the original lopidogrel bisulfate) - making them different under patent law, but interchangeable under EU medical law.
Generic merger
Israel-based generic drug giant Teva is to buy US rival Barr, in a deal worth $7.46 billion. Teva says that buying Barr - the world's fourth largest generic drug firm - will strengthen its position in the US, but also in key European markets. The company's combined 2007 revenues would have totalled $11.9 billion.
Abbott settles over Norvir
Abbott Laboratories has agreed to pay between $10 million and $27.5 million to settle a lawsuit contending it improperly raised the price of its HIV drug Norvir by 400 per cent. AIDS patients and health plans sued Abbott in 2004, contending the company violated antitrust laws and engaged in unfair business practices by overcharging for the drug.
GSK Relenza payout
GSK has agreed to pay Aus$20 million (?9.6 million) to settle claims by Biota, the Australian biotech firm that originally developed GSK's flu drug Relenza, that the UK pharma company had failed to make sufficient efforts to market the drug. Biota had originally sought Aus$430 million in damages. Sales of Relenza, which has to be inhaled, have lagged far behind those of Tamiflu, which governments have stockpiled in case of a global flu pandemic.
Viread approval
US biopharmaceutical firm Gilead has received FDA approval to market its AIDS drug Viread to treat chronic hepatitis B, the leading cause of liver cancer. Viread works by blocking HBV DNA polymerase, an enzyme needed by the virus to replicate in liver cells. The drug is expected to be a first-line treatment for the disease.
AGROCHEMICALS
Potash price surge
Potash mines are struggling to keep up with unprecedented demand, as the pressure on fertiliser supplies increases on the back of the growth and increase in wealth of the world population. The demand has meant boosted profits for fertiliser and agricultural products companies. One producer of phosphate and potash fertiliser, Mosaic, said global potash imports are forecasted to climb another 7 per cent to nearly 50 million tonnes in 2009, with rising usage in India a key cause of growth.
BASF invests in crop protection
BASF Crop Protection plans to invest more than €150 million (?119 million) in additional capacity to meet the growing demand for key crop protection products in the coming years. A two-year expansion project will increase capacity at production facilities in Germany, France, Brazil and the US for top-selling active ingredients such as F 500, boscalid, fipronil and metazachlor.
Carbofuran ban
The US Environmental Protection Agency (EPA) has moved to ban carbofuran residues in food and drinking water - effectively banning the pesticide's use. While carbofuran is not widely used in the US, the residue ban also applies to imported foods, and the compound is used more widely in the developing world. FMC is the sole US carbofuran manufacturer, and is already battling the EPA in court as the regulator bids to cancel the pesticide's registration.
ENERGY
Fuelling the bioethanol bandwagon
UK petrochemicals firm Ineos says it plans to start making commercial quantities of bioethanol from municipal waste, using a patented biocatalytic process, within two years. Ineos has piloted the use of bacteria to make the ethanol from syngas, a mixture of carbon monoxide and hydrogen produced by superheating the waste.
Meanwhile, Dow and the US National Renewable Energy Laboratory are to jointly develop a similar process. Rather than relying on bacteria, the team use a catalyst to turn the syngas into a mixture of alcohols, including ethanol. The feedstock for the process is non-food biomass such as corn plant leaves and wood waste.
Bioethanol produced from grasses is also flavour of the month. DuPont and Danisco, who in May formed a joint venture to produce ethanol from cellulose, are now collaborating with the University of Tennessee to build a pilot-scale biorefinery. The plant will convert the high cellulose content of switchgrass fuel crops into bioethanol.
And BP is to pay Verenium $90 million over the next 18 months as the two firms bid to develop and commercialise cellulosic ethanol production from 'energy grasses' including sugar cane and miscanthus.
Metabolomics of biofuels
US metabolomics biomarker discovery firm Metabolon is to work with biofuels developer LS9. Metabolon will look for metabolite changes occurring during LS9's fermentation-based biofuel production process, profiling all the biochemical reactions taking place in order to optimise the process.
UK biogas boost
The UK Department for Environment, Food and Rural Affairs (Defra) met with agriculture, industry and NGO representatives on 17 July to discuss multi-million pound plans to make greater use of anaerobic digestion - the technology which produces energy from organic material like food waste and manure. The meeting heard that the process could produce enough electricity to power two million homes. Ministers also gave details of how a ?10 million programme of 'demonstrator' projects - which was announced by Defra in February - could help to encourage investment.
IN BRIEF
Amflora legal challenge
Germany's BASF has filed an action with the European Court against the EU Commission for failing to act in the approval process for the company's genetically modified starch potato, Amflora. The crop was deemed safe by the European Food Standards Authority in 2006, but the EU Commissioner has since failed to authorise the potato for cultivation.
Seal Sands EU approval
UK chemicals group Ineos
says it has received unconditional EU approval for its proposed purchase of the Seal Sands site, on Teesside, UK, from Germany's BASF. Ineos expects the deal to complete within a month.
Sanofi vaccine deal:
UK vaccine maker Acambis has agreed to be taken over by France's Sanofi-aventis, in a deal worth ?276 million. The two companies are currently collaborating over three projects. Big pharma is growing increasingly interested in vaccines, and the French firm recently opened a €100 million vaccine production facility.
MRI agent approved
The FDA has granted Bayer Schering Pharma marketing approval for its magnetic resonance imaging (MRI) contrast agent, gadoxetate disodium, for the detection and characterisation of liver lesions. The compound is the first organ-specific MRI contrast agent to gain US approval for over a decade.
Monsanto to quit dairy
Monsanto has announced plans to sell its bovine somatotropin product, Posilac, which is given to cows to boost milk production. Posilac is the only animal pharmaceutical sold by the company. Monsanto says it plans to focus on its core seed and traits business.
Sanofi signs knock-out deal
Sanofi-aventis has agreed to pay $21.5 million to New York-based Regeneron for the rights to use its VelociGene technology, which is used to develop knock-out and transgenic models to study target genes.
Pfizer Australia fine
Pfizer's Australian arm has been fined Aus$200 000, and ordered to write corrective letters to doctors, after Medicines Australia found that the company's representatives 'engaged in misleading and deceptive conduct' in claims they made about rival firm AstraZeneca's cholesterol drug, Crestor.
Bone drug bonus
US biotech firm Amgen says the key clinical trial for its experimental bone density-building drug denosumab shows the medicine significantly reduces the risk of spinal and hip fracture among women with osteoporosis. The company's share price rose
15 per cent on the news. Amgen plans to file for FDA approval before the end of 2008.
Solar saver
German firms Evonik and Solar World have opened a new solar silicon production plant in Rheinfelden, Germany, as part of their Joint Solar Silicon joint venture. The companies say their manufacturing process, which produces ultra-thin solar silicon wafers, saves up to 90 per cent of the energy used in conventional production.
Bayer's potential blockbuster
Bayer has won European Committee of Medicinal Products for Human Use (CHMP) approval for its anticoagulant pill rivaroxaban. On 30 July the company also announced it had submitted the drug to the FDA for US approval. Bayer predicts the drug could make over €2 billion in annual sales.
Shell appointments
Shell Chemical have named Nigel Hobson as vice president of Operations and Health, Safety, Security and Environment. Graham Van't Hoff has been named vice president of Global Base Chemicals.