Experts' damning Vytorin verdict
Already troubled by disappointing clinical trial results and an ongoing investigation, US drug giants Merck and Schering Plough's combined cholesterol treatment Vytorin has now received a damning review from leading cardiologists.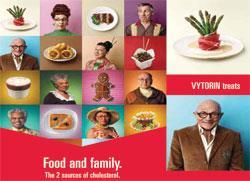 An independent expert panel has recommended that prescribing doctors should 'go back to statins' since there is no evidence that Vytorin is more effective than cheap generic drugs. Harlan Krumholz from Yale University announced the recommendations on behalf of the panel at the American College of Cardiology meeting in Chicago, US.
Both companies are already under scrutiny after delaying the release of results from the Enhance (Ezetimibe and Simvastatin in Hypercholesterolaemia Enhances Atherosclerosis Regression) clinical trial, which was concluded in April 2006, until January of this year. Trial data showed that the drug - worth $5 billion (?2.5 billion) in annual sales - was no more effective than a cheaper generic in reducing the build up of arterial plaques that cause heart attacks. Vytorin combines the statin Zocor (simvastatin) with Zetia (ezetimibe), and was popularly prescribed because it was shown to reduce LDL cholesterol (commonly called 'bad cholesterol') more than simvastatin alone.
Both companies are currently being investigated by US lawmakers over delays in releasing the results of the Enhance study. The study used ultrasound sensors to take pictures of patients' neck arteries, and the companies claim that poor image quality was the cause of the delay.
But some of the scientists asked by the companies to give independent opinions on the data have revealed that they did not perceive such a problem with the quality of the data. And the lead researcher for the Enhance study, John Kastelein, professor of medicine at the Academic Medical Centre in Amsterdam, had written an email to Schering Plough in July 2007 to express his concern over the company's delays in releasing the results. 'You will be seen as a company that tries to hide something and I will be seen as being in bed with you,' he wrote.
Another clinical trial - Improve it (Improved Reduction of Outcomes: Vytorin Efficacy International Trial) - will compare Vytorin's ability to prevent heart attacks, compared to simvastatin. The results of this trial, which the companies claim will give the definitive result for Vytorin efficacy, are not expected until 2012.
Victoria Gill
DuPont sued
US polymer and fibres company Invista has sued chemical maker DuPont for $800 million (?401 million), claiming that plants it bought from DuPont in 2004 did not meet safety and environmental compliance standards. Invista says it has spent $140 million to investigate and remediate problems at the 14 plants, which are based in the US, Canada, the UK, the Netherlands and Brazil, plus will have to spend up to $450 million more at the US plants. DuPont has countered that the 'allegations lack merit'.
BASF-Sinopec expansion
Chinese petrochemicals giant Sinopec, and German chemicals company BASF, have submitted plans to the Chinese government for a $900 million expansion at their jointly operated Verbund site in Nanjing. The project includes increasing steam cracker capacity to boost ethylene production, and expanding several other plants including ethylene oxide.
Water cycle
Japan's Asahi Kasei Chemical has launched a water recycling business, which will clean industrial wastewater so that it can be reused. The company's first project will be in Suzhou, China. Asahi predicts that water shortages around Asia will drive demand for the process, which is based on filtration membranes already used in water treatment plants.
Display deal
US chemicals company Rohm and Haas has bought South Korea's Gracel Display for around $40 million. The Seoul-based OLED developer and manufacturer will join the Display Technology group of Rohm and Haas. The deal follows the US firm's June 2007 purchase of Eastman Kodak's Light Management Films, and brings Rohm and Haas's total investment in its display business to $270 million over the last 12 months.
Grubbs spin-off
Caltech spin-off company Materia and US company Cargill have created a new company, Elevance. The new firm will apply Bob Grubbs's Nobel prize-winning metathesis chemistry to make speciality chemicals from renewable oils such as soy, canola and corn. The company has secured over $40 million in venture capital funding, and says it expects to generate over $1 billion in sales by 2016.
Akzo sale completed
The Netherland's Akzo Nobel has completed the sale of the adhesives and electronic materials businesses that was formerly part of ICI's National Starch. The ?2.7 billion on-sale, to German firm Henkel, was initially announced in August 2007, when Akzo clinched its
?8 billion deal for ICI.
Isocyanate sale
Chemical firms Rhodia and LyondellBasell have entered into exclusive negotiations to sell their joint isocyanates businesses to Sweden's Perstorp Group. The sale includes Rhodia's aliphatic isocyanates business, used in paints and coatings, and Lyondell's aromatic isocyanates, which are used in polyurethane foam production.
Shell's carbon credit threat
Shell has told the European Parliament that it will stop European investment if the EU continues with plans to make companies buy 100 per cent of their CO2 emission quotas - currently scheduled to come into effect in 2020, under the Emissions Trading Scheme (ETS). Shell calculates that buying the full quota would cost $250 million - the same as the company's European profits.
DSM invests in ultrastrong fibre
Netherlands chemicals company DSM says it will invest up to $450 million over the next two to three years increasing production capacity for its Dyneema fibre - which the company has trademarked 'the world's strongest fiber'. DSM says sales are up for the polyethylene fibre, which is 15 times stronger than steel, weight for weight. Dyneema is already used in a wide variety of products, including medical equipment and body armour.
DuPont makes Kevlar 'StormRoom'
DuPont has developed an 'in-home tornado and hurricane shelter': a room which incorporates Kevlar - the material used in bullet-proof vests - into its reinforced walls. The US chemicals firm has agreed a deal to supply the rooms to US homebuilder Epcon Communities, allowing buyers to choose a 'StormRoom' as part of their new home. DuPont has also opened a multimillion dollar storm shelter testing centre to develop materials for the rooms. Tests include firing pieces of timber at the room using an air cannon.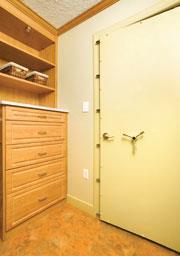 Generics deal
AstraZeneca and generic drug maker Ranbaxy have struck an agreement over AZ's blockbuster ulcer treatment Nexium. An earlier US Food and Drug Administration (FDA) patent ruling, barring Ranbaxy from selling the drug in the US, expired on 14 April 2008. Under the new deal, Ranbaxy will start making some of AZ's US Nexium supply from 2010, and will sell its own copies of the drug from May 2014. Both companies' share price rose over 10 per cent on the news.
Roche oncology acquisition
Swiss-based drug firm Roche has bought UK biotech company Piramed for $160 million. Piramed is developing drugs targeting PI3-kinase, known to play a role in cancer and inflammatory disease. The company's first oncology drug candidate is currently in Phase I trials, and has the potential to target major cancers including breast and lung.
Novartis eyes deal
Swiss pharmaceuticals company Novartis has agreed to buy a 25 per cent stake in Nestl?'s eye-care company Alcon. In addition to the initial $11 billion payment, Novartis has the option to buy Nestl?'s remaining 52 per cent for a further $28 billion between January 2010 and July 2011. The deal marks a shift from Novartis's core prescription drug market.
Takeda acquisition
Japan's Takeda Pharmaceuticals has agreed an $8.8 billion cash offer to buy US biotech firm Millennium Pharmaceuticals. The deal brings Takeda into the cancer treatment market - Millennium's biggest product is blood cancer treatment Velcade, expected to make $345 million during 2008. The acquisition closely follows Takeda's February deal to buy Amgen's Japanese arm, and comes as the company faces the loss of patent protection for its blockbuster diabetes drug Actos in 2010.
Merck masked Vioxx risk
Documents disclosed by Merck during court proceedings over withdrawn painkiller Vioxx show the US firm suppressed data showing the drug tripled the risk of death in Alzheimer's patients, according to the Journal of the American Medical Association. Two articles in the journal also show that Merck employees wrote manuscripts on Vioxx studies, and later hired experts from academia to put their name to the findings as primary author. A JAMA editorial claims that the practices aren't limited to Merck - court records have simply made it possible to document in the Vioxx case.
Radiotherapy side-effects suppressed
A new drug being developed by scientists at Cleveland BioLabs (CBLI) in the US may hold the key to protecting healthy cells from the effects of radiotherapy during cancer treatment.
A single injection of CBLI's experimental drug Protectan CBLB502, given to mice before lethal total body irradiation, protected them from acute radiation syndrome, and improved survival - although tumours remained sensitive to the radiation.
Chief scientific officer Andrei Gudkov explains that the mechanisms of death for normal and tumour cells are very different. 'Tumour cells are killed by radiation because their growth is out of control. Normal cells can stop themselves at check-points on the cell cycle to repair radiation damage - which is why, in principle, radiation kills cancer cells rather than normal ones.'
Tissue in the gastrointestinal tract and haematopoietic and lymphoid tissue - which make blood and immune cells - are most sensitive to radiation, and they die because the apoptosis process of programmed cell death kicks in before they are repaired. CBLB502 works by suppressing apoptosis, giving healthy cells a chance to repair themselves.
A Phase I safety trial of the drug in acute radiation syndrome, the only human testing required for this indication, is to start soon, and a Phase I/II trial in head and neck cancer patients to reduce the side-effects of radiotherapy and chemotherapy is also planned.
Transdermal drug delivery
Pantec Biosolutions, a privately owned Liechtenstein company, has reported promising preclinical results for a laser-based drug delivery system that allows large molecules to be administered through the skin, replacing the need for injections. The laser produces pores in the epidermis, through which molecules such as hormones or painkillers can pass into the body - an approach at least as effective as subcutaneous injection, the latest trial data shows.
Pfizer request quashed
Pfizer has been denied access to confidential peer-review documents on studies of arthritis drugs Bextra and Celebrex. Pfizer wanted the documents because it is being sued by patients who took the arthritis drugs, later linked to heart attacks. It had been feared that Pfizer's efforts might set a precedent whereby subpoenas of medical journals became routine, damaging the process of anonymous peer review.
Lonza chooses lifescience
Lonza is to spend 50 million Swiss francs (?25 million) expanding its life science ingredients facility, to boost vitamin B3 production capacity by 40 per cent. The move follows the company's shift in focus - and industry classification - from speciality chemicals to life sciences.
Burns adhesive
The FDA has approved a medical adhesive, called Artiss, to attach skin grafts onto burns victims. The adhesive, produced by Baxter, contains the blood clotting agents fibrinogen and thrombin - the latter in lower concentrations than previous adhesives, giving doctors more time to position the skin graft before it begins to adhere.
FDA updates stent advice
The FDA has updated its guidelines for manufacturers seeking approval of drug-eluting stents - two years after studies showed that such devices, used to prop open arteries after surgery, can increase the risk of life-threatening blood clots. Among the draft recommendations, companies should be prepared to continue monitoring patients for any sign of blood clots or other adverse effects for up to five years after approval. Such long-term studies can cost millions of dollars.
FDA heads overseas
The FDA has received approval from the State Department to establish eight full time staff in China - pending agreement from Chinese authorities. Establishing a permanent Chinese office is a bid by the US regulator to better ensure that exports of food and medicines to the US are safe, following a spate of recent scares, including adverse reactions to heparin.
Heparin contaminant identified
The FDA has identified a contaminant in the batches of Baxter's China-sourced blood-thinning drug heparin, linked with 62 deaths. The hypersulfated chondroitin sulfate, which mimics heparin in potency assays and safety tests, was probably added deliberately for economic gain, FDA commissioner Andrew von Eschenbach has told a US Senate panel. Hypersulfated chondroitin sulfate would be cheaper to make than heparin, FDA officials have said. Heparin products in France, Italy and Denmark have also been recalled.
Monsanto expansions
US agrochemicals firm Monsanto is to invest $196 million expanding its glyphosate manufacturing facility in Luling, Louisiana. The company says the expansion follows growing demand for Roundup and other glyphosate herbicides, as Roundup Ready seed products are adopted globally. Meanwhile, in Europe, Monsanto has bought Netherlands company De Ruiter Seeds for
546 million (?442 million).
Healthy oil
DuPont has developed a GM soybean plant that gives an oil which is 80 per cent oleic acid. Oil rich in oleic acids is stable when heated to the high temperatures used for frying, avoiding the need to hydrogenate it. Trans fats in hydrogenated oils have been implicated in cardiovascular disease.
World's first 'green' linear polyethylene launched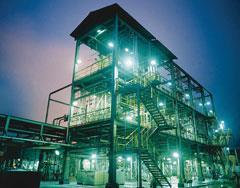 Braskem, Brazil's largest petrochemical firm, has developed the first internationally certified linear polyethylene - a flexible and transparent plastic widely used for food packaging - made from 100 per cent renewable raw materials.
The new product is a co-polymer of ethene and butene. The butene co-monomer supplies some short lateral branches to the polymer chain - so that it resembles barbed wire - reducing the density of the polyethylene.
Comprising about 10 per cent of the polymer chain, the butene is obtained by the dehydration of a biobased butanol produced through the fermentation of sugarcane. The process allows carbon dioxide to be captured and locked up in the plastic, Braskem says - helping to reduce the atmospheric levels of the greenhouse gas.
The plastic is the latest product to come out of a two-year, $5 million, Braskem programme to produce a family of 'green' polyethylenes from sugarcane.
Syngenta in China
Swiss agrochemicals company Syngenta is to build a new biotechnology R&D centre in Beijing, China. The Basel-based firm will invest $65 million in the centre in the first five years. Starting in summer 2008, research will focus on GM and native traits for key crops, such as corn and soy, to improve drought resistance, disease control, and biomass conversion into biofuels.
Biofuels alliance
US petrochemicals company ConocoPhillips, the US Department of Energy's National Renewable Energy Lab, and Iowa State University have announced a strategic research alliance to identify promising technologies to convert cellulosic biomass into liquid transportation fuels. An initial joint report will be published in 2009.
Ethanol barrels along
The US government's Energy Information Administration has released figures showing that US petroleum use is set to fall during 2008, thanks to the increase in ethanol use. Although the country's petrol consumption - 20.7 million barrels per day in 2007 - is set to rise by 40,000 barrels a day in 2008, petroleum consumption will actually fall by 90,000 barrels per day due to increased ethanol use.
Synthetic jet fuel
South Africa's Sasol says it has become the first company to receive international approval for its 100 per cent synthetic jet fuel - made using its proprietory coal to liquids chemistry. Global aviation authority approval means the fuel can now be used in commercial aircraft.
Petrol from plant sugars
Shell has announced a joint R&D project with US company Virent, aimed at converting plant sugars into gasoline and gasoline blend components, rather than into ethanol. Such biofuels could be used in standard engines at higher blend rates than ethanol. The process uses Virent's catalysts to convert the plant sugars into hydrocarbons.
Air Liquide's green steel
French industrial gas maker Air Liquide has demonstrated a carbon-capture blast furnace for steel-making, which also uses less fuel than conventional plants by reusing hydrogen and carbon monoxide from furnace waste gases.
Sibur expansion
Gazprom-owned Sibur, Russia's largest petrochemicals company, has licensed UK company Ineos's polypropylene production technology for a new plant to be built in Tomsk. Sibur has also announced a feasibility study with Germany's Evonik for a Russian polypropylene oxide and hydrogen peroxide facility.
Ineos sells Packed Chlorine
UK chemicals group Ineos has announced it is to sell its Packed Chlorine business to BOC - now owned by Germany's Linde Group. The business specialised in production, packaging and delivery of chlorine liquefied gas.
Bayer nanotube supply
Bayer is to supply its carbon nanotubes to Switzerland's Clariant, to incorporate into the Swiss firm's thermoplastics. Potential uses for the material include plastics with electrically conductive properties and packaging for computer chips.
Ineos on fire
Around 600 firefighters attended a fire at an Ineos plant in Cologne, Germany, when emissions from an ethylene pipeline caught fire on 17 March. A neighbouring acrylonitrile tank was also set alight. No-one was injured in the incident.
Lanxess in Brazil
German speciality chemicals company Lanxess has completed the acquisition of an approximately 70 per cent holding in Brazil's Petroflex, Latin America's largest rubber producer, for
200 million.
Dow divests small molecules:
US chemical company Dow is to sell the UK-based parts of its Dowpharma Small Molecules business to India's Dr Reddy's. As well as two UK facilities, Dr Reddy's will receive product and process technology, IP, and trademarks.
GSK Avandia violations
The FDA has written a warning letter to GSK over serious violations relating to the company's failure to report all Avandia clinical trials, and trial results, to the US regulator between 2001 and 2007.
Cannabis drug trial
The UK's GW Pharmaceuticals says its cannabis-based drug Sativex has failed to show statistically significant benefits in a late-stage clinical trial to treat neuropathic pain in multiple sclerosis patients.
Boosting UK lifesciences
The UK government has set up a Lifescience Marketing Strategy Implementation Board, whose role will be to promote the UK's position as a global centre for biotech, pharmaceuticals and healthcare.
Testing times
US proteomics company Power3 Medical Products has begun a clinical validation study of its diagnostic test for Alzheimer's and Parkinson's disease. If successful, the test, which checks for biomarkers in the blood, would be the first diagnostic test for a neurodegenerative disease.
Crestor success
AstraZeneca is stopping a clinical trial of Crestor early, because the blockbuster drug worked significantly better than a placebo at preventing heart attacks in patients with low to normal levels of 'bad' LDL cholesterol but raised levels of C-reactive protein (an inflammatory biomarker linked to heart attack risk).
Pfizer biotech buy
Pfizer has bought a majority stake in biotech company Encysive. The company's pulmonary arterial hypertension drug Thelin is already approved in the EU, Australia and Canada, but could earn Pfizer significantly more if it were approved by the FDA, although the US regulator has already rejected the drug three times.