Industry news, December 2009
Bolivia to lead the electric revolution
Bolivia's decision to develop commercial scale lithium mining by 2014 is good news for the emerging electric car industry and lithium battery producers, but exactly how one of the world's poorest nations will accomplish this ambitious goal is still uncertain.
Yaron Vorona, executive director of the Washington DC-based International Lithium Alliance , whose members include producers and users, told Chemistry World that if Bolivia successfully develops a lithium mining industry, it would drive additional investment into lithium end-use research and development.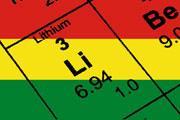 'Any potential new lithium supply is very good news for the future of lithium using industries, as it reduces dependence on a single source and increases resource security,' he says.
Bolivia, which currently does not mine lithium, had been in talks with foreign firms to mine the metal at the Uyuni salt lake, a 4000 square mile expanse in south-western Bolivia, 12,000 feet above sea level. However, after mining firms declined to participate in a scheme to develop a lithium battery industry in Bolivia, the nation announced in late October it would invest $500 million (?302 million) in a state-owned mining operation.
Vorona says Bolivia wants to vertically integrate the lithium market so it can import technological know-how and claim a larger portion of value-added profits. 'There are a few problems with this plan,' he says, one of which is that 'it is seen as extremely risky for potential international investors'. In the past, President Evo Morales has nationalised natural resources and industries, expropriating foreign investments.
Estimates of global lithium reserves vary widely. The US Geological Survey (USGS) pegs Bolivian lithium reserves at 5.4 million tonnes, the largest in the world followed by Chile, at 3 million, and China at 1.1 million, with total reserves of 11 million tonnes.
'In the long run, transport will be largely electric,' he says. 'The only losers will be Opec (Organisation of petroleum exporting countries) - but if Opec loses, everyone else in the world wins.'
Ned Stafford
CHEMICAL INDUSTRY
BASF: 'worst is behind us'
German chemical giant BASF has seen its quarterly sales rise 2 per cent compared to the second quarter of the year, but its revenues of
12.8 billion (?11.4 billion) were still 19 per cent down compared with the same period last year. Yet despite it's operating income for the quarter slipping 20 per cent to
1.2 billion compared to the third quarter of 2008, it still managed to reduce its total debt position.
'Overall, there is much to suggest that the worst is behind us,' said BASF's chairman Jurgen Hambrecht. 'After a steep plunge, we are now climbing gradually out of the trough. The recovery will be slow and uneven.'
Rhodia sales up but others slump
Rhodia has seen its third quarter operating profit increase 19.5 per cent year-on-year to
104 million despite sales falling 15 per cent to
1.04 billion. The increase in profitability was due to the company's cost saving drive, which has reduced fixed expenditures by
96 million so far this year.
But the news across the sector is not all so rosy - DSM's third quarter operating profits fell 41 per cent to
139 million with sales falling to
2.02 billion, 14 per cent down on the previous year.
Despite DuPont's third quarter revenues and operating profits being 18 per cent lower than during the same period last year - $6 billion (?3.6 billion) and $491 million, respectively - its net income rose 11 per cent to $409 million due to lower costs.
Dow's third quarter sales of $12 billion were down 22 per cent from reported sales in the same period last year and 32 per cent lower if Rohm & Haas's sales are taken into account. However, operating profits soared to just over $1 billion compared to $620 million in the same time period last year - primarily due to asset sales needed to pay for its acquisition of Rohm & Haas.
Total's chemicals business also saw a fall in revenues and profits in the third quarter, with sales dropping 28 per cent year-on-year to
3.89 billion and operating profits falling 44 per cent to
191 million. However, both these figures were an improvement on the company's second quarter results, with sales increasing 6 per cent and operating profits more than tripling.
The Saudi Basic Industries Corporation (Sabic) is still struggling due to the recession as well, with third quarter revenues down 45 per cent at Riyal8.6 billion (?1.4 billion) compared to the same quarter the previous year. Operating profits were down 48 per cent at Riyal6.4 billion during the quarter compared to last year, although the results were slightly more favourable than during the previous quarter.
AkzoNobel sales fall 10 per cent
Hans Wijers, chief executive of AkzoNobel, has said the Dutch chemicals giant has 'seen some signs of improvement in [sales to] emerging markets, but overall we don't foresee a quick recovery.' Despite sales during the quarter falling 10 per cent to
3.6 billion, the company's operating profits increased 4 per cent to
391 million compared to the same period last year. This led to a 30 per cent increase in net profits, which rose to
197 million, helped by the company's continuing restructuring and integration efforts.
UK rubber cartel case rolling on
Dow Chemical has lost a request to dismiss a claim brought against it in the UK over its involvement in an alleged European rubber cartel. Justice Nigel Teare at the high court in London ruled that Cooper Tire & Rubber and 25 other companies can sue Dow in the UK for losses they claim resulted from antitrust violations.
The cartel is alleged to involve as many as 20 other companies, including Unipetrol, units from Royal Dutch Shell and Bayer which were fined
519 million in a 2006 EU antitrust case - Bayer was granted immunity 'because it was the "whistleblower"'.
CSB worried about refinery fires
The US Chemical Safety Board (CSB) has had to send investigative teams to three large petroleum fires within the space of two weeks. According to John Bresland, chairman of the CSB, 'there continues to be a disturbing number of fires, explosions, and releases at the nation's refineries.'
The first incident occurred at the Tesoro refinery in Salt Lake City, where, according to refinery officials, liquid hydrocarbons were released from a flare stack during an effort to restart the refinery's crude unit after a power outage. No injuries were reported in the fire and firefighters managed to extinguish the blaze within an hour.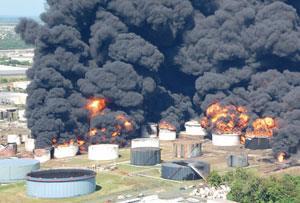 © CARIBBEAN PETROLEUM
The second occurred at a Caribbean Petroleum Corporation (CPC) petroleum storage facility near San Juan, Puerto Rico. Reports indicate that an explosion at the facility caused a large number of the storage tanks to catch fire.
The third happened at the Silver Eagle refinery in Woods Cross, where an explosion in a diesel hydrator damaged nearby homes and was felt several miles from the facility. The CSB is still investigating a flash fire that happened at the same refinery in January.
Ineos to produce more acetonitrile
Ineos's nitriles division has rolled out a modification to their acrylonitrile production plants that allows it to tweak the amount of acetonitrile produced as a by-product. The idea is that this will allow the company to maintain supply of the solvent in times when demand for acrylonitrile is low - avoiding the situation that occurred last year when decreased acrylonitrile production caused a world shortage of acetonitrile. While the situation is no longer so acute, the price of acetonitrile is still relatively high - and given the state of the economy and the automotive industry it's likely to stay that way for a while.
Osha fines BP for refinery blast
The US Occupational Safety and Health Administration (Osha) has slapped BP with an $87.4 million fine for failing to correct potential hazards at its refinery in Texas City, following the fatal explosion that occurred at the site four and a half years ago. 15 people died and 170 were injured following the explosion at the refinery - the third largest in the US.
The fine is the largest in Osha's history, with the second largest fine of $21 million imposed on BP following the original incident. The company has already paid more than $2 billion to settle civil lawsuits and paid a $50 million fine to the US Justice Department to settle criminal charges related to the blast. BP has said it is appealing against this latest fine.
Shell slashes jobs as profits fall
Shellis cutting 5000 jobs, nearly 10 per cent of its workforce, as part of its previously announced plan to streamline the business. At the same time it announced its third quarter earnings had slumped 73 per cent to $2.9 billion compared to the same period last year.
Shell's chief executive, Peter Voser, said the company's results 'were affected by the weak global economy. Upstream and downstream profitability has been sharply reduced compared to year-ago levels'.
The company did not say how many job cuts would be made from its chemicals business, which saw sales volumes fall 5 per cent compared to last year.
PHARMACEUTICALS
Pharma results roundup
With the pharmaceutical industry rapidly facing the prospect of losing billions of dollars of revenues to generic competition, this year's third quarter results have made some interesting reading.
Johnson & Johnson (J&J) saw sales drop 5.3 per cent to $15.1 billion (?9 billion) compared to the same period last year due to 'patent expiry and the challenges of the current economic climate'. Operating profit declined 1 per cent to $4.2 billion. And while its pharmaceutical division was particularly badly hit, with sales dropping 14.1 per cent to $5.3 billion, sales from its medical devices and diagnostics division increased 2.3 per cent to $5.8 billion.
J&J has since announced restructuring plans that will see it shed 6-7 per cent of its workforce (about 8000 jobs) in an effort to cut up to $1.7 billion from its cost structure.
Abbott is weathering the generic storm quite well so far, and saw sales increase 3.5 per cent to $7.7 billion and operating profits increase 17.4 per cent to $1.6 billion during the quarter. Pharmaceutical sales grew 3.9 per cent despite the company seeing sales of its psychiatric medication Depakote fall nearly 71 per cent to $92 million due to generic competition.
Sanofi-Aventis saw quarterly sales increase 8 per cent to €7.4 billion (?6.6 billion), aided by sales from its generics division nearly tripling to
302 million, its pharmaceuticals division growing 6.2 per cent to
6.3 billion and its vaccine division growing 4.8 per cent to reach
1.0 billion.
Perhaps most impressively, GlaxoSmithKline (GSK) has seen its third quarter sales rise 15 per cent to ?6.8 billion and operating profits grow 25 per cent to ?2.0 billion - although the results were helped by the weak pound making foreign sales more profitable. Andrew Witty, GSK's chief executive, was keen to point out that the company was successfully moving away from being dependent on 'white pill/western markets'.
Meanwhile, AstraZeneca (AZ) saw its third quarter revenues increase 5 per cent to $8.2 billion, aided by sales of its swine flu vaccine and strong sales of its cholesterol lowering drug Crestor. Operating profits soared 27 per cent to $3.2 billion, aided by a 19 per cent drop in its research and development expenditure.
Swiss pharma giant Roche saw its third quarter sales increase 14 per cent to SF12.3 billion (?7.3 billion). The sales growth figures were suitably aided by the swine flu pandemic, which led to a 984 per cent increase in sales of its antiviral medicine Tamiflu - bringing in SF994 million during the quarter. The company's oncology franchise also continued to do well, with sales of its anticancer drug Avastin increasing 21 per cent to SF1.59 billion.
GSK launches world's largest malaria vaccine trial
GlaxoSmithKline (GSK) has launched the world's largest malaria vaccine trial on its RTS,S vaccine (see Chemistry World, April 2008, p50). The trial has enrolled more than 5000 children in seven different sub-Saharan African countries and aims to enrol a further 11,000.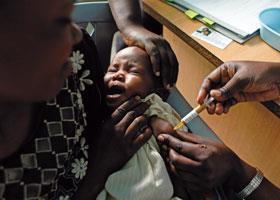 © ASSOCIATED PRESS
'A malaria vaccine could help save countless lives and redefine the future for Africa's children,' said Patricia Njuguna, RTS,S principal investigator and chair of the Clinical Trials Partnership Committee that is leading the clinical development of RTS,S. 'Communities all across Africa are dedicated to this future and are participating to ensure that we develop a vaccine with an acceptable safety and efficacy profile.'
'This is a tremendous moment in the fight against malaria and the culmination of more than two decades of research, including 10 years of clinical trials in Africa,' said Joe Cohen, co-inventor of RTS,S and vice president of R&D, vaccines for emerging diseases and HIV, at GSK Biologicals.
'New Merck' emerges
Following the completion of its reverse merger with Schering-Plough, the new Merck & Co. has emerged from its chrysalis and its chief executive, Richard Clark, announced that it still has a 'fat wallet and plans more wheeling and dealing'.
The new company currently has 106 000 employees, but is expecting to shed around 15 per cent of those (15,000 jobs) 'from all areas across the combined company' to reduce its cost base by $3.5 billion a year.
Merck's third quarter sales increased 2 per cent to $6.0 billion and its operating profits increased by over 350 per cent to $5.0 billion after it sold its share in Merial, its animal health joint venture, to Sanofi-Aventis in order to enable the Schering-Plough merger to gain regulatory approval.
Meanwhile, in its last set of reported quarterly results before its merger with Merck, Schering-Plough saw sales drop 2 per cent to $4.5 billion and operating profits fall 7 per cent to $612 million. However, with three out of its 'five pipeline stars' now on the market, the company looks well positioned to grow its sales in the future.
Pfizer streamlines R&D
Following its $68 billion acquisition of Wyeth, Pfizer has announced that it will be streamlining its R&D efforts into five central research hubs and nine specialised research centres, compared with the 20 sites the newly merged company currently has.
The central hubs will be based in Cambridge, Massachusetts; Groton, Connecticut; Pearl River, New York; La Jolla, California; and Sandwich, UK. Pfizer plans to close its R&D centres in Princeton, New Jersey; Chazy, Rouses Point and Plattsburgh, NewYork; Sanford and Research Triangle Park, North Carolina; and Gosport, Slough/Taplow, UK, reducing its R&D footprint by 35 per cent.
The company recently reported that its third quarter operating profits increased 46 per cent to $3.9 billion as aggressive cost-cutting and headcount reduction helped offset the company's sales falling 3 per cent to $11.6 billion. The company has shed some 6500 jobs so far this year and a further 13,500 jobs are scheduled to go. The timing of the merger means that Pfizer has not had to release Wyeth's results, but most worryingly the pharma giant's R&D expenditure dropped by 13 per cent to $1.6 billion compared to the same period last year.
Quintiles and AZ tie the knot
Contract research organisation Quintiles is to 'assume the operational responsibilities for the majority of AZ's clinical pharmacology delivery'.
According to Anders Ekblom, executive vice president for global drug development at AZ, 'this model gives us access to the right scientific and medical expertise plus the quality, flexibility and capacity we need to work efficiently and cost-effectively to deliver these studies.'
Novartis looks east
Novartis has said it will invest $1 billion (?603 million) over the next five years to build 'the largest pharmaceutical R&D institute in China' in response to the country's increasing demand for healthcare. The company estimates that the move will increase the number of research associates it employs at the Novartis Institute for BioMedical Research (CNIBR) in Shanghai from 160 to over 1000.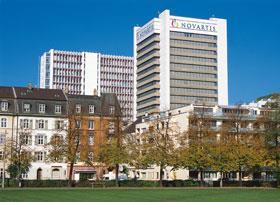 © NOVARTIS
'We are confident that our expanded investment in R&D will result in innovative therapies for patients in China and other countries nurtured by the growing scientific excellence in China,' said Daniel Vasella, Novartis's chief executive.
The company has also spent $125 million on buying an 85 per cent stake in the Chinese vaccine maker Zhejiang Tianyuan Bio-Pharmaceutical to expand its 'limited presence in this fast-growing market segment'.
Fresh Tysabri infection fears
The European Medicines Agency (EMEA) has begun a review of the benefits and risks of taking Biogen Idec and Elan's multiple sclerosis drug Tysabri, following reports of more cases of the potentially deadly brain infection progressive multifocal leukoencephalopathy (PML).
The number of PML infections in Tysabri users has increased to 23 since the drug was reintroduced in July 2006 and the US Food and Drug Administration (FDA) is currently in talks with the companies to discuss changing the label on Tysabri and whether there is a link between the risk of PML and the length of treatment.
Meanwhile, Genentech (now wholly owned by Roche) and Biogen Idec have said that a third arthritis patient taking Rituxan (rituximab) has developed PML, scuppering their plans of getting the drug approved by the FDA for use in arthritis patients 'in light of the number of effective [rheumatoid arthritis] treatments currently available to patients in earlier stages of the disease'.
HPV vaccine war heats up
GSK has been given the green light by the FDA to market its cervical cancer vaccine, Cervarix, in the US and compete against Merck & Co.'s Gardasil. GSK has said the vaccine will be available in the US by the end of the year and initial indications are that it plans to charge less for Cervarix than Merck does for Gardasil - which has just been approved by the FDA for the prevention of penile warts in young men.
Some analysts have predicted that this could open up a market worth some $300 million for Merck, but a recent study in the British Medical Journal suggests that a human papillomavirus (HPV) vaccination programme for pre-adolescent boys would not be cost effective.
Lonza switches targets
Lonza has withdrawn its $700 million bid to acquire contract manufacturing and development services firm Patheon and has instead made an investment agreement with German biotech firm Cilian.
'We believe that Cilian's production platform for enzymes, antibodies and other proteins has potential to provide attractive innovations in the nutrition and biopharmaceutical area,' says Thomas Kiy, global head of strategic business development of Lonza Life Science Ingredients.
IN BRIEF
Clariant to slash 800 more jobs
Swiss speciality chemicals company Clariant has decided to cut a further 800 jobs, adding to the 1850 it announced in January. The move follows the company's announcement that sales during the second quarter fell 24 per cent to SF1.29 billion (?774 million) and that its operating income of SF69 million for the quarter was less than half that recorded during the prior year.
Ineos plans a bio-refinery future
Ineos Bio has begun a ?3.5 million feasibility study into whether its Seal Sands site in the Tees Valley, UK is suitable for a commercial bio-ethanol fuel production and bio-energy generation plant that will use biodegradeable household waste as a feedstock.
The study is being supported by a ?2.2 million grant from the regional development agency One North East and the UK's Department for Energy and Climate Change.
ESG wages war on contamination
Following the acquisitions of Environmental Services Group in 2006 and Scientifics in 2007, testing and inspection group Inspicio has combined the companies and launched the Environmental Scientifics Group (ESG). The group will provide testing, analysis and consultancy services across a range of fields from forensics and commodity chemical analysis to environmental monitoring.
Sabic and Albemarle catalyse Arabian Gulf growth
Albemarle and the Saudi Basic Industries Corporation (Sabic) are to form a 50:50 joint venture company to build a 'world-scale organometallics production facility' in the Arabian Gulf industrial city of Al-Jubail.
The companies estimate they will invest Riyal300 million in the Saudi Organometallic Chemicals Company which will have the capacity to produce 6000 tonnes of triethyl aluminium per year.
Takeda and Amylin 'fight the fat'
Takeda has agreed to licence various obesity drug candidates from Amylin in a deal worth up to $1 billion. The deal includes pramlintide/metreleptin and davalintide, which are currently negotiating their way through Phase II development. Amylin will receive a one-time, upfront payment of $75 million from Takeda as well as various milestone payments.
VaxGen to be bought by Oxigene
Troubled vaccine maker VaxGen, the developer of half of the combination Aids vaccine that met some success in a clinical trial in Thailand last month, has been bought by biopharmaceutical company Oxigene in an all stock deal worth around $22 million.
Novartis sign up Heptares, Vanda
Novartis has signed a drug discovery deal worth up to $200 million with British biotech firm Heptares. The deal will see Heptares, which has already received $7 million of equity financing from Novartis, search for novel drug leads against a nominated G-protein coupled receptor (GPCR) target.
The Swiss pharma giant has also agreed to pay Vanda Pharmaceuticals $200 million for the rights to market its schizophrenia drug, Fanapt, in the US and Canada.
GSK taps Supergen to develop epigenetic therapeutics
GSK has signed up Supergen to discover and develop cancer therapies based on epigenetic targets that regulate gene function without altering DNA sequences. The deal will see Supergen receive an upfront payment of $5 million, which includes a $3 million equity investment. GSK will then have an option to further develop any successful candidates.