INDUSTRY
The green shoots of a chemical spring
Recent data seem to suggest that the chemical industries have weathered the worst of the economic storm, at least for now. Cefic, the European Chemical Industry Council, has updated its Chemical Trends report which shows that the European chemicals industry has now seen 12 months of non-stop recovery. Production in January 2010 was 15 per cent higher than in January 2009, at the height of the crisis. Yet despite these gains, production has only returned to 2005 levels - so there is still a long way to go before production returns to pre-crisis levels.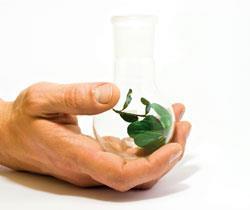 Japan's Ministry of Economy, Trade and Industry (Meti),echoes this view, and is predicting that demand for petrochemicals is on the rise. According to a study commissioned by Meti, demand for petrochemicals will 'pick up', with demand growth for aromatics and ethylene and propylene derivatives expected to increase from 2 per cent in 2010 to nearly 7 per cent in 2014.
Much of the growth during this period is expected to come from Asia where demand for ethylene derivatives is predicted to rise by 5 per cent and propylene derivatives 6 per cent. But the report does caution that despite increasing demand, the petrochemical markets are likely to become increasingly competitive, with Middle Eastern production capacity expected to increase significantly.
BCC Research is also predicting a bright future, this time for chiral technology - with the market for chiral synthesis, resolution and analysis products predicted to grow at 2.8 per cent a year and reach $5.1 billion by 2014. Much of this growth is due to the pharmaceutical industry's development of chirally pure drugs - spurred on by US Food and Drug Administration (FDA) policies.
Meanwhile, pharmaceutical intelligence firm IMS Health, is predicting that the global pharmaceutical market will grow by almost $300 billion (?195 billion) over the next 5 years to reach $1.1 trillion in 2014. This equates to a compound annual growth rate of between 5 and 8 per cent - despite the fact that over the next 5 years, products with sales of more than $142 billion are expected to lose patent protection and face generic competition in major developed markets.
Matt Wilkinson
BASF's profits nearly double
German chemical giant BASF has seen its first quarter operating profit nearly double to €1.8 billion (?1.5 billion), aided by sales growing 27 per cent to €15.5 billion. The company saw sales in the Asia Pacific region grow 73 per cent, while sales to North America grew 55 per cent, indicating the strong recovery in the two regions. Meanwhile, Europe lagged behind with sales only recovering 12 per cent.
'Regionally, we saw high demand in Asia and South America. North America is also slowly recovering. Europe is bringing up the rear,' said J?rgen Hambrecht, BASF's chief executive.
DuPont sees a solar future
DuPont has said it plans to grow its sales of photovoltaics by more than 50 per cent during the year on the back of 'increased market demand for new installations in Europe, North America and parts of Asia'. The company is now expecting its photovoltaic sales to exceed $1 billion (?700 million) in 2011.
Meanwhile, the company has seen its first quarter sales increase 23 per cent to $8.5 billion, reflecting a 19 per cent increase in sales volumes. Sales into the Asia Pacific region accounted for $1.6 billion, with volumes up 65 per cent. R&D investment increased 13 per cent to $363 million - around 5 per cent of sales.
Air Products floats higher
Air Products saw its second quarter sales increase to $2.2 billion, up 15 per cent compared with the second quarter of 2009. Operating income rose 30 per cent to $340 million and R&D costs fell 11 per cent to $26.3 million.
Meanwhile, the company has extended the expiry date of its $60 per share tender offer for all outstanding shares of Airgas until 4 June. However, Airgas believes the offer 'grossly undervalues' the company and has urged shareholders not to sell their shares to Air Products.
But investors may be tempted to sell as Airgas saw its 2009 full year sales drop 11 per cent to $3.8 billion and its operating profits fall 24 per cent to $3.5 billion. Its fourth quarter sales fell 1 per cent to $980 million compared to the same period in the previous year. Meanwhile, its fourth quarter operating profits fell 29 per cent to $82 million.
Dow reaps the benefits
The Dow Chemical Company is starting to reap the benefits of its acquisition of Rohm & Haas with sales increasing 48 per cent to $13.4 billion during the first quarter of 2010.
The company turned around the operating loss it made during the first quarter of 2009 and recorded an operating profit of $655 million, despite R&D investment increasing 39 per cent to $407 million (3 per cent of sales). It also managed to make $275 million of structural cost reductions related to its acquisition of Rohm & Haas during the quarter.
Hexion 'optimistic'
Hexion's chief executive Craig Morrison, has said he is 'optimistic' that the sales volume recovery it saw toward the end of 2009 will continue throughout 2010, but 'the extent of the economic recovery is likely to vary significantly by industry sector and geographical region'.
The company saw its first quarter sales rise to $1.2 billion, a 28 per cent increase compared to the same period last year. This led to increased operating profits of $67 million - 5.6 times higher than in 2009.
Lanxess back in the black
German rubber expert Lanxess has seen an upturn in fortunes due to the improving economic conditions in Asia and Latin America. The company reported that its first quarter sales hit
1.6 billion, up 53 per cent compared to the same period last year.
The increase in sales helped the company to make an operating profit of
164 million, compared to the operating loss of
1 million it recorded in the first quarter of 2009.
Qatar site gets cracking lift
Air Liquide is to build the world's largest helium extraction, purification and liquefaction unit in Qatar. The site will build on its existing helium unit in Ras Laffan that has a capacity of 20 million cubic metres, and will increase production capacity to 58 million cubic metres a year - making Qatar a leading producer of helium, with 25 per cent of the world's production capacity.
Despite the fact that the helium is only present at very low levels (around 0.05 per cent) in the incondensible gases extracted from the natural gas field, the size of the North Field gas deposit means the helium it contains is of 'real economic significance'.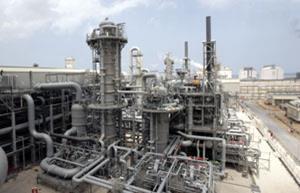 Meanwhile, Total is also tapping into the riches that the Ras Laffan site has to offer by opening the world's largest olefin cracker. The cracker will produce around 1.3 million tonnes of ethene per year from the North Field gas deposit and will feed the Qatofin polyethylene plant in Mesaieed, which Total started up in November 2009.
'These major projects are considerably enhancing our position in petrochemicals, in particular in the growing markets in Asia and the Middle East,' said Fran?ois Corn?lis, president of Total Chemicals.
Mitsubishi sees improvement
Japan's largest chemical company, Mitsubishi Chemical has released its full year 2009 financial results, which showed its sales for the year ending 31 March 2010 fell to ?2515 billion (?18.8 billion), 13 per cent lower than during the previous year. However, its operating income increased eight-fold to reach ?66 billion. Mitsubishi cautioned that 'uncertainty surrounding the future of the economy has remained'.
Sabic's profits surge
Saudi Basic Industries Corporation (Sabic) has seen its sales for the quarter more than triple compared to the first quarter of 2009, reaching SAR12.22 billion (?2.1 billion). Operating profits for the quarter more than doubled, hitting SAR9.71 billion.
The company has also signed a long-term research and innovation agreement with the King Abdullah University of Science and Technology (Kaust) that will see Sabic build a research and innovation centre on the university campus and support a number of joint projects.
Celanese to close Spondon
Despite seeing sales recover 21 per cent to $1.4 billion in the quarter, Celanese is considering closing its acetate manufacturing plant in Spondon, Derby, UK, which currently employs around 460 people. The move is designed to reduce the company's fixed costs and improve its competitive position.
Despite the increase in sales, the company made a $14 million operating loss.
Merck KGaA gets TV boost
German chemicals and pharmaceuticals conglomerate Merck KGaA, saw its first quarter revenues increase by
13 per cent to 2.1 billion - with sales from its liquid crystals group jumping 82 per cent on the back of increasing demand for LCD televisions.
The company's operating profit increased to
295 million, up 128 per cent compared to the first quarter of 2009. R&D expenditure increased 11 per cent to
347 million (?299 million) - predominantly due to the number of drug candidates its Merck Serono division has in late stage clinical trials.
Mixed bag for Bayer
Bayer saw sales rise by 5.3 per cent to
8.3 billion for the quarter, and operating profits increase 23 per cent to
1.2 billion - mainly due to its MaterialScience division seeing sales soar 36 per cent to
2.2 billion as demand recovered from an all time low in the first quarter of 2009.
Meanwhile, the company's CropScience division saw sales slump by 7.9 per cent to
1.9 billion due to the 'delayed start of the season', and 'adverse weather conditions in several important growing regions'.
However, sales from its Healthcare division were largely flat, growing by only 0.7 per cent to reach
3.9 billion. Safety concerns leading to a 10 per cent slump in sales of its Yaz (drospirenone and thinyl oestradiol) contraceptive pill franchise held back the division.
PHARMACEUTICALS
Pfizer's sales soar as axe falls
Pfizer, the world's largest pharmaceutical company, has seen its sales for the first quarter of 2010 soar 54 per cent to $16.8 billion (?11.4 billion) on the back of its $68 billion acquisition of Wyeth. However, the company's operating profits declined by 16 per cent to $3.2 billion primarily due to the cost of sales increasing three fold to $4.3 billion.
The company expects that R&D costs for the year will amount to $9.1-$9.6 billion, with the company having already spent $2.2 billion on R&D in the first quarter.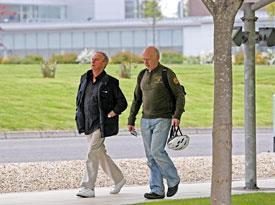 And even before the imminent loss of patent protection for the world's biggest selling drug Lipitor (atovastatin), which is predicted to contribute $11 billion to Pfizer's sales this year, the strength of the US dollar and the recently enacted US healthcare reform legislation has led the pharma giant to reduce its revenue expectations for the year by $300 million and by $800 million for 2012.
Meanwhile, the firm has announced how it plans to 'reconfigure its global plant network', a move that will see it close eight manufacturing sites and shed 6000 employees over the next few years. The headcount reductions form part of the 19,500 job cuts that Pfizer announced when it bought Wyeth in January 2009.
Ireland will be particularly hard hit, losing manufacturing sites in Dublin, Shanbally and Loughbeg - where Lipitor is made. Puerto Rico will lose its Caguas and Carolina plants, and the Rouses Point plant in the US will also be closed. Six other plants, including Havant in the UK, are scheduled to see reductions in staffing levels.
Takeda trims workforce
Japanese pharma giant Takeda is planning to cut 1900 jobs, around 10 per cent of its workforce, as it tries to cope with a predicted 26 per cent fall in revenue due to generic drug competition. The cuts are part of a package of cost saving measures that the company hopes will shave ?50 billion (?370 million) from its cost structure over the next three years.
A spokesperson for Takeda told Chemistry World that the majority of the cuts will hit the company's US operations, which will lose around 1600 positions. With 200 of those affecting the company's R&D section.
The cuts were announced alongside the company's full year results, that showed generic competition had already caused Takeda's sales to fall 5 per cent to ?1465 billion. However, efficiency savings enabled the company to record a 37 per cent increase in operating profits, which reached ?420 billion.
Takeda, also announced a 'mid-range' plan for the 2010-2012 period that will see it try to improve its R&D productivity and concentrate its efforts on its core therapeutic areas of obesity, diabetes, atherosclerosis, cancer, depression, schizophrenia and Alzheimer's disease.
Merck aims for the heart
Merck & Co. has claimed its developmental drug pipeline, swelled by its $41 billion (?28 billion) acquisition of Schering-Plough, is the best in the industry. The company has four compounds currently under review by the US Food and Drug Administration (FDA) and expects to file five more new drug applications in 2010.
The company also has more than 20 ongoing Phase III programmes - with the possibly the most eagerly anticipated being Schering's vorapaxar- which, if it's approved, would be a first-in-class thrombin receptor antagonist aimed at breaking up the clots that cause heart disease - one of the biggest disease markets in the world.
Meanwhile, the US pharma giant has seen its first quarter sales more than double to $11.4 billion. However, the overhead costs of the newly combined companies outweighed the sales gains in the short term, with operating profits falling 65 per cent to $616 million. R&D costs increased 66 per cent to $2.0 billion.
Crestor helps AZ grow
First quarter sales of AstraZeneca's (AZ) cholesterol-lowering drug Crestor (rosuvastatin) grew 27 per cent to $1.3 billion, helping the group's sales increase 11 per cent to $8.6 billion. Crestor's sales growth was partly due to the FDA's decision to approve the drug as a preventative agent.
AZ's operating profits rose 15 per cent to $3.6 billion. And despite the company's January announcement that it would be axing around 1800 researchers, its R&D bill actually increased by 1 per cent to $991 million.
The company's efforts to expand its presence around the world saw its sales to emerging markets increase 29 per cent to $1.3 billion and now make up some 15 per cent of revenue.
Flu-vax boosts GSK and Sanofi
GlaxoSmithKline (GSK) saw its first quarter sales increase 9 per cent to ?7.4 billion compared to the same quarter in 2009. The company ascribed much of this growth to the success of its pandemic swine flu (influenza A H1N1) vaccine Pandemrix as well as to its increasing presence in emerging markets - with sales into those markets increasing 43 per cent. The UK-based pharma giant has been trying to reduce its reliance on what it calls the 'white pills/western markets' which now accounts for just 27 per cent of sales - down from 32 per cent during the same period last year.
The company's first quarter operating profit increased 21 per cent to ?2.4 billion, while its R&D spending dropped to ?939 million or 13 per cent of sales, down from ?1.1 billion or 16 per cent of sales during the first quarter of 2009.
Meanwhile, Sanofi-Aventis recorded first quarter sales growth of 3.9 per cent - somewhat lower than its rivals, but still a 'good start to the year', according to Christopher Viebacher the company's chief executive. The company brought in
7.4 billion (?6.4 billion) in the first 3 months of the year and made an operating profit of
3.3 billion - 6.5 per cent higher than in the first quarter of 2009.
Sales from its pharmaceuticals division fell just over 0.5 per cent to
6.4 billion. In contrast, the French firm's vaccine sales grew 50 per cent to
944 million - helped by sales of its swine flu vaccine which brought in
413 million during the quarter.
J&J recalls children's medicines
Working in consultation with the US Food and Drug Administration (FDA), Johnson & Johnson's consumer healthcare group McNeil has recalled more than 40 types of children's pain and allergy medicines because they may have been made using materials tainted with bacteria. The news of the recall came while FDA inspectors were completing a two-week inspection of the production facility.
'While the potential for serious health problems is remote, Americans deserve medications that are safe, effective and of the highest quality,' said Margaret Hamburg, commissioner of the FDA. 'We are investigating the products and facilities associated with this recall and will provide updates as we learn more.'
Meanwhile, the US oversight committee is launching an investigation into the affair as the FDA and McNeil have given conflicting accounts of the circumstances surrounding the recall, including what prompted the recall and how serious it really is.
'When a recall of this nature occurs, it is our responsibility to bring attention to the issue as a public service and to fulfill our oversight responsibility by asking tough questions about the conditions of the manufacturing plant and controls put in place by the drug company's management, and about whether FDA's inspection and recall procedures were sufficient,' said the committee's chairman Edolphus Towns.
OSI agrees to Astellas buyout
After a two month courtship, cancer specialist OSI has relented to Astellas's advances and agreed to be bought by Japan's third-largest drugmaker for $4 billion in cash - an 11 per cent increase on Astellas's original offer. The deal will see Astellas get its hands on OSI's blockbuster cancer drug Tarceva (erlotinib) and will help it cope with losing patent protection for its prostate drug Flomax (tamsulosin) and its immunosuppressant drug Prograf (fujimycin).
Novartis bullish
Joseph Jimenez, Novartis's new chief executive, has taken over a ship with the wind in its sails - the company saw its first quarter net sales increase 25 per cent to $12.1 billion, and its operating profits increase 50 per cent to
$3.5 billion.
The results were aided in part by strong sales of its swine flu vaccine, with vaccine sales increasing four-fold to $1.4 billion; while sales of recently launched products rose 68 per cent to $1.9 billion - making up16 per cent of sales.
'The growing contributions from products launched since 2007 are rejuvenating our portfolio and are the result of our commitment to innovation and successful R&D investments,' said Jimenez, who has seen the company increase its R&D outlay by 20 per cent to $2 billion compared to the first quarter of 2009. New markets now make up 24 per cent of the company's sales, compared to 20 per cent of Roche's and 13 per cent of AZ's - a fact that positions the company well if IMS Health's predictions that emerging markets will grow between 14 and 17 per cent through to 2014, while major developed markets will only grow 3 to 6 per cent.
IN BRIEF
Akzo paints a brighter picture
Dutch chemicals giant AkzoNobel has said its operating profit during the first quarter of 2010 increased 72 per cent to
258 million compared to the same period last year. Sales grew 6 per cent to
3.2 billion, due to a volume increase of 10 per cent, with demand strongest in the high growth and industrial markets. However, the company cautioned that it was experiencing increasing raw material costs.
DSM sees life in science
Dutch life sciences company DSM has seen its first quarter operating profit more than treble to reach
196 million on the back of a 24 per cent increase in sales that hit
2.1 billion. 'Throughout the downturn, DSM has stayed the course - fully committed to our customers, innovation and sustainability,' said Feike Sijbesma, chief executive of DSM. 'While uncertainties remain in the medium term economic outlook, continued positive business conditions give us confidence that 2010 will be a good year for DSM.'
Rhodia back to pre-crisis levels
French chemicals company Rhodia has seen its first quarter sales volumes return to 'pre-crisis levels' - increasing 25 per cent compared to the same period in 2009. On a like-for-like basis the company saw sales increase 23 per cent to
1.2 billion. The company managed to turn around the
99 million loss it recorded in the first quarter of 2009 and deliver operating profits of
140 million.
Futerro starts bioplastics unit
Futerro has brought its bioplastics production unit in Escanaffles, Belgium, on-stream in a bid to further develop its polylactic acid (PLA) production technology. The company is a 50:50 joint venture between Galactic and Total and aims to make bioplastics from renewable vegetable sources. The first step of the process involves fermenting beet sugars to create lactide, before the purified monomer is polymerised to obtain biodegradeable PLA plastic granules.
Gilead announces record results
HIV-specialist Gilead has seen its first quarter revenues increase 36 per cent to $2.1 billion and operating profits increase 44 per cent to $1.2 billion. According to the company, its sales figures were down $30 million 'due to the impact of healthcare reform legislation'.
Boehringer outpaces sector
Boehringer-Ingelheim saw its net sales for 2009 increase 10 per cent to
12.7 billion - continuing a trend of outpacing the growth of the pharmaceutical sector as a whole for the 10th year in succession. The company saw its operating profits increase 13 per cent to
2.24 billion, making it 'the fastest growing of the world's 15 largest pharmaceutical companies'.
Charles River buys WuXi
Contract research organisation (CRO) Charles River Laboratories has agreed to buy Chinese CRO WuXi Pharmatech for $1.6 billion to expand its reach - both geographically and in terms of the services it can provide.
Cancer vax gets the go-ahead
Dendreon's prostate cancer vaccine has been approved by the US Food and Drug Administration (FDA) for the treatment of metastatic prostate cancer. The 'autologous cellular immunotherapy' is designed to induce an immune response against prostatic acid phosphatase (PAP) - an antigen expressed in most prostate cancers.
NicOx plummets on rejection
NicOx has seen its share price plummet after FDA advisers voted firmly against recommending naproxcinod for approval. The drug is a first-in-class cyclooxygenase (Cox)-inhibiting nitric oxide-donating drug designed to avoid the blood pressure raising effects of other non-steroidal anti-inflammatory drugs (NSAIDs).