The government says it will do more to protect federal scientists from political interference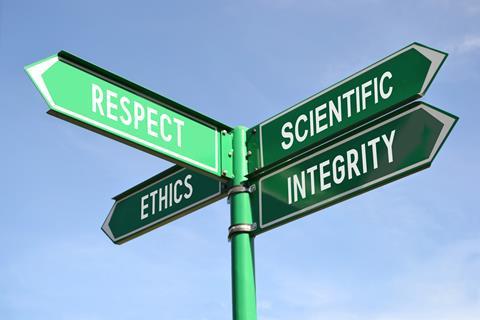 The Canadian government has introduced a new model scientific integrity policy to protect its public sector scientists from political interference, and the country's research community, including high-profile chemists, applaud the development.
'The government is committed to science and evidence-based decision-making,' said Canada's science minister, Kirsty Duncan. 'We want to return science to its rightful place in government.'
Canada's chief scientific adviser, Mona Nemer, developed the model policy together with the Professional Institute of the Public Service of Canada (PIPSC), a union that represents more than 15,000 federal scientists, engineers and researchers. Issued on 30 July, the document aims to encourage federal scientists to speak freely about their work with the public and media, foster a culture that promotes and supports scientific integrity, and increase public trust in government science and research.
'With respect to chemistry in particular, it is certainly a good thing,' says Nemer. She notes that there are hundreds of chemists and biochemists across various Canadian agencies who are involved in regulatory and non-regulatory activities. 'While many already collaborate with chemists and other scientists outside government labs in and outside Canada, the new science integrity policy will encourage more scientific collaborations as well as participation in public outreach.'
The new model policy will be shared with Canada's governmental departments and agencies employing 10 or more scientists, which are then expected to develop their own integrity policies by the end of December. These departments and agencies must report on their progress each year, and Nemer – a biochemist who most recently served as vice president of research at the University of Ottawa – will meet annually with the president of PIPSC and the secretary of Canada's Treasury Board to take stock and determine whether any corrective actions are required.
Under Canada's previous Conservative government, led by Prime Minister Stephen Harper, there were widespread complaints about federal scientists being 'muzzled' and prevented from speaking about their work.
'It was so extreme, we weren't even allowed to talk about the facts in our own published papers,' recalls Steven Campana, a shark biologist who took early retirement from Fisheries and Oceans Canada in part over frustrations about government interference in his work. Campana says he was formally disciplined for participating in a television interview about sharks, and for attending a scientific conference without government permission, despite having taken vacation time and paying for the trip himself.
In February, an investigation by Canada's Information Commissioner found that six departments and agencies had violated the government's communications policies by restricting or prohibiting government scientists from sharing their research with the media and the public.
Winds of change
Just days after Liberal Justin Trudeau became prime minister in 2015, the Canadian government announced that federal scientists were free to discuss their work. However, it has taken time to change the mindset of the country's scientists and their managers. A survey by PIPSC, released in February, found that more than half of the federal scientists who responded still feel they cannot communicate freely to the media or public. Nevertheless, the figure represents a substantial improvement over previous survey results from 2013, which found that 90 percent of the federal scientists felt silenced.
Duncan says Canada's new policy will help to drive home the government's commitment to research and scientific integrity. 'It's a big change to change the culture, it takes a lot of effort,' she states. 'We want researchers out there speaking to the media and the public.' Duncan adds: 'As some parts of the world are retreating from science and evidence and fact, we are working hard to embed science and research and to really protect government researchers with the science integrity policy.'
Canada's scientific community has welcomed the new model policy. 'Many of my former colleagues are still very leery of talking to the media about some topics,' says Campana. 'So having a written policy is very important.'
Alán Aspuru-Guzik, an expert in theoretical and computational chemistry who recently left Harvard University in the US to join the faculty of the University of Toronto over political concerns, is also enthusiastic. 'In the world at large, there is a problematic resurgence of the fight between facts and propaganda,' Aspuru-Guzik tells Chemistry World. 'This move from the Canadian government is a positive and concrete action on the side of facts.'
The model policy's development also has the support of Kathleen Walsh, who directs policy for Evidence for Democracy, a Canadian group that advocates the use of science in government decision-making. She calls it a 'really positive step forward', but says her organisation will reserve judgement until Canada's individual government departments and agencies implement their own versions of the model policy at year's end.